This post contains links that, if you click on them and make a purchase, will earn me money. Regardless, I only recommend products or services that I believe will be good for my readers. Thanks for helping me continue to produce great content!
This recipe for Chicken Saltimbocca is easy enough to make on a weeknight, but delicious and elegant enough to make for company. It's sautéd chicken that's been topped with prosciutto, melted cheese, and sage.
What does Saltimbocca mean?
Saltimbocca means this dish has so much flavor it almost literally "jumps in the mouth". Saltimbocca is traditionally made with veal, but since very few home cooks use much veal these days, I made my version using chicken, a very affordable protein.
In Saltimbocca, the meat is topped with prosciutto, a very tasty, salty, thinly sliced Italian ham. Cheese or a cream sauce tops that, and sage is generally the herb of choice.
Saltimbocca is traditionally something you'd see on an older Italian restaurant menu. It's really a kind of retro-Italian cuisine. But GOOD retro recipes NEVER go out of style!
I've got a few tips that will make your Chicken Saltimbocca super easy, and super delicious.
My Sage Advice:
Oh, my gosh, that's the best subtitle I've ever done, because I DO have some sage advice: about the sage you'll use in this dish. FRY IT! Sage is the herb traditionally used to provide an herbaceous note to this dish, but it's even more delicious when you fry it for 30 seconds in olive oil that is rippling hot – right before it starts to smoke, basically. Drain it on paper towels, and it becomes a crispy, flavorful garnish to your dish.
And get this: the bonus in flavor? You now get to sauté your chicken in oil that has been scented with sage!!!
What Kind of Chicken Did You Use?
I found the recipe I used as a springboard in the New York Times Cooking Section. I've found their recipes to be generally reliable and delicious. Their recipe called for chicken breasts, and you can certainly use those, if you'd like to. It seems to me, however, that chicken thighs have a more delicious flavor than breasts, and don't overcook as easily. Chicken breasts are lower in fat, and tend to dry out more easily.
I buy those multi-packs of boneless skinless chicken thighs at Costco and store them in my freezer. That way I nearly always have them on hand, and they're a super convenient protein to use in so many different recipes: no boning necessary, no skin to worry about becoming rubbery.
What is Prosciutto, and Where Do I Find It?
Prosciutto is a dry cured Italian ham that is sliced thinly, and doesn't need to be cooked.
You can find it in the Deli section of your grocery store, where you can either have them custom slice it for you, or you can sometimes find it pre-packaged. If your grocery store carries Boar's Head products, the Boar's Head Prosciutto will do nicely.
If you're lucky enough to live in Tennessee, you can use what WE use, which is Tennshootoe, made by The Hamery. (You might want to check out this post where you can learn more about The Hamery, and you'll find a recipe for how I use prosciutto on a pizza with peaches.
Getting Ready For the Broiler
Your Chicken Saltimbocca is finished by a quick stay under the broiler, to melt the cheese. I chose Fontina, because it's a creamy cheese that melts beautifully. If you need a substitute, you might try Monterey Jack, or even Mozzarella. But if you can find Fontina, I really recommend you try it. You'll love it.
The Beautiful Finished Product
One last caveat for the is beautiful dish: I do not think it's as good leftover as it is when you first make it. You're dealing with heating/re-heating the chicken and the cheese, and the cheese tends to over-melt before the chicken gets warm. And the sage will no longer be crisp. So go ahead and encourage your friends and family to finish it all, the night you serve it. Buon appetito!
Yield: 4 servings
Chicken Saltimbocca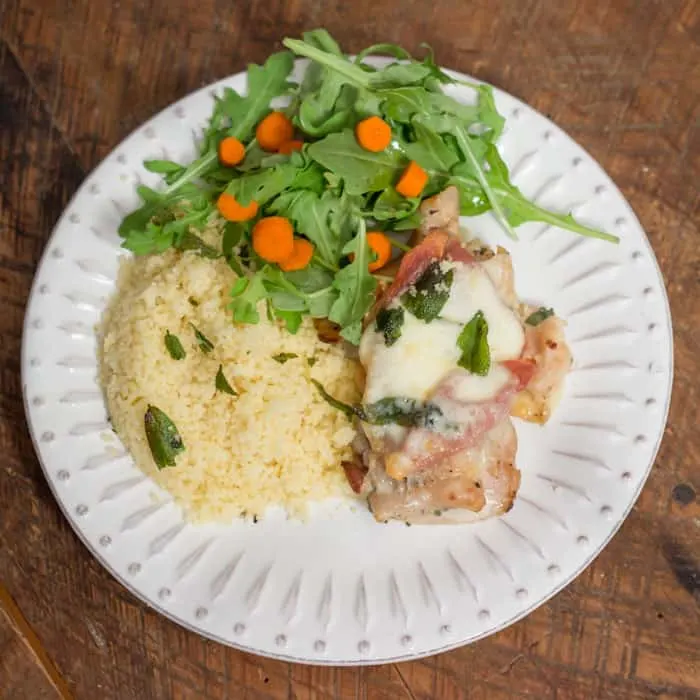 Chicken Saltimbocca is sautéd chicken topped with prosciutto, melted cheese, and sage. Easy enough for a weeknight; elegant enough for guests.
Total Time
1 hour
25 minutes
Ingredients
1 ½ pounds boneless skinless chicken thighs
Sea salt
Freshly ground black pepper
1 tablespoon chopped sage, plus 24 large sage leaves
2 garlic cloves minced
1 pinch red pepper flakes
Olive oil
6 thin slices prosciutto
6 slices fontina cheese (about 4 ounces)
Instructions
Using a meat mallet, pound the chicken to flatten a bit. Salt and pepper each piece on both sides and place on a platter. Sprinkle with chopped sage, garlic, red pepper flakes (if using) and olive oil. Rub in the seasoning to distribute. Cover with plastic wrap and marinate at room temperature for one hour, or refrigerate for up to several hours.
Heat a wide skillet over medium heat and add 3 tablespoons olive oil. When you see ripples in the oil, add the sage leaves and let them crisp for about 30 seconds. Use a slotted spoon to remove them from the oil, and drain them on a paper towel.
Brown the chicken thighs in the oil for about 2 minutes per side, then transfer to a baking dish large enough to fit them in one layer.
Top each piece with 2 sage leaves, a slice of prosciutto and a slice of fontina. Broil for 2 to 3 minutes, until the cheese is bubbling. Garnish with remaining sage leaves.
Notes
This recipe tastes best the day you make it. Reheating as leftovers is tricky, as the cheese will over-melt, before the chicken gets warm, and the sage will no longer be crisp.
Recommended Products
As an Amazon Associate and member of other affiliate programs, I earn from qualifying purchases.
Nutrition Information:
Yield:
4
Serving Size:
1
Amount Per Serving:
Calories:

561
Total Fat:

33g
Saturated Fat:

14g
Trans Fat:

0g
Unsaturated Fat:

18g
Cholesterol:

286mg
Sodium:

1929mg
Carbohydrates:

2g
Fiber:

0g
Sugar:

1g
Protein:

64g
I've got lots more easy and delicious chicken recipes you might want to check out, below.
Clucking Over My Favorite Chicken Recipes
This list is poultry in motion! I'm so proud I'm clucking over all my favorite chicken recipes.