This post contains links that, if you click on them and make a purchase, will earn me money. As an Amazon Associate, I earn from qualifying purchases. . Regardless, I only recommend products or services that I believe will be good for my readers. Thanks for helping me continue to produce great content!
This recipe for Maple Dijon Rosemary Chicken with Oven Roasted Broccoli is easy, delicious, and perfect for a non-processed weeknight meal.
What Is A Desperation Dinner?
Are you looking for a recipe for dinner that is both delicious and EASY, EASY, EASY? Then I have a couple of recipes that when paired together, would be just the ticket! Perfect for a weeknight supper when you want something that's homemade and that uses produce that's in season, but also requires very little effort. These recipes are appropriate for a beginning cook, or for someone who wants to expand his/her repertoire. I call them Desperation Dinners!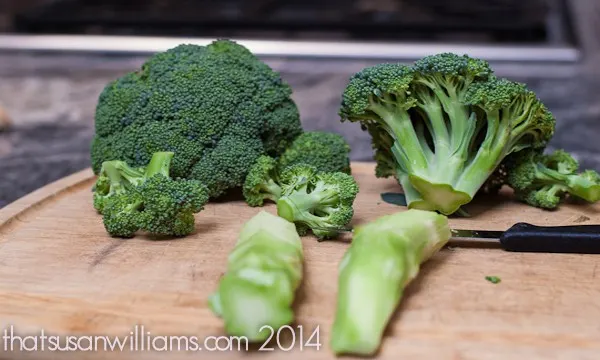 A Good Recipe from a Great Friend
Sometimes, the recipe we use the most is one we acquire not from a famous, world-class, award winning chef, but something shared with us, almost as an afterthought, by a good friend. The first recipe, the Maple Dijon Rosemary Chicken was sent to me via email by a dear friend, Debbie, who is a very good cook, who told me, "You should try this!". Turns out, as is often the case, she was right! Each of the ingredients in the dish packs a powerful flavor punch, so that's why you need so few ingredients!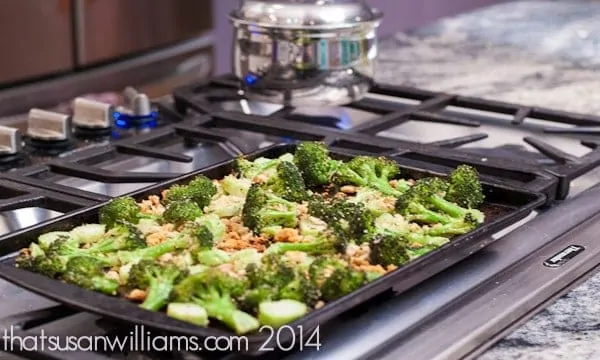 Steamed Broccoli Can Be so Boring!
Broccoli is a cool weather vegetable, so spring is a great time to serve it. This roasted broccoli recipe is something I've been doing for years, and it's my favorite way to prepare broccoli. Roasting helps the vegetable caramelize (brown), which brings out the natural sweetness. Garlic adds another lovely flavor note, and the breadcrumbs bring a nice crunchy texture.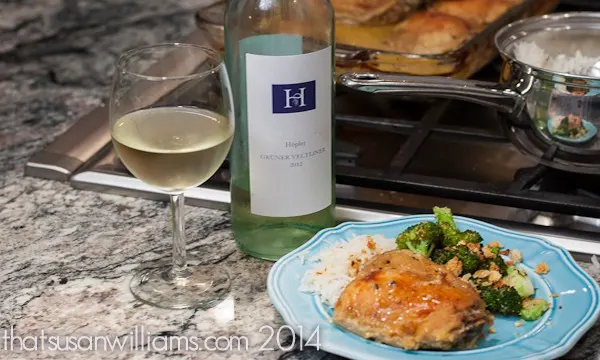 To round out the meal, I made a simple basmati rice, and drizzled it with the delicious sauce from the chicken. But you could use any other type of rice or couscous you prefer. Just don't let that delicious sauce go to waste! I have tried this recipe with both chicken breasts, and chicken thighs, and my family all agree we preferred it over the chicken thighs – even though in general, I tend to prefer white meat. But it worked either way, so use whatever you prefer.
A Tip for When You're Making Both the Chicken and the Broccoli
When you take the chicken out of the oven, crank the oven up to 425º, and you'll have time to quickly roast the broccoli, while the chicken rests. See? Easy-peasy!!! Or, easy broccoleasy! 🙂
The fine folks at my local wine store listened as I described the recipe that I was going to prepare, and recommended that I pair my dishes with Hopler's Gruner Vetliner . It was a lovely white wine that I'd never tried before, and it paired very well with this dish.
The Recipe for Maple-Dijon-Rosemary Chicken
Yield: 4 servings
Five Ingredient Maple Dijon Chicken: Easy and Delicious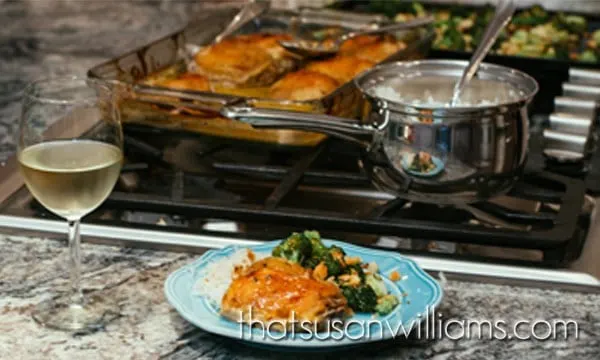 An easy, delicious chicken recipe to your weeknight repertoire.
Ingredients
1 package of chicken breasts or thighs (1 1/2 -2 lbs. chicken)
1/2 c. Dijon mustard
1/4 c. maple syrup
1 T. rice wine vinegar
1 T. chopped fresh rosemary
(I didn't count the sea salt and freshly ground black pepper as ingredients, but I'm OK with that.)
Instructions
Pre-heat oven to 350º.
Generously salt and pepper chicken on both sides and place in an 13 x 9" baking dish. I prefer sea salt, and freshly ground black pepper.
Mix together mustard, maple syrup, and rice wine vinegar.
Pour mustard mixture over chicken, being sure that both sides are thoroughly coated.
Roast chicken at 350º for approximately 45 minutes to 1 hour. Chicken will be done when the largest piece of chicken reaches 165º internally.
Sprinkle roasted chicken with rosemary, and drizzle with the sauce it has roasted in.
Recommended Products
As an Amazon Associate and member of other affiliate programs, I earn from qualifying purchases.
Nutrition Information:
Yield:
4 servings
Serving Size:
1
Amount Per Serving:
Calories:

191
Total Fat:

7g
Saturated Fat:

2g
Trans Fat:

0g
Unsaturated Fat:

5g
Cholesterol:

67mg
Sodium:

892mg
Carbohydrates:

15g
Fiber:

1g
Sugar:

12g
Protein:

18g
The Recipe for Oven Roasted Broccoli with Panko:
Yield: 6 servings
Oven Roasted Broccoli with Panko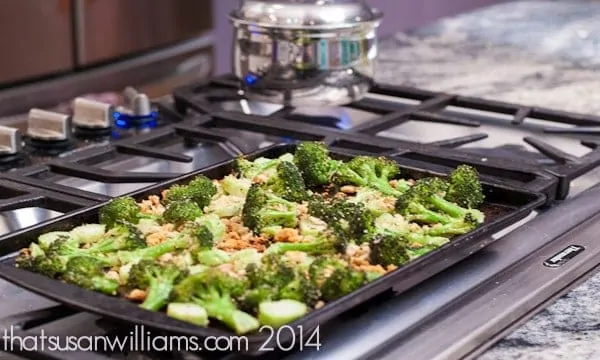 Oven Roasted Broccoli with Panko and Parmesan Cheese is a delicious side dish to any main course, and you can prepare it in a flash!
Ingredients
1 lb. of broccoli, rinsed and trimmed
2 T. olive oil
2 cloves garlic, minced
1/2 t. kosher salt
grinding of fresh pepper
1/3 c. panko bread crumbs (or homemade bread crumbs)
1/4 c. finely grated Parmesan cheese
Instructions
Preheat oven to 425º.
To prepare the broccoli, peel the broccoli of the tough outside stem. Then cut the stalk into slices 1/4" thick. Trim the florets into bite sized pieces.
Toss the broccoli with the olive oil, minced garlic, salt and pepper in a large mixing bowl.
Spread the bread crumbs on a 13" jelly roll pan, and toast for about one minute.
Remove the bread crumbs from the oven, and toss with the broccoli mixture.
Spread the whole mixture onto the jelly roll sheet, and roast just until the broccoli is tender, 8 to 10 minutes. Remove from the oven, and top with grated Parmesan, if you like.
Notes
Preheating the oven may take more time than actually making this dish.
Recommended Products
As an Amazon Associate and member of other affiliate programs, I earn from qualifying purchases.