This post contains links that, if you click on them and make a purchase, will earn me money. As an Amazon Associate, I earn from qualifying purchases. . Regardless, I only recommend products or services that I believe will be good for my readers. Thanks for helping me continue to produce great content!
Looking for a great recipe for homemade venison jerky made with ground venison? I've got you covered! This recipe for pemmican style homemade venison jerky is satisfying, flavorful, easy, and delicious.

More Than A Keto Snack. This Jerky Is A Special Treat!
If you're a hunter, or you're married to a hunter, you're always on the lookout for tasty recipes that make great use of the venison stored in your freezer. This recipe is one my husband, who is the hunter in our family, prepares all by himself. It's more than just regular jerky. It's pemmican style homemade venison jerky.
Venison jerky is a great take-along snack for a hunt, I'm told, but my family also enjoys it as a high protein snack for around the house. And frankly, we snarf it down so fast, that it's more than just a snack. We think of it as a really special treat.
Why is Homemade Jerky Better Than Jerky You Buy In A Store?
Homemade venison jerky is especially desirable in *my* estimation, because not only is it more delicious than what's commercially available, but when the jerky was made in your own home, you actually KNOW what's in there, because YOU MADE IT! And after watching some horrific mystery-meat videos in my time, that's pretty important to me.
What Does Pemmican Style Jerky Mean?
This recipe is a pemmican-style jerky, meaning it has added fat (from the bacon) and fruit (dried Craisins). Regular jerky is usually made from lean meats: fats cause jerky to go rancid, sooner. The recipe we used called for an optional ingredient that could be added in as a preservative, to allow the jerky to last longer: 1/2 t. of Instacure. We didn't feel we needed to add that, since my husband's jerky gets gobbled up quickly, but, if you also decide to omit the Instacure, be sure to refrigerate your batch of jerky, if you anticipate that yours might not disappear as quickly as ours does.
I understand that amongst some hunters, there's a bit of a competition as to who makes the best jerky. If that's been your experience, too, I highly recommend you try this recipe that my husband makes, which he found in Hank Shaw's wonderful cookbook, Buck, Buck, Moose. We adapted his recipe ever so slightly, by replacing one of the ingredients he called for – paprika – with smoked paprika, which is one of *my* favorite ingredients. We also used 2 lbs of venison, rather than 1 3/4 lbs. that his original recipe called for, because that's the size package of ground venison that our processor packages for us. Hank Shaw's recipe for homemade venison jerky is my favorite recipe for jerky that my husband has tried so far.
To make this recipe of Pemmican-Style Homemade Venison Jerky, we used ground venison. You'll also need two special pieces of equipment, that you see pictured in these photos: a jerky gun (which is a lot like a caulking gun), and food dehydrator. But now: on to the recipe!
The Recipe for Pemmican-Style Homemade Venison Jerky
Homemade Venison Jerky, Pemmican Style Recipe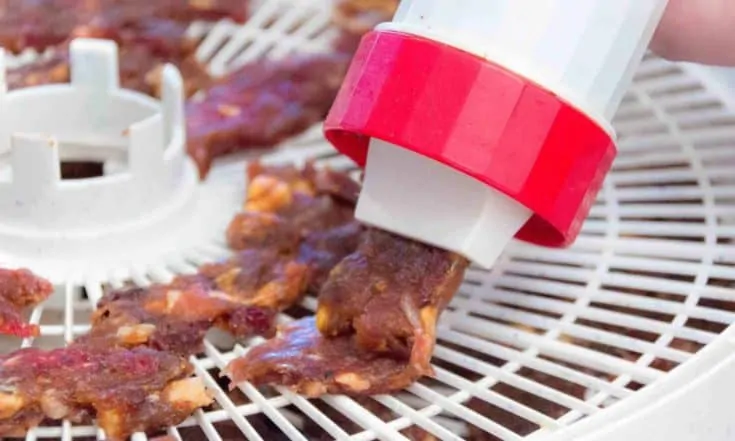 Homemade Venison Jerky: A delicious recipe for pemmican style homemade venison jerky that will please anyone looking for a high protein paleo friendly snack.
Total Time
2 days
4 hours
10 minutes
Ingredients
2 lbs. ground venison
1/4 lb. bacon
1 c. Craisins
2 T. sea salt
2 t. freshly ground black pepper
1/2 t. freshly ground nutmeg
1 T. onion powder
1 T. smoked paprika
2 T. sugar
1/4 c. water
Instructions
Finely chop the bacon, so that it's the texture/size of your ground venison.
Finely chop the Craisins. Put all the ingredients into a large bowl, and mix well with your hands, until everything starts to stick to itself. (We wear latex gloves.)
If you have a vacuum sealer (we do), seal the mixture and set in the fridge, so that all the flavors begin to mingle and enjoy each other. (24-48 hours). ( If you don't have a vacuum sealer, pack the meat and spice mixture into a lidded container and press some plastic wrap directly onto the surface, shielding it from oxygen. Refrigerate same amount of time.
When the time in the fridge is up, separate the mixture into two or three chunks (depending on the size of your jerky gun). Pack it in and squeeze out lengths of jerky onto your dehydrator trays. Dehydrate at 150º until the meat is mostly dry, but still chewy. The time required will vary from dehydrator to dehydrator.


Notes
Note: if you don't think you'll be eating it all quickly, and are concerned about keeping the fat from going rancid, you can always freeze it.
Recommended Products
As an Amazon Associate and member of other affiliate programs, I earn from qualifying purchases.
Nutrition Information:
Yield:
16
Serving Size:
1
Amount Per Serving:
Calories:

180
Total Fat:

7g
Saturated Fat:

3g
Trans Fat:

0g
Unsaturated Fat:

3g
Cholesterol:

63mg
Sodium:

1037mg
Carbohydrates:

11g
Fiber:

1g
Sugar:

9g
Protein:

18g
More Venison For YOU! Because You're Such A Deer.
Santa knows you've been a good person. Also, since he doesn't want you feeding on his OWN herd, he wanted you to have MORE venison recipes out of regular deer. So here ya go!