This post contains links that, if you click on them and make a purchase, will earn me money. Regardless, I only recommend products or services that I believe will be good for my readers. Thanks for helping me continue to produce great content!
First off, before I give you my amazingly delicious recipe for Venison Shepherd's Pie in a cast iron skillet, I want to make it clear that I actually really DO know the difference between Shepherd's Pie, and Cottage Pie.
The Difference Between Shepherd's Pie and Cottage Pie
According to Wikipedia, that fount of all knowledge, Shepherd's Pie is ONLY made with lamb. (My objection to that concept is that it's some kind of Good Shepherd who eats his lambs!!!) And Cottage Pie is only made with beef.
These limitations caused me some consternation. This pie of mine is neither lamb, nor beef.
And I like to be authentic, in my recipes. What I could remember about deer/venison in jolly old England was that Robin Hood was always getting in trouble for eating the king's deer that roamed Sherwood Forest.
So, I thought about calling it Poacher's Pie. But my husband wasn't fond of that, feeling it might cause someone to think he acquired our venison in an unseemly fashion. (Not so!!!)
In need of an accurate recipe title, I decided to name it Shepherd's Pie, anyway, in honor of Gus, my German Shepherd.
What hath Germany to do with England, you might well ask!
Gus was fed venison almost from birth, beginning with the breeder who helped him make his entrance into this world. And, clearly, Gus would gobble down some Venison Shepherd's Pie (were I to leave it close enough to the edge of the counter). He's a bit miffed that I'm using his name in vain, in fact, since I didn't actually give him any.
What is Shepherd's Pie?
Shepherd's Pie is a traditional hearty dish from Great Britain, often found in pubs. It is a meat pie, with a crust of mashed potatoes. The meat and veggie filling of the pie are typically cooked in some kind of gravy. It's often used as a vehicle for using up leftover roasted meat of any kind.
Why Does This Recipe for Shepherd's Pie Use Venison?
As much as I love beef (and I do!), I'm married to a hunter, who brings me home lots of venison each fall, that gets deposited in my freezer. Once I discovered how delicious venison is, and how much better it is for us than beef, it has become my substitute for ground beef in most recipes.
So can you use beef in this recipe? Absolutely! My recipe is adapted from a recipe I found in Cook's Illustrated that used ground beef. So don't NOT try this, just because you don't have any venison in your freezer! My hope in sharing this recipe was to put a recipe out there for cooks who pretty much only use venison in chili, (and I know a few of those!), but who are looking for a little variety in ways to use their ground venison.
A Visual Tutorial for my Venison Shepherd's Pie Recipe:
I'd really appreciate you sharing this post with a friend, however you'd like to do that. Whether by Facebook, Twitter, Pinterest, Yummly, StumbleUpon, or Flipboard, however you'd like to share it would be fine with me. You can't imagine how much it helps!
I've made you a picture that is perfectly sized for Pinterest, too.
The Recipe for Venison Shepherd's Pie
Yield: 8 slices
Venison Shepherd's Pie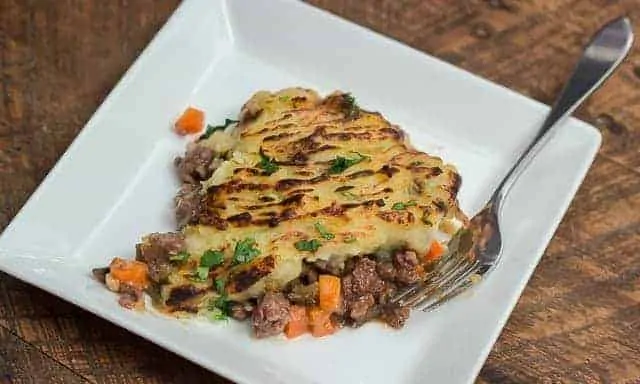 A traditional recipe from the United Kingdom, substituting venison for lamb.
Total Time
1 hour
20 minutes
Ingredients
2 lbs. ground venison
2 T. plus 2 t. water
salt and pepper
1/2 t. baking soda
2 1/2 lbs. Yukon Gold Potatoes, peeled, and cut into 1" chunks
4 T. butter, melted (1/2 stick)
1/2 c. milk
1 large egg yolk
8 green onions, green parts only, sliced thin
2 t. vegetable oil
1 onion, chopped
4 oz. white mushrooms, trimmed and chopped
1 T. tomato paste
2 garlic cloves, minced
2 T. Madeira or ruby port
2 T. flour
1 1/4 c. beef broth
1 t. Worcestershire sauce
2 sprigs fresh thyme
1 bay leaf
2 carrots, peeled and chopped
2 t. teaspoons cornstarch
Instructions
To keep the meat tender: Combine venison with 2 T. water, 1 1/2 t. salt, 1/4 t. pepper and baking soda in bowl until thoroughly mixed. Set aside for 20 minutes.
To make the mashed potatoes: Place potatoes in sauce pan; add water to cover and 1 T. salt. (Potatoes like a lot of salt.)
Bring to a boil over high heat, and then reduce heat to medium-low and simmer until potatoes are soft, about 8-10 minutes.
Drain potatoes and return to sauce pan.
Return sauce pan to low heat and cook, shaking pot occasionally, until any surface moisture on potatoes has evaporated, about 1 minute. Remove pan from heat and mash potatoes well. Stir in melted butter.
Whisk together milk and egg yolk in small bowl, then stir into potatoes.
Stir in scallion greens and season with salt and pepper to taste. Set aside.
To make filling: Heat oil in broiler-safe 10" skillet over medium heat until shimmering.
Add onion, mushrooms, 1/2 t. salt and 1/4 t. pepper; cook, stirring until vegetables are just starting to soften and form dark bits on the bottom of the skillet, 4-6 minutes.
Stir in tomato paste and garlic; cook about 2 minutes.
Add Madeira and cook, scraping up any browned bits, until evaporated, about 1 minute.
Stir in flour and cook for 1 minute. Add broth, Worcestershire, thyme, bay leaf, and carrots; bring to boil, scraping up any browned bits.
Reduce heat to medium-low, add venison in in 2" chunks to broth, and bring it to a gentle simmer. Cover and cook until venison is cooked through, about 10 minutes, stirring and breaking up meat chunks with a fork, halfway through cooking time.
Stir cornstarch and 2 t. water together in a small bowl. Stir cornstarch mixture into filling and continue to simmer for 30 seconds - this should thicken your gravy.
Remove thyme and bay leaf. Season to taste with salt and pepper.


To add topping and broil: Adjust oven rack 5" from broiler element and heat broiler.
Place mashed potatoes in large ziplock bag and snip off 1 corner to create a 1" opening. Pipe potatoes in an even layer over filling.
Smooth potatoes with a cake frosting spatula, and then use the tines of a fork to make ridges over the surface of the pie.
Broil until potatoes are golden brown and crusty, and filling is bubbly, about 10-15 minutes, but keep an eye on your pie, as broilers vary in strength. Let cook 10 minutes before serving.
Notes
The reason for tossing the meat with the baking soda and water is to raise the pH of the venison, thus keeping the proteins from bonding too tightly. This prevents the meat from becoming pebbly, making it more tender.
Recommended Products
As an Amazon Associate and member of other affiliate programs, I earn from qualifying purchases.
Nutrition Information:
Yield:
8
Serving Size:
1
Amount Per Serving:
Calories:

466
Total Fat:

18g
Saturated Fat:

9g
Trans Fat:

0g
Unsaturated Fat:

6g
Cholesterol:

174mg
Sodium:

485mg
Carbohydrates:

38g
Fiber:

5g
Sugar:

4g
Protein:

37g
But Wait: I Have More Venison Recipes on my website!
If this is not the venison recipe you were looking for
(these are not the drones you're looking for….)
I have other wonderful venison recipes I hope you'll check out, including Bambi Burgers with Caramelized Onions, Spaghetti with Venison Meatballs, and Venison Stroganoff with White and Wild Rice. No disrespect intended in regard to chili made with venison. Especially not if it's the World's Best Venison Chili. And all the hunters I know love seem to be obsessed with venison jerky! So if that's a recipe you'd be interested in, I have a delicious Venison Jerky recipe.
More Venison For YOU! Because You're Such A Deer.
Santa knows you've been a good person. Also, since he doesn't want you feeding on his OWN herd, he wanted you to have MORE venison recipes out of regular deer. So here ya go!