This post contains links that, if you click on them and make a purchase, will earn me money. Regardless, I only recommend products or services that I believe will be good for my readers. Thanks for helping me continue to produce great content!
The World's Best Chili happens to be Venison Chili: and it makes a Super Bowl! But if beef is what you usually use? You can use that as well, and you'll still have The World's Best Chili.
See what I did there? Did you like that? I managed to put a pun in my recipe title! All my punny dreams are coming true.
I can die happy now.
But I won't. Not until I share this wonderful recipe with you. Because when you've learned a thing or two in this life, you really ought to share the things you've learned before you charge down the Football Field of Life to that Big End Zone in the Sky.
So before you Drop Kick Me, Sweet Jesus, Through the Goal Posts of Life, allow me to teach my friends how I make this venison chili recipe, that works equally well with beef.
And help me to to teach them, without scaring them off, how to make their own chile powder, just like I do.
Waiting for it….in 3…2…1….
YOU MAKE YOUR OWN CHILE POWDER???
Why yes, I do! And you can, too.
To be 100% honest, what I make is not so much a powder, as it is a purée. But it's what you'll need to make The World's Best Chili
(IMPORTANT NOTE: when I'm talking about the dish, it's spelled "chili". But when I'm talking about the spice, or spice purée, it's "chile". Trust me on this.)
I learned the process of making my own chili purée from chef Rick Bayless, who is an authority on Mexican Cooking. (I ate at his famous Frontera Restaurant in Chicago, and LOVED it!) He calls his chili recipe (that I adapted my recipe from), The World's Greatest Chili. And it pretty much is. But I may have made it better. At least, it's the best for MY family. My recipe calls for venison, because that's what I have and that's what I use, but you don't have to. Rick Bayless doesn't. He uses beef.
And, I cut down a bit on the heat level, because my family can only take so much heat, before they have to get out of the kitchen. 😉 And I added more tomatoes. And more beans. Because if you're going to make a pot of chili, you might as well make enough for leftovers. Am I right?
We like to eat it with a sprinkling of cheddar cheese, a dollop of sour cream, cilantro, and tortilla chips on the side. It would make a GREAT centerpiece dish around which to build your Super Bowl party menu. Warm, comforting, with a kick from the chili purée, creaminess from the cheddar cheese and sour cream, and some crunch from the tortilla chips.
And you really WON'T BELIEVE how much of a difference it makes to make your own chili purée. No, really! It's so easy to do, and so very worth it, and it only takes a couple of extra minutes. I use dried ancho chiles (the brand I bought is Frontera), which I bought at Walmart, in the produce section. (In my town, Walmart is actually a great place to find a wide variety of ingredients for Mexican recipes.)
I use a Vitamix blender to do this, and am not positive how well it works in an ordinary blender, but it seems to me like it should work out fine.
HOW TO MAKE YOUR OWN CHILE POWDER SPICE BLEND:
Cut off the stems from and slice open a couple of dried ancho chile peppers. Remove and discard the seeds.

Place chiles on a hot cast iron griddle (or some type of skillet), flattening them with a spatula, and toast them so that they release their oils a bit. It takes about 15-20 seconds for them to begin releasing their wonderful aroma. Then flip them and let them toast on the other side as well. Mine smoke, just a bit, but you don't want to allow them to burn.

(At this point, you have options. You can either whir them up in your Vitamix – or another really good blender or spice grinder – and you'll have dry chile powder that you can use for other recipes OR you can follow the directions for THIS recipe – making the World's Best Chili – which you'll find in step 4. )

Place the toasted chiles in a bowl and cover with about 2 c. of water, to rehydrate them. Let them rehydrate for about 30 minutes.

Pour them into a Vitamix, and throw in 3 peeled garlic cloves, and 1 t. cumin. Purée until you have no lumps. But try not to let it get TOO foamy. I use a low speed.

You have arrived! You have now made the spice mixture that is going to flavor your Super Bowl of Chili. There will be just a little bit of foam on top, and that's OK.So, now that you see how easy the process really is, you must try it for yourself, so you can see what a difference it makes in the flavor of your dishes that call for chile powder!And, onward to MY recipe, for the World's Best Chili. The one that absolutely makes a Super Bowl!
The Recipe for the World's Best Chili
Yield: 6 servings
World's Best Chili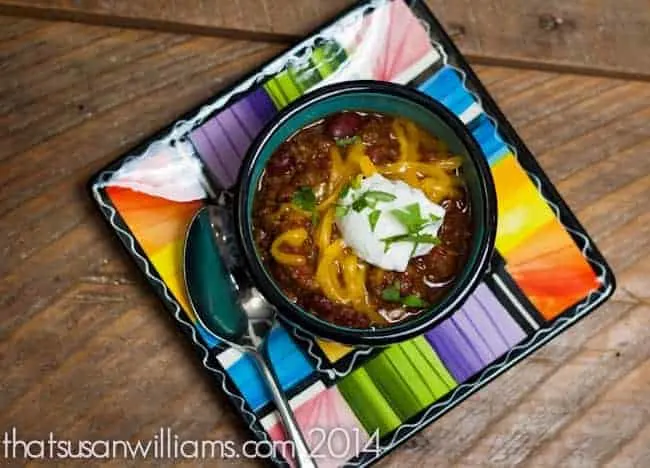 Venison Chili, made with your own homemade chile purée!
Cook Time
1 hour
15 minutes
Ingredients
2 large dried ancho chiles, stemmed and seeded
3 garlic cloves
1 t. ground cumin
2 T. canola oil
2 lbs. ground venison
1 large onion, chopped
2 14.5 oz cans of fire roasted diced tomatoes
2 14.5 oz cans of dark red kidney beans
2 T. masa harina
1 1/2 t. sea salt
Optional garnishes: cheese, sour cream, cilantro or green onions, tortilla chips.
Instructions
Chile Purée Seasoning: Heat a medium size skillet over medium heat. When the skillet is hot, open chiles flat, and press down with a spatula, toasting chiles 15 to 20 seconds on each side.
Place toasted chiles in a bowl, and cover with approximately 2 c. of hot water to rehydrate for 30 minutes. Drain.
In a blender or food processor, combine the chiles, their soaking water, the garlic and the cumin. Blend to a smooth purée.
Brown the meat and the onion: Heat the oil in a Dutch oven over medium high heat. When hot, add onion and cook for 2 or 3 minutes. Then add meat. Stir, breaking up clumps, till meat is browned thoroughly, about 10 minutes. (Venison is a low-fat meat, but if you are using ground beef, you may want to drain off some fat at this point.)
Finishing the chili: Add the chili purée and stir for about 5 minutes.
Simmer uncovered for about 45 minutes.
Add tomatoes, beans, masa harina and salt. Partially cover and simmer gently over medium low heat, stirring frequently, until the sauce has reduced to coat the meat rather thickly, about 30 minutes.
To Serve: Allow each person to garnish their bowl with their favorite ingredients: cheese, sour cream, cilantro or green onions. Serve with tortilla chips.
Notes
Masa harina is a corn flour, used to thicken the chili. It is like a very finely ground corn meal.
It is available, as are the dried ancho chiles, in the Hispanic section of the International section of larger grocery stores.
Recommended Products
As an Amazon Associate and member of other affiliate programs, I earn from qualifying purchases.
Nutrition Information:
Yield:
6 servings
Serving Size:
1
Amount Per Serving:
Calories:

393
Total Fat:

20g
Saturated Fat:

8g
Trans Fat:

0g
Unsaturated Fat:

9g
Cholesterol:

154mg
Sodium:

825mg
Carbohydrates:

10g
Fiber:

3g
Sugar:

4g
Protein:

43g
Please feel free to pin this post on Pinterest, or share it on Facebook with your friends.
I'm not sure I've ever seen a post on making your own chili powder before, so I think this is somewhat unique.
Other Dishes For Your Super Bowl
You know you don't want to just serve chili. Here are some other options for you to consider for any type of gathering/event.