The title originally attached to this post, The Big Night, is a reference to a movie I enjoyed many years ago about two brothers who own an Italian restaurant that is, sadly, about to go out of business. In order to keep from having to close the restaurant, they decide that a little publicity is in order. They invite the famous jazz musician, Louis Prima, to their restaurant to play, and to partake of their food, and hope thus to bring in the crowds. Much of the movie shows the preparations that the brothers go through in order to be ready for The Big Night.
One of the brothers is an amazing chef, and one of the reasons I love this movie so much is the beautiful photography of food. The chef slices and dices and chops and stirs, and I remember saliva pooling in my mouth and longing welling up in my heart as I watched the amazing culinary cinematography. (One caveat: I also seem to remember an adult moment or two in the film, so I'm not recommending the movie for anyone, of any age, because of that. Still, I'll say, it's a movie I just adored for the aforementioned reasons.)
So, anyway, in yesterday's post, I promised you some recipes from OUR "Big Night" the other night, and I can therefore tell you with great authority these recipes received RAVE reviews. So, if you're looking for crowd-pleasing recipes, you've come to the right place. With these, you can definitely have your own "Big Night".
Recipe for a Mixed Antipasto
Let's start off your Big Night with a First Course: a lovely Antipasto platter. I found this recipe on the Epicurious website (epicurious.com). It was originally published in Gourmet magazine in 1991. The only change I made to the recipe was to double the amount of marinade, and marinate each platter item separately, in individual ziplock bags. The upside to this was the lovely presentation that you see here. However, I've shared their original recipe with you, so you have your choice: make the recipe as written here, (and your antipasto will be well and truly "mixed"), or double the marinade, and marinate the various items individually, for a "composed" look.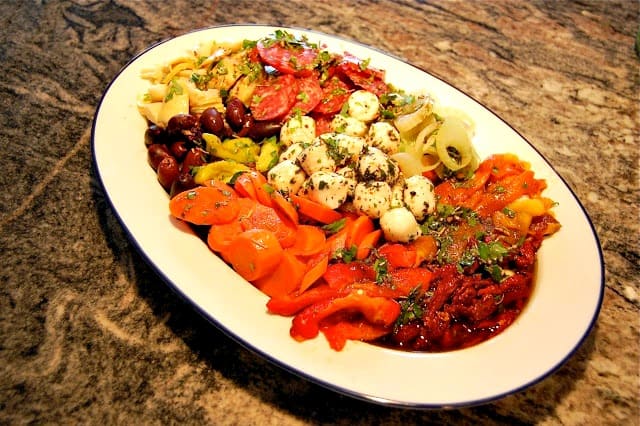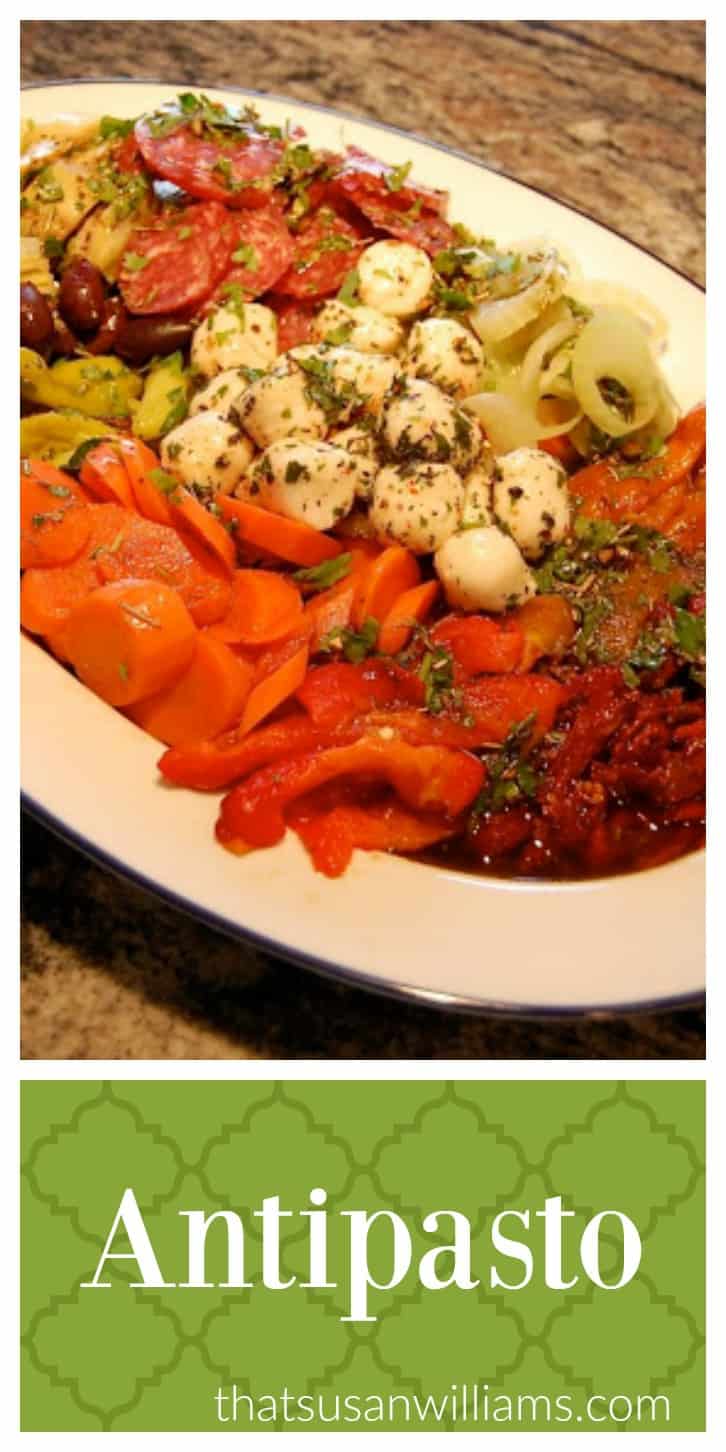 Antipasto
2016-11-28 12:39:48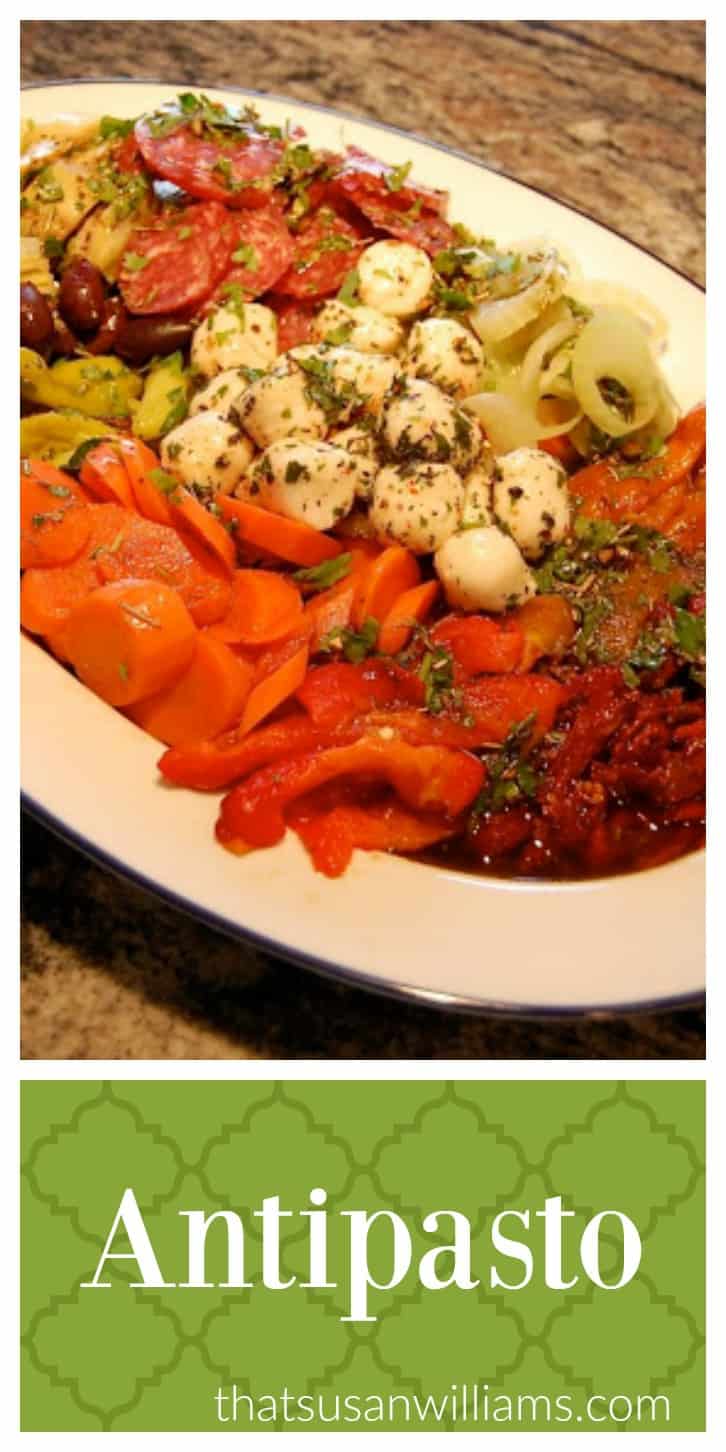 Serves 6
Antipasto is a delicious appetizer, perfect for any special gathering of friends and family, but especially an Italian feast.
Ingredients
For the marinade
:
1 large garlic clove, minced
2 tablespoons balsamic vinegar
2 tablespoons red-wine vinegar
1/2 teaspoon crumbled dried rosemary
1 teaspoon dried basil, crumbled
1 teaspoon dried orégano, crumbled
1/4 teaspoon dried hot red pepper flakes, or to taste
1/2 cup Extra Virgin olive oil
For the Antipasto Platter
3 large carrots, cut diagonally into 1/4-inch-thick slices
1 small fennel bulb, cut crosswise into 1/4-inch-thick slices
2 red bell peppers, roasted and cut into strips
2 yellow bell peppers, roasted and cut into strips
12-ounce jar pepperoncini (pickled Tuscan peppers), rinsed and drained well
3/4 pound black or green brine-cured olives or a combination
1/4 pound sun-dried tomatoes packed in oil, drained and cut into strips
3/4 pound marinated or plain bocconcini (small fresh mozzarella balls, available at specialty foods shops and some supermarkets)
1/2 pound pepperoni or sopressata (hard Italian sausage, available at Italian markets, some butcher shops, and, some specialty foods shops), cut crosswise into 1/4-inch-thick slices and the slices quartered
Make the marinade
In a small bowl whisk together the garlic, the vinegars, the rosemary, the basil, the orégano, the red pepper flakes, and salt and pepper to taste, add the oil in a stream, whisking, and whisk the marinade until it is emulsified.
To prepare the vegetables
In a large saucepan of boiling water blanch the carrots and the fennel for 3 to 4 minutes, or until they are crisp-tender, drain them, and plunge them into a bowl of ice and cold water. Let the vegetables cool and drain them well. In a large bowl toss together the carrots, the fennel, the roasted peppers, the pepperoncini, the olives, the sun-dried tomatoes, the bocconcini, the pepperoni, the artichoke hearts, the marinade, the minced parsley until the antipasto is combined well and chill the antipasto, covered, for at least 4 hours or overnight.
Transfer the antipasto to a platter, garnish it with the parsley sprigs, and serve it at room temperature.
Notes
For an attractive platter, like the one you see in my image, you can marinate the vegetables, separately, in individual ziplock bags. If you decide to go that route, just double the marinade recipe, and put each item to be marinated in a separate ziplock.
Adapted from epicurious.com
That Susan Williams https://www.thatsusanwilliams.com/
Next, the Lasagna recipe.
I use the recipe from the Moosewood Cookbook, a cookbook I purchased around 25 years ago that is now stained and split in half, it has been so well used and loved. Of course, I have modified it over the years to suit my taste. The Big Bison says that this is one of the recipes that made him know for sure I was a keeper. So, if you know anyone who is looking to trap 'em a good man, you can pass along this recipe, but I warn you to use its power wisely: you REALLY don't want to trap just ANY man. Only use it if you know for sure that this is the guy you want around for life. Otherwise, you could end up with a porch full of Mr. Wrongs camped out outside your door, and THEN where would you be?
So, here's my version of Mollie Katzen's recipe from the Moosewood Cookbook: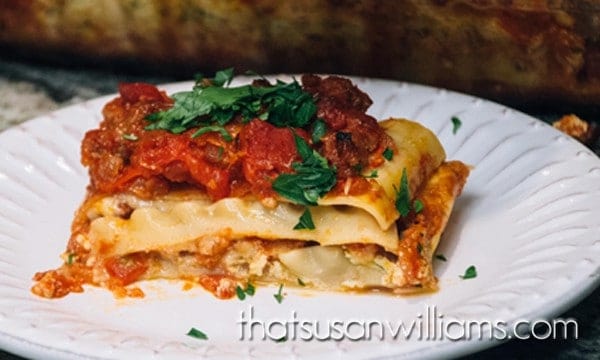 My Most Favorite Lasagna: easy, and delicious!
2016-11-28 12:52:45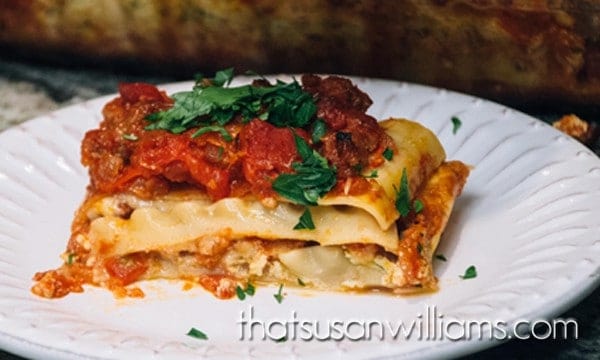 Even though I do what for me is generally unthinkable, and rely on PROCESSED tomato sauce (Prego), this is still the most delicious lasagna I've ever had.
Sauce
1 1/2 large jars of Prego Pasta sauce, (the large jars are 67 oz.)
to which I add
1 lb. browned, drained Italian Sausage
15 Lasagna noodles: I'm finding the no-boil lasagna noodles from Barilla or Trader Joe's work great - and it saves me a step.
Filling
2 c. ricotta cheese, mixed with
2 beaten eggs,
sea salt & freshly ground black pepper, to taste
1/2 c. chopped fresh parsley
1 lb. shredded mozzarella cheese
1 cup freshly grated Pamagiano Reggiano cheese
Instructions
1) Spread a little sauce over bottom of pan.
2) Cover with a layer of noodles (1/3 of the noodles)
3) Put a blotch of filling here and there. Use 1/2 of the filling
4) Sauce (1/3 the remaining sauce)
5) 1/2 the mozzarella, hither and thither
6) Another 1/3 of the noodles
7) Remaining filling, followed by
8) Sauce - another 1/3 - which gets followed by
9) Remaining mozzarella
10) Every last noodle
11) Ultimate dosage of sauce
12) The parmesan
Bake 45 minutes covered by foil at 375º; uncover for last 10 minutes.
 Let stand 10 minutes before serving.
Notes
Make your own tomato sauce if you must, but I'm telling you this because I care about you: Prego is delicious, when you add in that browned Italian sausage, and you'll be thrilled with the results and the time savings.
Adapted from The Moosewood Cookbook
Adapted from The Moosewood Cookbook
That Susan Williams https://www.thatsusanwilliams.com/
OK, I'm just exhausted from typing all that. Stay tuned to future blog entries for the hot fudge sauce of your dreams. Really.
Yum