This post contains links that, if you click on them and make a purchase, will earn me money. Regardless, I only recommend products or services that I believe will be good for my readers. Thanks for helping me continue to produce great content!
Now, really, I just don't know how to sing the excellencies of this concoction, this Decadent Hot Fudge Sauce, highly enough.
All I can say is: share it with someone you love. Because it COULD turn out to be *your* Love Potion #9. It made MY knees go weak!
On the other hand, in the (slightly altered for this occasion) words of our friend Steve, "When it comes to hot fudge sauce, 'What friends? I have no friends.' "
Oh, for a thousand tongues with which to taste this lovely hot fudge sauce….
I got the recipe from my Gourmet cookbook, but you can also find it on epicurious.com.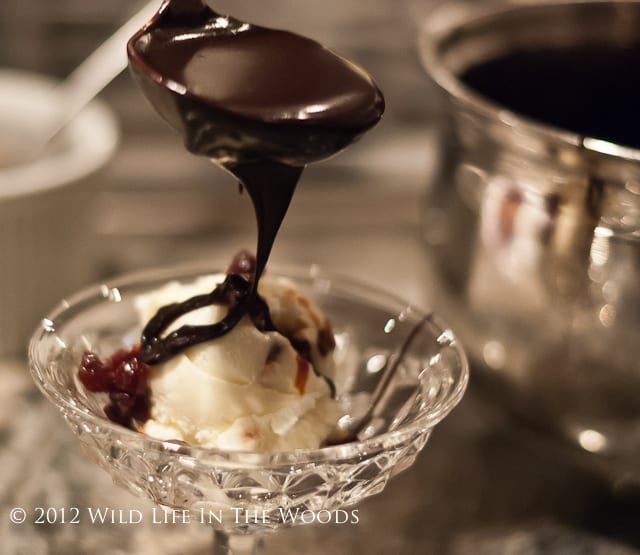 Decadent Hot Fudge Sauce
2016-12-19 10:50:03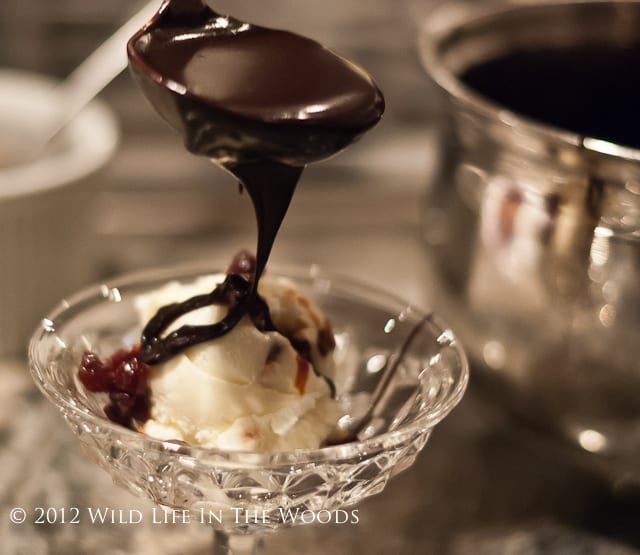 The Best Hot Fudge Sauce I have ever had! And it's even better when you serve it atop my Goat Cheese Ice Cream with Boozy Cherries.
Ingredients
2/3 cup heavy cream
1/2 cup light corn syrup
1/3 cup packed dark brown sugar
1/4 cup unsweetened Dutch-process cocoa powder
1/4 teaspoon salt
6 oz fine-quality bittersweet chocolate (not unsweetened), finely chopped
2 tablespoons unsalted butter
1 teaspoon vanilla
Instructions
Bring cream, corn syrup, sugar, cocoa, salt, and half of chocolate to a boil in a 1 to 1 1/2-quart heavy saucepan over moderate heat, stirring, until chocolate is melted. Reduce heat and cook at a low boil, stirring occasionally, 5 minutes, then remove from heat. Add butter, vanilla, and remaining chocolate and stir until smooth. Cool sauce to warm before serving.
Notes
Sauce can be made 1 week ahead and cooled completely, then chilled in an airtight container or jar. Reheat before using.
Adapted from epicurious.com
That Susan Williams https://www.thatsusanwilliams.com/
Susan's note: This is a very deep, dark, intense hot fudge sauce. I use Bittersweet Ghirardelli bars, which are 60% cacao.
I recommend you serve this atop my Goat Cheese Ice Cream with Boozy Cherries, which is the best ice cream I've ever had, in my life.
Prepare to faint with delight.
I serve this as dessert on Christmas Day.