This post contains links that, if you click on them and make a purchase, will earn me money. Regardless, I only recommend products or services that I believe will be good for my readers. Thanks for helping me continue to produce great content!
All of life is about balance.
Where would chocolate be without a little vanilla to balance it?
And Homemade Heavenly Vanilla Bean Ice Cream is here to help you find a little balance in your life.
You deserve a little treat now and again. One must balance work and play. Am I right?
Of course, right!
Have I got some yumminess for you!
My dear friend gave me a cookbook for Christmas called "Jeni's Splendid Ice Creams At Home" written by Jeni Britton Bauer.
And quite coincidentally, I won a Cuisinart Two Bowl Ice Cream Maker from one of my favorite food blogs, Bunkycooks, right before Christmas.
The combination of those two factors alone should have you anticipating many ice cream posts in days to come. Who cares that it's January as I'm writing this?
I have hot fudge!!!
It's homemade lusciousness that you can make yourself, and I'm pretty sure its alchemy packs a potent love potion, besides!
So far, my hubby and I have tried two of Jeni's recipes. The first was Ugandan Vanilla Bean Ice Cream (and honestly, I'm pretty sure my vanilla beans were NOT Ugandan. They came to me from Madagascar, via Marx Foods and a giveaway that I won on another one of my favorite food blogs, 30A Eats.) But fragrant and flavorful, they were, smelling of flowers, and honey, and leather, and all things vanilla-y.
The second of Jeni's recipes that we tried was Black Coffee Ice Cream. We enjoyed it very much, but not as much as the simple but exquisite vanilla.
Honestly, we've had one small problem with each of Jeni's two recipes that we've tried. Many of her recipes call for cream cheese as an ingredient. You heat the milk, cream, sweeteners and vanilla, and then whisk it into the softened cream cheese. We followed her procedure exactly, as stated in the cookbook, but with each recipe, we ended up with tiny lumps of cream cheese in the ice cream. What we're thinking is that perhaps we didn't let the cream cheese completely come to room temperature before we started cooking, and that perhaps it was too cold to melt completely. So, I'll keep you updated on future efforts.
EDITED TO ADD: further efforts have borne this to be true. Be sure your cream cheese is at room temp, and then beat the h-e-double-hockey-sticks out of it. And if you're thinking about buying her cookbook, you really should. What a tremendous variety of flavors she offers! Imaginative, and delicious!
In the meantime, here's the recipe for:
Heavenly Vanilla Bean Ice Cream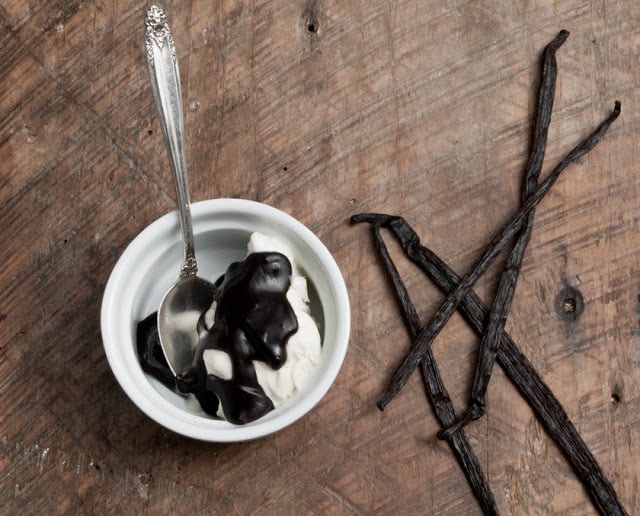 Heavenly Vanilla Bean Ice Cream
2016-07-15 06:40:53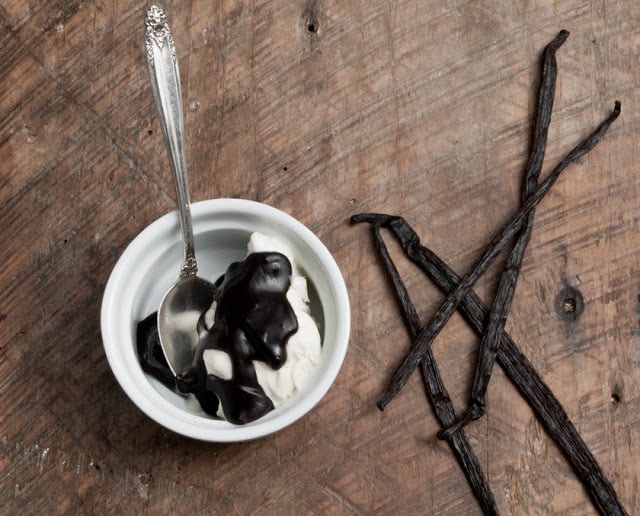 A delicious homemade vanilla ice cream, where the vanilla bean brings that flavor to the forefront, and makes it the star it was born to be.
Ingredients
2 c. whole milk
1 T.plus 1 t. cornstarch
1 1/2 oz. (3 T.) cream cheese, softened (Try bringing it completely to room temperature, like I didn't)
2/3 c. sugar
1/8 t. fine sea salt
1 1/4 c. heavy cream
2 T. light corn syrup
1 vanilla bean, split, sides scraped out, seeds and beans removed
Instructions
PREP: Mix about 2 T. of the milk with the cornstarch in a small bowl to make a smooth slurry. Fill a large bowl with ice and water.
COOK: Combine the remaining milk, the cream, sugar, corn syrup, and vanilla seeds and bean in a 4 qt. saucepan, bring to a rolling boil over medium-high heat, and boil for 4 minutes. Remove from the heat and gradually whisk in the cornstarch slurry. Bring the mixture back to a rolling boil over medium-high heat and cook, stirring with a heatproof spatula, until slightly thickened, about 1 minute. Remove from the heat.
CHILL: Gradually whisk the hot milk mixture into the cream cheese until smooth. Pour the mixture into a 1 gallon Ziploc freezer bag and submerge the sealed bag in the ice bath. Let stand, adding more ice as necessary, until cold, about 30 minutes.
FREEZE: Remove the vanilla bean. Pour the ice cream base into the frozen canister and spin until thick and creamy. Pack the ice cream into a storage container ,, press a sheet of parchment directly against the surface and seal with an airtight lid. Freeze in the coldest part of our freezer until firm, at least 4 hours.
Notes
It is VERY important to bring your cream cheese to room temperature, and then whisk it like crazy. Further experiments in ice cream making have borne this out.
That Susan Williams https://www.thatsusanwilliams.com/
You scream, I scream, We ALL scream: "Git in mah belly!!!"
Isn't this a gorgeous photo my dear husband took? He's a wizard. And now, I'm craving MORE ice cream! And especially, more hot fudge sauce!!!
If you like the look of this yumminess, feel free to share it on Pinterest, or to Stumble it, or share it on Facebook or Twitter.
I think this ice cream would be awesome with some chopped Reese's chunks thrown in at the end. Jeni recommends adding any chunks (candy, nuts, whatever you want to try) in layers as you're pouring the ice cream from the ice cream maker into the container where you'll store it in the freezer.
What would you add to it?