This post contains links that, if you click on them and make a purchase, will earn me money. Regardless, I only recommend products or services that I believe will be good for my readers. Thanks for helping me continue to produce great content!
Here's a recipe for homemade Black Coffee Ice Cream with a dark, rich flavor that tastes as wonderful as the aroma of coffee smells.
Can ANYTHING taste as good as black coffee smells? This recipe for homemade Black Coffee Ice Cream comes close!
Jeni's Splendid Ice Creams at Home
I found this recipe for Black Coffee Ice Cream in a cookbook that was given to me as a gift several years ago, "Jeni's Splendid Ice Creams at Home". If you've never tasted Jeni's truly splendid ice creams, get thyself to one of her brick and mortar locations. But if you don't have one of those shops near you, making her recipe for Black Coffee Ice Cream is a great way to get a taste of what all the well-deserved Jeni's fuss is about.
Black Coffee Ice Cream is Perfect for Coffee Snobs!
My husband LOVES his coffee – so much so that he roasts his own coffee beans! I'm a lucky, lucky girl that way. Your coffee ice cream will only be as good as your coffee beans are fresh, so do your best to use coffee beans that are freshly roasted and ground. I've included a link to the best coffee bean burr grinder below the recipe, to help you in your efforts to attain the BEST coffee.
Bosch Universal Mixer Ice Cream Attachment Review
I decided to combine this recipe that will make coffee lovers swoon, with my review of my brand new Bosch Universal Mixer and Ice Cream Maker Attachment.
I was recently given a Bosch Universal mixer to review, and I have really LOVED using it. There have been some unexpectedly handy ways I've been able to use it, too, and this one REALLY surprised me: the Bosch Universal Plus Mixer has an Ice Cream Maker attachment. That was hard for me to even imagine without seeing it, so I have some pictures to show you, so that you can visualize what it looks like, and how it works.
So, the white plastic bowl is the Mixer Bowl that comes with the mixer. The silver bowl nested inside the white bowl is the ice cream attachment. It turns on that spindle in the center. The white lid fits on top of that bowl, and there's a dasher/arm like portion of it that stirs the ice cream, while the bowl spins.
You fill the space between the two bowls with ice, and sprinkle with about a half of a cup of rock salt or ice cream salt around on top of the ice. I confess I used kosher salt, because I didn't want to go to the store to find some kind of special salt. The kosher salt worked just fine. And there's no need to store the ice cream canister in your already full-to-the-max freezer.
After 20 minutes, we stored our thickened ice cream base in the freezer for about 4 hours, to get the ice cream thickened to a firmer consistency.
Huge Discount Price on Bosch Universal Plus Mixer Summer Essentials Package
I wanted to let my readers know that Bosch is running a special price FOR MY READERS on their Bosch Universal Plus mixer AND Ice Cream Maker attachment, that will save you $106.00, and I have just the gift code you need for their Summer Essentials package. My special code for my readers is: susanwilliamsicecream. That stands for Bosch Mixer. Not…nevermind.
The Recipe for Black Coffee Ice Cream
Yield: 6 servings
Black Coffee Ice Cream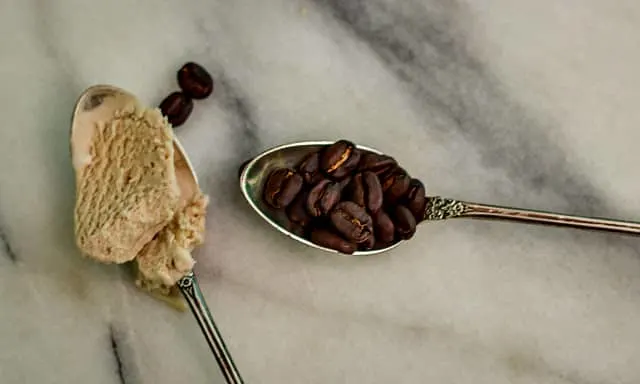 A recipe for homemade Black Coffee Ice Cream with a dark, rich flavor that is as delicious as the aroma of coffee.
Total Time
5 hours
20 minutes
Ingredients
2 1/2 c. whole milk
1 tablespoon + 2 teaspoons cornstarch
3 tablespoons cream cheese, softened to room temperature
1/8 t. fine sea salt
1 1/2 c. heavy cream
3/4 c. sugar
3 tablespoons light corn syrup
1/4 c. dark roast coffee beans, coarsely ground
Instructions
PREP: Mix about 2 T. of the milk with the cornstarch in a small bowl to make a smooth slurry.
Whisk the cream cheese and salt in a medium bowl until smooth.
Fill a large bowl with ice and water.
COOK: Combine the remaining milk, the cream, sugar, and corn syrup in a 4 qt. saucepan. Bring to a rolling boil over medium-high heat, and boil for 4 minutes. Remove from the heat, add the ground coffee, and let steep for 5 minutes.
Strain the milk mixture through a sieve lined with a layer of cheesecloth. Squeeze the coffee in the cheesecloth to extract as much liquid as possible. Discard the coffee grounds.
Return the cream mixture to the saucepan and gradually whisk in the cornstarch slurry. Bring back to a boil over medium-high heat and cook, stirring with a rubber spatula, until slightly thickened, about 1 minute. Remove from the heat.
CHILL: Gradually whisk the hot milk mixture into the cream cheese until smooth. Pour the mixture into a 1 gallon Ziplock freezer bag, and submerge the sealed bag in the ice bath. Let stand, adding more ice as necessary, until cold, about 30 minutes.
FREEZE: Snip the bottom corner off of the ziplock bag, and pour the ice cream base into the ice cream maker canister and spin until thick and creamy, approximately 20 - 30 minutes.
Pack the ice cream into a storage container, press a sheet of parchment paper directly against the surface of the ice cream, and seal the container with an airtight lid. Freeze in the coldest part of your freezer until firm, at least 4 hours.


Notes
It's very important for the cream cheese to be at room temperature, and for it to be very smooth when you whisk it, initially, with the salt. This will help you avoid cream cheese lumps in the ice cream base.
I STRONGLY encourage any chocolate lovers to try topping this recipe with my recipe for Decadent Hot Fudge SauceDecadent Hot Fudge Sauce. You'll thank me.
Recommended Products
As an Amazon Associate and member of other affiliate programs, I earn from qualifying purchases.
Nutrition Information:
Yield:
6
Serving Size:
1
Amount Per Serving:
Calories:

488
Total Fat:

29g
Saturated Fat:

18g
Trans Fat:

1g
Unsaturated Fat:

9g
Cholesterol:

96mg
Sodium:

285mg
Carbohydrates:

50g
Fiber:

2g
Sugar:

44g
Protein:

10g
You should most definitely top this with my recipe for Decadent Hot Fudge Sauce. I think it's a MUST!!! You will never have a better hot fudge sauce in your entire life, I guarantee!
But If Black Coffee Ice Cream isn't your favorite flavor, I have the recipes for several other Jeni's Ice Cream flavors you might want to try, including Goat Cheese Ice Cream, (which is my personal favorite), Lemon Blueberry Frozen Yogurt, Lime Cardamom Frozen Yogurt, and Heavenly Vanilla Bean Ice Cream.
Ice Cream Desserts You'll Love
I learned to make Ice Cream from my cookbook, Jeni's Splendid Ice Creams at Home. Her method for making ice creams is unique, and tastes better than any other method I've tried. Here are some of my favorite flavors.