This post contains links that, if you click on them and make a purchase, will earn me money. As an Amazon Associate, I earn from qualifying purchases. . Regardless, I only recommend products or services that I believe will be good for my readers. Thanks for helping me continue to produce great content!
Lime Cardamom Frozen Yogurt with Brandied Cherries is a party for your mouth! What a refreshing summertime ice cream treat!!! Tart and tangy, bright and sweet, refreshingly creamy: this frozen yogurt, on its own, is already all that.
Lime Cardamom Frozen Yogurt with Brandied Cherries. It's a party for your mouth.
Drizzle that Lime Cardamom Frozen Yogurt with the wonderfully boozy richness of the brandied cherries, and you introduce a luscious depth of flavor to this tongue-teasingly amazing frozen concoction that will cause you to sigh with satisfaction.
My New Favorite Summertime Frozen Treat
This recipe for Lime Cardamom Frozen Yogurt was so good, it may now be my new favorite. But, honestly, that's kind of like asking me to choose between my kids! How do I choose which I like better, the lime cardamom or the lemon blueberry?
I'm starting to really get the hang of Jeni's recipes for her Splendid Ice Creams at Home, now that I've made four of them (Vanilla Bean, Black Coffee, Lemon Blueberry and this one, Lime Cardamom.)
Where the Brandied Cherries Came From:
To make the Brandied Cherries, I used a recipe from The Joy of Cooking for Cherries Jubilee as a base, and then altered it to fit what I thought would be good. It wasn't just good: it was GREAT!
Tips for Making Jenni's Splendid Ice Cream Method at Home:
So here are the basic things to remember when you try one of her recipes, based on my own learning experiences (mistakes):
Be sure that your cream cheese has completely softened and reached room temperature, or else you'll have little lumps of cream cheese in your ice cream or frozen yogurt.
Be sure to make any extra syrups called for (like lime or lemon, blueberry or brandied cherries) in the recipe well before you start, so that they have the opportunity to cool to room temperature as well.
If you're making frozen yogurt, you'll need to strain some of the liquid out of the yogurt, even if it's Greek Yogurt. You must do this 6 – 8 hours before you begin making the frozen yogurt, to make the consistency of the yogurt more dense, so be sure to include that amount of time in your plans. Jeni called for cheesecloth, but I didn't have any, and discovered that paper coffee filters lining a strainer work just fine. I also discovered later this week that my local grocery store has cheesecloth readily available. It was in the household cleaning section, surprisingly enough to me.
If you are making frozen yogurt, and you strain one 1 quart container of Greek yogurt (which I did), you will have enough solids for two batches of yogurt. You need 1 and 1/4 c. for each of Jeni's frozen yogurt recipes, and you'll get exactly 2 and 1/2 c. of strained yogurt out of a 1 quart container of Greek yogurt. So make one batch of frozen yogurt, and save the other cup and 1/4 of drained yogurt in a covered plastic container in the fridge, to use for a second batch. 😀 Which you're going to want, I promise!
The only problem I had with this particular recipe, which I also had with the frozen lemon yogurt, was fishing the lime zest out of the ready-for-the-ice-cream-machine yogurt, once it had chilled in the Ziplock baggie. If you have a suggestion for an easy way to do this, I'm all ears. Basically, I'm reduced to hunting around in that baggie with a long handled teaspoon, to fish out the zest. But it is important to do, because the long strips of zest can wrap around the ice cream machine's stirring paddle. (Don't ask me how I know this to be true…but I do.)
I did not alter Jeni's recipe for the lime cardamom frozen yogurt in any way, except that I came up with the idea for wanting to combine it with some kind of sauce made from sweetened tart dried cherries. I soaked the cherries in brandy, and then flamed them, and then added Kirsch (a lovely cherry brandy) at the end, to give them a nice finish. And it was kind of a genius idea, if I do say so myself.
So here's Jeni's recipe for the frozen yogurt, and my recipe for the brandied cherries:
Lime Cardamom Frozen Yogurt with Brandied Cherries
Yield: 8 servings
Lime Cardamom Frozen Yogurt with Brandied Cherries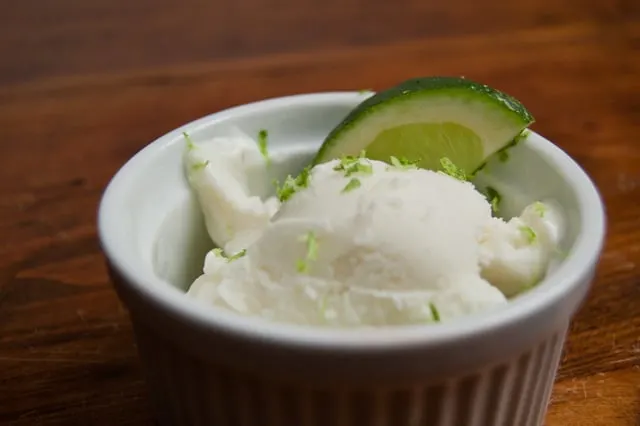 Lime Cardamom Frozen Yogurt with Brandied Cherries: what a great frozen summertime dessert! It's sweet, tart, tangy, creamy, and even boozy!
Total Time
10 hours
50 minutes
Ingredients
LIME SYRUP:
3 to 4 limes (I used 3)
3 tablespoons sugar
FROZEN YOGURT BASE:
1 quart plain low fat yogurt
1 1/2 c. whole milk
2 tablespoons cornstarch
2 oz. cream cheese, softened
1/2 c. heavy cream
2/3 c. sugar
1/4 c. light corn syrup
zest of 3 limes, removed in long, large strips
1/4 t. ground cardamom
BRANDIED CHERRY SAUCE:
1 c. dried sweetened tart cherries
1/4 c. slightly warmed brandy
2 tablespoons kirsch
Instructions
ADVANCE PREP:
For the strained yogurt: Fit a sieve over a bowl and line it with one or two paper coffee filters (or 2 pieces of cheesecloth). Pour the yogurt into the sieve, cover with plastic wrap, and refrigerate for 6 to 8 hours, to drain. Discard the liquid, and measure out 1 1/4 c. of the strained yogurt. Set aside.
PREP: FOR THE LIME SYRUP: Using a vegetable peeler, remove the zest from 3 limes in large strips. Reserve.
Halve the limes and squeeze enough juice to measure 1/2 c.
Combine lime juice and sugar in a small saucepan and bring to a boil over medium high heat, stirring to dissolve the sugar. Remove from the heat and let cool.
FOR THE FROZEN YOGURT BASE: Mix about 2 tablespoons of the milk with the cornstarch in a small bowl to make a smooth slurry.
Whisk the cream cheese in a medium bowl until smooth.
Fill a large bowl with ice and water.
COOK: Combine the remaining milk, the cream, sugar, corn syrup, and lime zest in a 4-qt. saucepan, bring to a rolling boil over medium-high heat, and boil for 4 minutes. Remove from the heat and gradually whisk in the cornstarch mixture.
Bring the mixture back to a boil over medium-high heat, and cook, stirring with a heatproof spatula, until slightly thickened, about1 minute. Remove from the heat.
CHILL: Gradually whisk the hot mil mixture into the cream cheese until smooth. Add the 1 1/4 c. yogurt, the lime syrup and cardamom,and whisk until smooth.
Pour the mixture into a 1-gallon Ziplock freezer bag and submerge the sealed bag in the ice bath. Let stand, adding more ice as necessary, until cold, about 30 minutes.
FREEZE: Remove the lime zest. Pour the frozen yogurt base into the frozen canister and spin until thick and creamy.
Pack the frozen yogurt into a storage container, press a sheet of parchment directly against the surface, and seal with an airtight lid. Freeze in the coldest part of your freezer until firm, at least 4 hours.
FOR THE BRANDIED CHERRY SAUCE: While the ice cream is freezing, soak the cherries for an hour or so in 1/4 c. brandy. Drain them through a sieve, and measure the remaining brandy. Add more brandy to that, until you have a full quarter of a cup of brandy with which to make the sauce.
Warm the brandy for about 20 seconds in the microwave.
Put the soaked cherries into a sauté pan, and pour the brandy over them. Warm over medium heat, and then ignite the brandy with a long match or long handled lighter. When the flame is extinguished, CAUTIOUSLY add the kirsch, WHICH IS ALCOHOL, WHICH WILL BURN, so make sure the flames are out.
Pour all this over the frozen yogurt. Oh, my dear. You're going to be so very happy.
Recommended Products
As an Amazon Associate and member of other affiliate programs, I earn from qualifying purchases.
Nutrition Information:
Yield:
8
Serving Size:
1
Amount Per Serving:
Calories:

406
Total Fat:

12g
Saturated Fat:

7g
Trans Fat:

0g
Unsaturated Fat:

4g
Cholesterol:

37mg
Sodium:

129mg
Carbohydrates:

70g
Fiber:

2g
Sugar:

61g
Protein:

8g
Oh, my dear. You're going to be so very happy.
Feel free to share this on Pinterest, or, wherever you've a mind to share it!
Ice Cream Desserts You'll Love
I learned to make Ice Cream from my cookbook, Jeni's Splendid Ice Creams at Home. Her method for making ice creams is unique, and tastes better than any other method I've tried. Here are some of my favorite flavors.