This post contains links that, if you click on them and make a purchase, will earn me money. Regardless, I only recommend products or services that I believe will be good for my readers. Thanks for helping me continue to produce great content!
You're not going to believe how delicious this recipe for Goat Cheese Ice Cream with Boozy Cherries and Hot Fudge Sauce is!!!
This is the best dessert I think I've ever made. I am not making this up. There is an alchemy between the sweetness of the sugar, the tartness of the goat cheese, the sweet/tart booziness of the cherries, and even a note of something akin to umami in the hot fudge. And when you add the brandy/kirsch soaked cherries to the hot fudge sauce, it tastes like the very best chocolate covered cherry you've never had in your life. Combine it all together and I bet it's a lot like dying and going to heaven.
And if that taste I'm getting from the hot fudge is not umami – and I swear I taste a depth of flavor that is almost savory – then it is, at the VERY least, "Oooooooooooooooooh, mommy-that's-good".
(For the umami-uninformed, umami is a flavor note that is savory. The word comes from the Japanese language, and the taste has been identified as one of the five basic tastes, along with sweet, sour, bitter and salty. Google it! Makes for interesting reading. Apparently, our first taste of umami is in breastmilk: it's no wonder we're so drawn to it.)
The first time I served this was at a friend's house last fall. My friend's husband had landed a monster tuna in a fishing trip off the coast of Mexico, had it shipped home, and offered to share a little with us. Since they were sharing their very best with us, we wanted to bring a dessert that might be special, but I really had no idea what to bring. I did, however, have an extra log of goat cheese in the fridge, and some tart dried cherries in the pantry, and an ice cream maker at the ready. So, I decided to give jeni's (of jeni's Splendid Ice Creams) Goat Cheese Ice Cream recipe a whirl, and change it up a bit to suit the ingredients that I had on hand in my pantry.
I am so very, very glad I did.
C-c-c-cooking the C-c-c-custard. Coo Coo Cachoo.
We served it again last month, as our Christmas dessert. That's how special it was. But you don't have to wait till next Christmas. You can make it for someone's birthday. Or to celebrate Mardi Gras. Or Groundhog Day. (It would, in fact, be perfect for your Valentine, who would be instantly smitten with an insane desire to love you like you've never been loved before.) But why wait till then? Hadn't you better try it out first? Do a kind of trial run in preparation for Valentine's day?
The Chilling Device.
Look at the lovely lusciousness lolling around in there.
Spooning some cherries on, right before the Big Chill, in the freezer.
Let's ladle on more lusciousness, shall we?
Heaven.
Here's the recipe I wanted to title, "Get Your Goat Cheese Ice Cream".
(See what I did there???)
The Recipe for Goat Cheese Ice Cream with Boozy Cherries
Yield: 6 servings
Goat Cheese Ice Cream with Boozy Cherries and Hot Fudge Sauce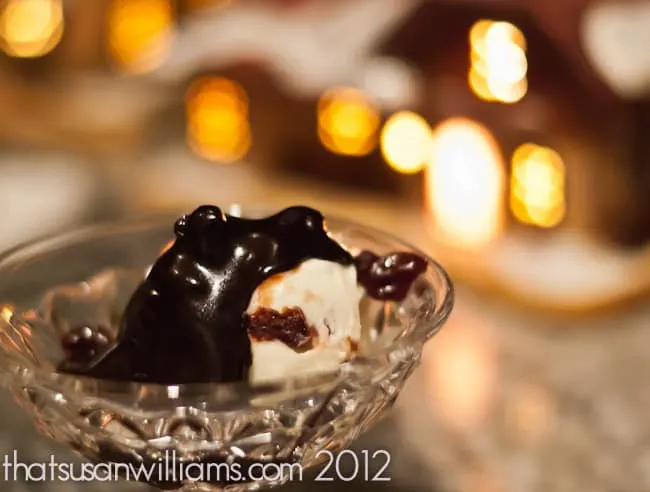 The Best Ice Cream I have ever had. Truly.
Total Time
4 hours
50 minutes
Ingredients
FOR THE ICE CREAM CUSTARD:
2 c. whole milk
1 T. plus 1 teaspoon cornstarch
4 oz. goat cheese (that's about 1/2 c.)
1 1/2 oz. cream cheese (3 tablespoons), softened
1/4 teaspoon salt
1 1/4 c. heavy cream
2/3 c. sugar
1/4 c. light corn syrup
FOR THE BOOZY CHERRIES
1 c. dried tart cherries
1/4 c. sugar
1/4 c. brandy
1/4 c. kirsch
Instructions
FOR THE CHERRIES: Halve or quarter the cherries, depending on size. Combine the cherries, sugar and alcohol in a medium saucepan and bring to a boil. Reduce to low, and let simmer for a couple of minutes. Remove from heat. Leave them to soak/plump up in that liquid, until cool. I put half the cooled cherries in the ice cream itself as I'm layering it into the freezing container, and half the cherries in the hot fudge sauce, once it's ready.
FOR THE ICE CREAM: Prep Work : Mix 2 tablespoons of the milk with the cornstarch in a small bowl, to make a slurry to thicken the ice cream with: set aside.
Whisk the softened goat cheese, cream cheese, and salt in a medium bowl until smooth.
Fill a large bowl with ice water.
Cook: Combine the remaining milk, cream, sugar, and corn syrup in a 4 qt. saucepan, bring to a rolling boil over medium high heat, and boil for 4 minutes. Remove from heat, gradually whisking in the cornstarch slurry to thicken. Bring the mixture back to a boil over medium high heat, and cook, stirring with a rubber spatula, until slightly thickened, about 1 minute. Remove from heat.
Chill : Gradually whisk the hot milk mixture into the cream cheese/goat cheese mixture, until smooth. Pour the mixture into a 1 gallon Ziplock freezer bag and submerge the sealed bag into that huge bowl of ice water that you prepared. Let stand, adding more ice, as necessary, until cold, about 30 minutes.
Freeze: Pour the cooled ice cream base into the frozen ice cream maker canister and spin until thick and creamy. (It takes our Cuisinart Ice Cream Maker around 20 minutes to do its thing, but keep an eye on yours and adjust to your own machine's capabilities.)
Pack the ice cream into a storage container, alternating it with layers of the cherries and ending with a spoonful of cherries, using half the cherries if you're planning to add the other half to the Hot Fudge Sauce. Press a sheet of parchment paper directly against the surface, and seal with an airtight lid. Freeze in the coldest part of your freezer until firm, at least 4 hours.
Notes
Put the reserved half of the boozy cherries into the most amazing hot fudge sauce I've ever had in my life: Decadent Hot Fudge Sauce.
Recommended Products
As an Amazon Associate and member of other affiliate programs, I earn from qualifying purchases.
Nutrition Information:
Yield:
6
Serving Size:
1
Amount Per Serving:
Calories:

529
Total Fat:

30g
Saturated Fat:

19g
Trans Fat:

1g
Unsaturated Fat:

9g
Cholesterol:

90mg
Sodium:

273mg
Carbohydrates:

56g
Fiber:

1g
Sugar:

54g
Protein:

9g
Here's a link to the Hot Fudge Sauce Recipe.
Prepare the Hot Fudge Sauce as directed, and spoon the reserved half of the Boozy Cherries into the sauce. Ladle over ice cream in serving dishes. (Like you didn't know to do that.)
Faint from the deliciousness.
OMGee. Please don't get a picture with hot fudge on my teeth.
Ever had Goat Cheese Ice Cream? Does just the thought get YOUR goat?