This post contains links that, if you click on them and make a purchase, will earn me money. Regardless, I only recommend products or services that I believe will be good for my readers. Thanks for helping me continue to produce great content!
Every single one of them has been amazing, and they are ALL recipes that I'd repeat again.
So, even if it's cold as Christmas when you're reading this, let's just say that these berries were so cold they turned blue, (Old joke from The Sound of Music) and that you'll love it so much, you won't care what month it is. In fact, this recipe can make ANY TIME of the year reminiscent of the warm days of good old summertime.
The lemony lusciousness of this stuff reminded me of a favorite cookie that I make: my Lovely Lemon Bars. (I should post that recipe here some day, shouldn't I?) The zest adds a powerful zing to the sweet frozen custard. And the sweetness of the blueberries? Think of them as one of the more delicious antioxidant flavor-bombs on the planet. Thank You, God, for blueberries.
Before I give you the recipe, here's what I learned from my experience of making this WONDERFULLY smooth, creamy, sweet-yet-tart and tangy bowl of YOWIE-KAZOWIE FLAVOR!!! (Such yumminess!!! Really!!!)
What I Learned:
It requires a teeny bit of prep work, so you'll need to start it on the morning of the day you want to eat it by draining your yogurt. Jeni's recipe says to use cheesecloth to drain it, but I didn't have any. But what I DID have was the knowledge that when you need to drain liquid off of yogurt, to make it thicker, you can substitute a paper coffee filter (the type that fits into a basket-style coffee brewer was what I used) and use that in place of cheese cloth. When you measure out your drained yogurt, (you'll need 1 1/4 c. of drained yogurt) there will be leftover drained yogurt. Mine is in the fridge, and there MAY be enough to make another batch of frozen yogurt, but I haven't measured it or tried to do that, yet.)
Another thing you'll want to do in advance, (that I didn't), is to make your blueberry syrup, so that it has time to chill before you use it. I made it while the frozen yogurt custard was stirring in the machine, so it was still warm, and I had to stick it in the freezer to get it to cool down, so that I could layer it in the container that I use to store the ice cream in my freezer for its final chill.
And finally, you should also make your lemon syrup in advance, so that it has time to cool down as well.
When you peel the zest off the lemon, make the pieces as big as you can so that they're easy to pick out of the custard.
When you make your lemon syrup, you only need the 3 T.of sugar that the Lemon Syrup recipe calls for, and not the 2/3 c. that I saw while hurriedly referring to the frozen yogurt base recipe, rather than the lemon syrup recipe. So, my lemon syrup probably had an extra half cup or so of sugar in it. Oops!!! Turned out great, anyway! 😀
This time, I made absolutely sure that my cream cheese was completely softened to room temperature, and well whisked, and I had no cream cheese lumps in my ice cream, so be sure that your cream cheese is perfectly softened!
I think that just about covers all of my mistakes/learning experiences. 😀
So, here's Jeni's recipe for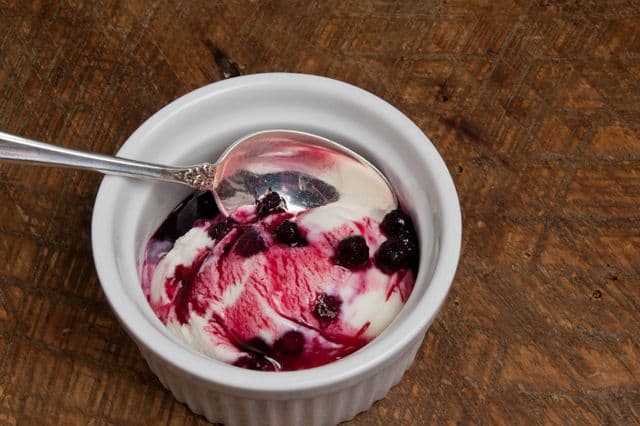 Lemon Blueberry Frozen Yogurt
2017-03-28 14:24:48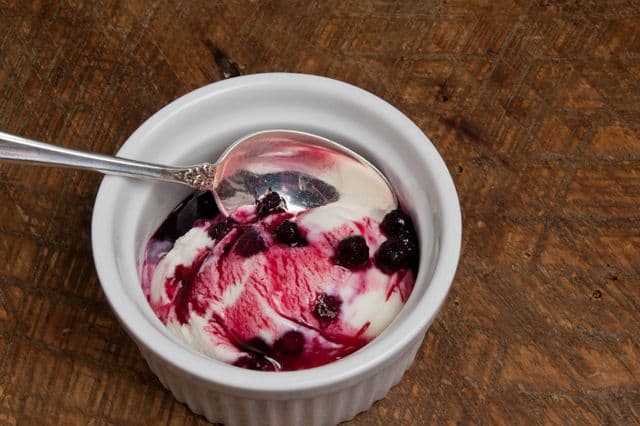 Lemon Blueberry Frozen Yogurt is both light and creamy, tart and sweet. Perfectly balanced. Perfectly paired.
Frozen Yogurt Base
1 quart plain low-fat yogurt
1 1/2 c. whole milk
2 T. cornstarch
2 oz. (4 T.) cream cheese, softened
1/2 c. heavy cream
2/3 c. sugar
1/4 c. light corn syrup
zest from one of the lemons used for the lemon syrup
Lemon Syrup
2 to 3 lemons (I used 2, but they were large)
3 T. sugar
Blueberry Sauce
1 1/2 c. blueberries
3/4 c/ sugar
For the frozen yogurt base
Fit a sieve over a bowl and line it with two layers of cheesecloth (or do what I did and use a paper coffee filter). Pour the yogurt into the sieve, cover with plastic wrap, and refrigerate for 6 to 8 hours to drain. Discard the liquid, and measure out 1 1/4 c. of the drained yogurt; set aside.
For the lemon syrup
Using a vegetable peeler, remove the zest in large strips from 1 lemon.; reserve for the frozen yogurt. Leave the lemon zest in large strips so it's easier to strain out later). Juice enough of the lemons to make 1/2 c. of juice.
Combine the lemon juice and sugar in a small saucepan and bring to a boil over medium-high heat, stirring to dissolve the sugar. Remove from the heat and let cool.
For the blueberry sauce
Mix the blueberries and sugar in a small saucepan and bring to a boil over medium heat. Reduce the heat and simmer, stirring occasionally, until the berries are tender and the sauce is thickened, about 8 minutes. Remove from the heat and let cool, then refrigerate until cold before using.
For the frozen yogurt base
Mix about 2 T. of the milk with the cornstarch in a small bowl to make a smooth slurry.
Whisk the cream cheese in a medium bowl until smooth
Fill a large bowl with ice and water.
COOK
Combine the remaining mil, the cream, sugar, corn syrup, and lemon zest in a 4 qt. saucepan, bring to a rolling boil over medium-high heat, and boil for 4 minutes. Remove from the heat and gradually whisk in the cornstarch slurry.
Bring the mixture back to a boil over medium-high heat and collk, stirring with a heatproof spatula, until slightly thickened, about 1 minute. Remove from the heat.
CHILL
Gradually whisk the hot milk mixture intot the cream cheese until smooth. Add the reserved 1 1/4 c. yogurt and the lemon syrup, and whisk, until smooth.
Pour the mixture into a 1-gallon Ziploc freezer bag and submerge the sealed bag in the ice bath. Let stand, adding more ice as necessary, until cold, about 30 minutes.
FREEZE
Remove the zest from the yogurt base. Pour into the frozen canister and spin until thick and creamy
Pack the frozen yogurt into a storage container, about 1/3 at a time, alternating it with layers of blueberry sauce. Do not mix. End with final layer of sauce. (Store any leftover blueberry sauce in your fridge, to drizzle over top of frozen yogurt). Cover frozen yogurt with parchment paper pressed directly against the surface, and seal with an airtight lid. Freeze in the coldest part of your freezer until firm, at least 4 hours.
Adapted from Jeni
Adapted from Jeni
That Susan Williams https://www.thatsusanwilliams.com/
What's your favorite flavor of frozen yogurt?
If you like this recipe, please, feel free to share it on Facebook or Twitter, or Stumble it, or use my yummy looking photos on Pinterest.