This post contains links that, if you click on them and make a purchase, will earn me money. As an Amazon Associate, I earn from qualifying purchases. . Regardless, I only recommend products or services that I believe will be good for my readers. Thanks for helping me continue to produce great content!
Lovely Meyer Lemon Bars with Olive Oil and Sea Salt are a scrumptious dessert with a vibrantly bright flavor that isn't *just* sweet. Their flavor is both sweet, and tart, with a savory slightly bitter underlying note from the olive oil and the lemon zest. Oh, my goodness we devoured them in a FLASH around here. And I may have eaten more of them than anyone else.
And, if you scroll down further in the post, you'll learn how you might win the same type of lemon juicer tool that I used in making this recipe. Look for "Giveaway".
Why Are These Meyer Lemon Bars So Lovely?
The first, and admittedly worst reason these Lemon Bars are so lovely, is that I grew up watching The Lawrence Welk Show, and he always introduced one of my favorite acts as The Lovely Lennon Sisters. I can't say Lemon Bars without thinking of the lilting loveliness of the voices of the Lovely Lennon Sisters. So, there ya go. An' a one, an' a two an' a …which leads me to: two layers.
Two Layers: Shortbread and Lemon Curd
The dessert itself is the beautiful pairing of a basic buttery shortbread, and a lovely lemon curd, that is made with both butter and olive oil. So you don't lose the butter flavor, but you also gain a bit of complexity in flavor due to the addition of olive oil.
To be honest, I let my shortbread get overly brown. YOU don't wanna do that. Bake it till it's a pale brown: not golden brown. The second you start smelling it, check on it.
Use the very best, tastiest extra-virgin olive oil you've got in your curd. This recipe will allow the flavor of a beautiful olive oil to shine. Lemon and olive oil are such a beautiful pairing! If you enjoy that flavor pairing as well, check out my Italian Lemon Almond and Olive Oil Cake.
What's a Meyer Lemon? Can I Substitute a Regular Lemon?
A Meyer Lemon is a type of lemon that is slightly less acidic, and slightly sweeter than a regular lemon. According to wikipedia, it is a cross between a citron and a mandarin/pomelo hybrid distinct from the common or bitter orange.
You can DEFINITELY make this recipe and substitute regular lemon. That's what the original recipe called for. But I love the brighter yellow, and the slightly sweeter flavor of Meyer Lemons, and I watch for them, each January, at Costco. One downside of using Meyer Lemons? They don't seem to zest as easily as a regular lemon. The texture of their peel is more…slick.
Making Lemon Curd is a Bit Tricky:
But don't let the "trickiness" word discourage you from trying. You can do this!
I got this recipe from Melissa Clark of the New York Times, and she (as well as those who commented on her recipe, spent some time warning people about the dangers of allowing the curd to over cook. If you do, it can thin out again.
I certainly didn't want that to happen, but consequently, I believe I didn't let my curd boil quite long enough. Mine was a bit softer than I think it should have been- I never let it get truly thick enough.
But even with that, I was delighted with the dessert. Just wish the curd had been a touch firmer.
I plan to try this recipe again. It's definitely do-over worthy! And this time, I won't be too afraid to let it boil the appropriate amount of time.
You'll notice in the recipe that I strain my curd prior to adding the zest. That's to get any egg lumps out. Once it's strained, it's unbelievably velvety. Then add the zest, after that, so that you don't end up straining out the zest you just put in. (That would be silly to do, now, wouldn't it?)
Use a Coarse Sea Salt If You've Got It
Salt makes sweet taste even better, (think how much you love salted caramel, and you'll realize I'm right), so if you have a coarse sea salt, this is the time to sprinkle it. I treated myself to the box of Maldon Sea Salt I've linked below, for such a time as this.
Sprinkle the Powdered Sugar Immediately Before Serving:
The lemon curd requires that these babies be refrigerated, but I think they taste even better that way. So cool, and refreshing! But the powdered sugar tends to melt and dissolve into the curd, which is slightly wet, so they'll be prettiest and taste best if you dust them with powdered sugar and sprinkle them with sea salt immediately before serving.
The Magical Lemon Juicer Giveaway
I was sent this Lemon Lime squeezer/citrus tool in the mail by Zulay Kitchen to try, and it's now in my top kitchen drawer, which is the resting place of all the kitchen tools I use the most. It works great, and it keeps out the seeds. I use it for both limes and lemons, pretty much on a daily basis. If you'd like to buy one for yourself, I've linked it in the Recommended Products, right below the recipe.
If you'd like to win one for yourself, simply share this post, and leave me a comment below letting me know you did. It's nice if you show me the link to your share. I'll draw a name from my commenters, and someone will win one! Isn't that nice of Zulay Kitchen? I think so! Leave the comment by midnight, April 30th to win.
Yield: 16 lemon bars
Lovely Meyer Lemon Bars with Olive Oil and Sea Salt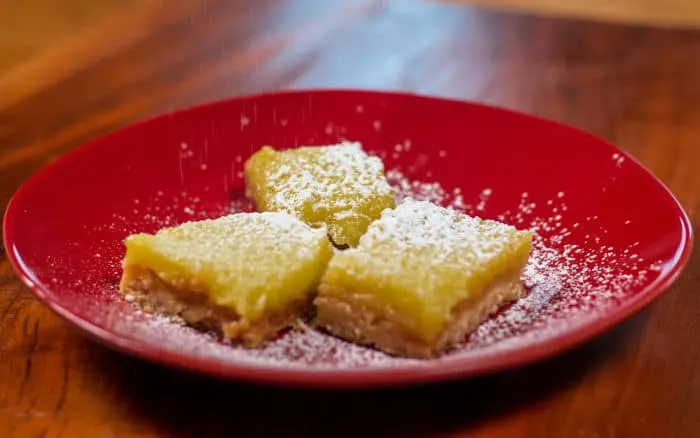 Lovely Meyer Lemon Bars with Olive Oil and Sea Salt are luscious! They have a vibrantly bright flavor that is sweet and tart, with a mild savory note.
Total Time
2 hours
55 minutes
Ingredients
1 ¼ cups all-purpose flour
¼ cup sugar
3 tablespoon confectioners' sugar, plus more for sprinkling
1 teaspoon finely grated lemon zest
¼ teaspoon fine sea salt
10 tablespoons cold unsalted butter, cut into cubes
FOR THE CURD:
3/4 c. Meyer lemon juice (approximately 4-6 lemons)
1 ½ cups sugar
2 large eggs, plus 3 egg yolks
1 ½ teaspoons cornstarch
Pinch of fine sea salt
4 tablespoons butter
¼ cup fruity extra-virgin olive oil
Confectioners' sugar
Flaky sea salt, for sprinkling
Instructions
Heat oven to 325º and line a 9-by-9-inch baking pan with enough parchment to hang over two of the sides (to be used as handles later to lift the bars out of the pan).
To make the shortbread base, pulse together the flour, granulated sugar, confectioners' sugar, lemon zest and salt in a food processor. Add butter and pulse (or use a pastry cutter) to cut the butter into the flour until a crumbly dough forms. Press dough into prepared pan and bake until shortbread is pale golden all over, approximately 30 minutes. Remember you're going to bake the shortbread again, once you've poured the curd on top, so don't let it get too dark in color.
While the shortbread is baking, prepare the lemon curd: Grate 1/2 tablespoon zest from lemons and set aside. Squeeze Meyer lemons to yield 3/4 cup juice.
In a small saucepan, whisk together lemon juice, sugar, eggs and yolks, cornstarch and fine sea salt over medium heat until boiling and thickened, 2 to 5 minutes. Make sure mixture comes to a boil and stays there for 30 seconds or so; you should see it thicken up before you take it off the heat. But once it boils do not cook for longer than 1 minute or you risk the curd thinning out again. Remove from heat and strain into a bowl through a sieve. Whisk in butter, olive oil and lemon zest.
When the shortbread is ready, take it out of the oven and carefully pour the lemon curd onto the shortbread base; return the pan to the oven. Bake until topping is just set, 10 to 15 minutes more. Allow to cool to room temperature, then refrigerate until cold before cutting into bars. Sprinkle with confectioners' sugar and flaky sea salt right before serving.
Notes
Be sure to not over bake your shortbread the first time. It's better to take it out while it's still light in color, since it will receive 10 minutes more baking time.
Recommended Products
As an Amazon Associate and member of other affiliate programs, I earn from qualifying purchases.
Nutrition Information:
Yield:
16
Serving Size:
1
Amount Per Serving:
Calories:

296
Total Fat:

15g
Saturated Fat:

7g
Trans Fat:

0g
Unsaturated Fat:

7g
Cholesterol:

85mg
Sodium:

115mg
Carbohydrates:

39g
Fiber:

0g
Sugar:

31g
Protein:

2g
Cookies I Have Loved
Each one a winner! You've got to try making at LEAST one of these!!!