This post contains links that, if you click on them and make a purchase, will earn me money. Regardless, I only recommend products or services that I believe will be good for my readers. Thanks for helping me continue to produce great content!
These gorgeous chocolate cookies, Frosted Malt Chocolate Cookies with Sea Salt, are perfect for Christmas, or Valentine's Day, or for anyone you know who loves chocolate, on any day at all.
My Husband Wanted These Chocolate Cookies
My husband spotted a picture of these Frosted Malt Chocolate Cookies on the cover of the December issue of Bon Appétit Magazine, and promptly began drooling. "I sure would like to try those Frosted Malt Chocolate Cookies" he would sigh, on a daily, nay, twice or thrice daily basis.
For weeks.
Oy.
The ingredient "chocolate wafers", as written, appeared to me to have the potential to be confusing to some folks, because Nabisco makes a cookie called "chocolate wafers", (I grind them up in my food processor for chocolate cheesecake crust) and the recipe called for 10 oz. of chocolate wafers.
But since making a cookie with another cookie didn't sound right to me, and since Señor Google is a close, intimate friend of mine, I googled chocolate wafers, and found that what I'd suspected was true.
Chocolate Wafers Might Not Be What You Think They Are
In the vocabulary of those who know, use, and love good chocolate, "chocolate wafers" means those little round melting discs (used for couverture, or melting and coating things like high-end chocolate truffles). This kind of chocolate wafers costs more than just chocolate chips. 🙂
I consulted with my friend, Kristi, the owner and chocolatier of Sweet Impact, who makes DIVINE chocolate confections, as to who I should order these chocolate wafers from, and she suggested that I try ordering from chocosphere.com. (By the way, I'm not being compensated by them, but they had a GREAT selection of all types of chocolates, and I received great service from them, too, just so you know.)
For the Cost Conscious, regarding Chocolate:
I knew the recipe called for 10 oz. of bittersweet chocolate wafers. Bittersweet Chocolate is between 40-50% cacao. The wafers I chose were the Guittard "Eclipse Du Soleil" 41% Premium Milk Chocolate Boutons I felt like the price ($21.20 for 2.2 lbs. of chocolate) was reasonable for the quality I knew I'd be receiving, and since I would only be using 10 oz. of the 34 oz. of chocolate boutons that were coming my way, I'd still likely have enough leftover chocolate wafers for a couple more fine chocolate recipes.
The Reviews from the Magazine:
Once I'd made the recipe for my family to rave reviews, I decided I wanted to share this recipe with my readers. But then, I went back to Bon Appétit, and read the reviews that had come in from the Bon Appétit readers. YIKES! This recipe, which we found to be extraordinarily delicious, they found to be dry, crumbly, and bad.
I'm still not precisely sure why, but I'll posit this guess:
Perhaps they've never made pie crust before in a food processor? While I was stirring up the cookie dough, I kept thinking that it reminded me so much of the texture of pie crust. In a pie crust, you also want the fat in little pea sized lumps, and you don't add much liquid.
So…maybe that was their problem? Or maybe they just didn't add enough liquid, or didn't understand the process of gathering a crumbly dough together, and then kneading it/squishing it down, and giving the flour time to hydrate? I don't know.
Recipe Notes from My Experience:
Anyway, my dough turned out like … dough. It was, perhaps, a little dry, but you can be generous with the cream you add, and that should compensate. AND do what I did, which was to err on the side of baking them a few minutes less, rather than more.
One slightly different ingredient that we used was CHOCOLATE malt powder, rather than just plain malt powder, because that was all my store had. But the only difference that I can imagine that making is a good difference.
Oh, and we also used Hershey's Special Dark Cocoa Powder, because I like it better than just regular cocoa powder. It's more intense. So we probably made the overall chocolate flavor of the cookie itself a bit more intense.
My Rolling Technique
One more change I made is that I rolled my cookie dough out on (floured) waxed paper (on the bottom) and with the Saran Wrap I'd chilled the dough in on top. You use less flour that way when you're rolling it out, and you can actually see what you're doing.
The Change I'd Make in the Ganache
The final change I'd make in the recipe as written is to be LESS generous with the cream in the chocolate frosting/ganache. Mine wasn't thickening properly, and I ended up melting a few more discs of chocolate to thicken it up.
A Word About Storage:
Because they're iced with a soft ganache, these cookies will not "stack" well. I placed my cookies on a couple of platters and covered the platters with Saran Wrap. The first platter was gone, by the end of the first night. The second platter I chilled, but I really don't think I needed to. It only lasted another couple of days, and it was fine on the counter. These cookies were at their best the first day that I made them. If you wanted to, you could bake the cookies one day, and then store them. Then make the ganache on the day you're ready to serve them. That might help you out if you're pressed for time on the day you need them.
Yield: 20 cookies
Frosted Malt Chocolate Cookies with Sea Salt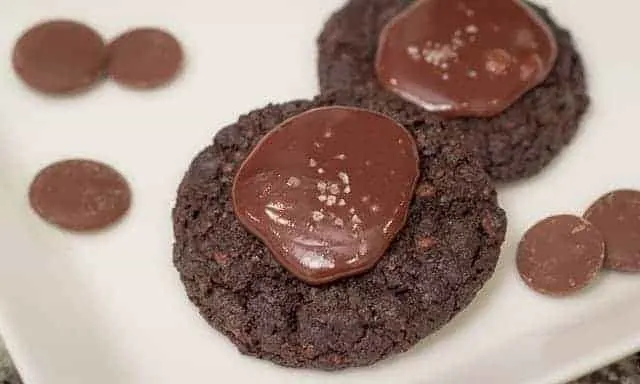 The answer to the prayer of any chocolate lover, these chocolate frosted biscuits are decadent enough to make your knees grow weak.
Total Time
1 hour
45 minutes
Ingredients
10 ounces semisweet chocolate melting wafers
(Melting wafers are also called chocolate disks, pistoles, and fèves; about 2 cups), divided between cookie dough and ganache; 6 oz for the cookie dough, 4 oz. for the ganache
¾ cup (packed) dark brown sugar
½ cup unsweetened Hershey's Special Dark cocoa powder
2 tablespoons Chocolate (or regular) malted milk powder - I used chocolate
1 tablespoon baking powder
1½ teaspoons kosher salt
2 cups all-purpose flour, plus more for waxed paper
¾ cup (1½ sticks) chilled unsalted butter, cut into 1 T. sized pieces
1 teaspoon vanilla extract
⅔ cup cream for the cookie dough (you can be a little generous with this amount)
½ cup heavy cream for the ganache (Here, I'd be a little stingy with the amount)
1 tablespoon light corn syrup
Flaky sea salt
Instructions
Pulse 6 oz. of the chocolate wafers in a food processor until finely chopped. Transfer to a large bowl.
Pulse brown sugar, cocoa powder, malted milk powder, baking powder, kosher salt, and 2 cups of flour in the food processor several times to combine. Add butter and pulse until tablespoons of butter are broken up into bits no larger than a pea. Add to bowl with ground-up chocolate and toss the ingredients to combine.
Stir vanilla and ⅔ cup cream (remember, you can be a little generous with the cream) in a measuring glass to combine, then slowly drizzle over chocolate mixture, mixing with a fork all the while. Mixture will look dry once you've added all the cream. Knead dough a few times in the bowl (it will not come together and will look crumbly), then transfer to a LARGE piece of plastic wrap. Bring the edges of plastic up and over dough and press down to incorporate floury parts, then wrap tightly. Use the heel of your hand to press down firmly on the dough, forcing it to tightly fill out the plastic. Basically, you're squishing it down. This will help the dough adhere into a single mass and help the flour hydrate. Chill dough until firm, at least 1 hour.
Preheat oven to 400°. Roll out dough between 1 sheet of floured waxed paper on the bottom, and one sheet of plastic wrap on the top, to ¾" thick (you might not have to roll it very much). Punch out rounds with cookie cutter as close together as possible. Use the remaining scraps of dough to make a couple more cookies, by first squishing the scraps together and then re-rolling them out. Transfer cookies to a parchment-lined baking sheet and freeze 10 minutes.
Bake cookies, rotating baking sheet halfway through, until firm to the touch around the edges, 13–18 minutes. (I only baked mine for 12 or 13 minutes.) Let cool on baking sheet.

Meanwhile, heat corn syrup, remaining 4 oz. chocolate, and remaining ½ cup cream (here's where I'd skimp on the cream measurement) in a heatproof bowl set over a saucepan of barely simmering water (bowl should not be touching the water), stirring often, until chocolate is melted and mixture is completely smooth. Set bowl with frosting into a large bowl of ice water and let cool, stirring occasionally, until thickened but still pourable and shiny. Spoon a scant tablespoonful of frosting onto each biscuit; sprinkle with sea salt.



Notes
To cut out the cookies, you'll need a 1 1/2" circular cookie cutter - which is kind of a small circle. It would be fun to make these heart shaped for Valentine's Day!
Recommended Products
As an Amazon Associate and member of other affiliate programs, I earn from qualifying purchases.
Share this post with someone you love, or with someone who loves chocolate, or at least, with someone who you hope might make them for you! Flip it on Flipboard. Stumble it on Stumble. Pin it on Pinterest. Tweet it on Twitter, or please, please, please, share it on Facebook!
And if you're a chocolate lover whose love of chocolate knows no bounds, I have a couple of other recipes you're going to want to check out. How about Chocolate Glazed Triple Layer Chocolate Cheesecake? Or maybe an Easy and Luscious Chocolate Glazed Chocolate Tart that couldn't be easier?