This post contains links that, if you click on them and make a purchase, will earn me money. Regardless, I only recommend products or services that I believe will be good for my readers. Thanks for helping me continue to produce great content!
This easy and luscious Chocolate Glazed Chocolate Tart recipe came to my attention because my boy is such a hound for chocolate desserts. And I was desperately searching for an easy dessert with a lot of chocolate for my boy.
Why Did I Need an Easy Chocolate Dessert?
Why, you might ask? Because the boy had EARNED his chocolate dessert.
What good thing had the boy done that earned him this little luscious slice of heaven?
My young man is a high school graduate!
You Don't Need A Graduate to Make This Dessert
Life is too short. This dessert will help you celebrate any special day.
Like…er…. Thursday, for example.
And the recipe is so easy, you certainly don't need to be a graduate yourself to make it!
I found this recipe on epicurious.com . It was a blue ribbon recipe, meaning it had received their highest rating, with a score of excellent reviews.
The Ingredient Changes I Made
The only way in which I have altered this recipe one iota was by adding the whipped cream topping and raspberries, which, surprisingly, makes a world of difference. I love deep, dark chocolate lusciousness as much as the next chocolate lover, but all that deep dark chocolate can become pretty one-note, without a little something to break the flavor up. The acidity of the berries added a brightness that the tart needed, while the light fluffiness of the whipped cream broke up some of the denseness of the texture of the tart.
I also learned from making this dish that there is such a thing as a chocolate graham cracker. I never knew! You could use Nabisco's Famous Chocolate Wafers as a substitute, and the price per box was about the same. However, you get a lot more graham crackers in a box of chocolate graham crackers than you do chocolate wafers in a box of the Nabisco Famous Chocolate Wafers, so, for my money, the graham crackers were a better buy.
Baking Times for Chocolate Glazed Chocolate Tart:
I don't have one of those 9″ round aluminum tart pans with a removable bottom that the original recipe called for. Mine is made of porcelain, and is about 11″ across. I adjusted my baking time for that, checking the tart after about 18 minutes. I think I allowed it to bake a total of 20 minutes. The original recipe called for the tart to bake 20-25 minutes in a 9″ pan. My point is, adjust your baking time according to your pan. A larger pan will need less baking time, as the depth of the tart itself will be less.
On with the recipe!
The Recipe for Chocolate Glazed Chocolate Tart
Yield: 12 slices
Easy and Luscious Chocolate Glazed Chocolate Tart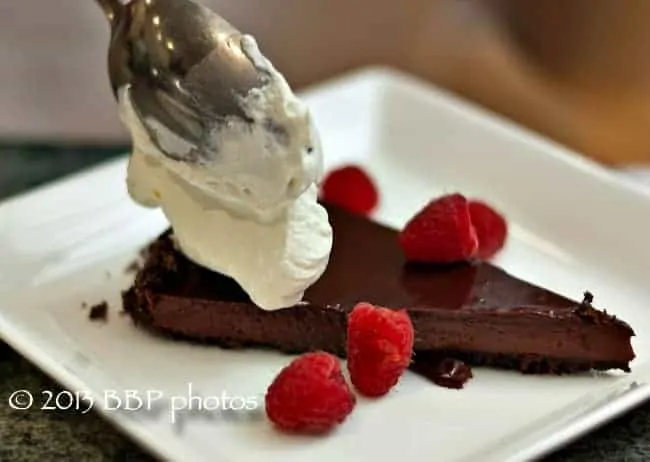 Easy, Luscious, Chocolate Glazed Chocolate Tart, served with Raspberries and Whipped Cream: the perfect dessert for entertaining.
Total Time
1 hour
50 minutes
Ingredients
For Crust:
9 chocolate graham crackers, finely ground
5 T. butter, melted
1/4 c. sugar
For Filling:
1 1/4c. heavy cream
9 oz. bittersweet chocolate, chopped
2 large eggs
1 t. vanilla
1/4 t. salt
For Glaze:
2 T. heavy cream
1 3/4 oz. bittersweet chocolate, finely chopped
1 t. light corn syrup
1 T. warm water
Topping:
1 c. heavy whipping cream
1 T. sugar
1 pt. raspberries
Instructions
Prepare the crust: Preheat oven to 350º.
Stir together crumbs, melted butter and sugar.
Press evenly onto bottom and 3/4" up the side of a tart pan.
Bake until firm, about 10 minutes.
Cool on a rack, 15 minutes.


Prepare the filling: Bring cream to a boil, then pour over chocolate in a bowl.
Let stand for 5 minutes.
Gently stir till smooth.
Whisk together eggs, vanilla, and salt in another bowl.
Stir egg mixture into melted chocolate.
Pour filling into cooled crust. Bake until the filling is set about 3" in from the edge, but the center is still wobbly. Depending on the circumference of your pan, this could be from anywhere from 18-25 minutes. The center will continue to set as the tart cools. Cool completely in pan on rack, about 1 hour.


Prepare the glaze/ganache: Bring cream to a boil and remove from heat.
Stir in chocolate until smooth. Stir in corn syrup, then warm water.
Pour glaze onto tart, then tilt and rotate tart so that glaze coats the top of the tart completely. Let stand until glaze is set, about 1 hour.
For topping: Whip 1 c. cream plus 1 T. sugar in a bowl till fluffy.
Decorate each slice with raspberries and whipped cream.
Notes
Chilling the tart with the glaze will dull the shiny finish of the chocolate ganache on top. If you want to retain the shine, but need to bake the dessert ahead of time, you can make the tart a day in advance, and refrigerate it, but add the ganache an hour before serving.
Recommended Products
As an Amazon Associate and member of other affiliate programs, I earn from qualifying purchases.
Nutrition Information:
Yield:
12
Serving Size:
1
Amount Per Serving:
Calories:

384
Total Fat:

30g
Saturated Fat:

18g
Trans Fat:

1g
Unsaturated Fat:

10g
Cholesterol:

75mg
Sodium:

180mg
Carbohydrates:

22g
Fiber:

5g
Sugar:

11g
Protein:

6g