This post contains links that, if you click on them and make a purchase, will earn me money. Regardless, I only recommend products or services that I believe will be good for my readers. Thanks for helping me continue to produce great content!
Peppermint Bark Candy is my holiday guilty pleasure: so much so, that I finally felt like I had to nail down my own recipe for it! No matter where I go in the month of December, whether it's holiday shopping, or to a party, rest assured, I've got one eye furtively peeled for a platter of peppermint bark, because….you never know.
Ah, the delights of peppermint bark candy! I'm not much of a candy maker, really. I really prefer making cookies at Christmastime.
MY Christmas Crack
One day, several years ago, as I was lusting my way through the Williams-Sonoma store, I spied a platter, covered with something that sort of looked like flat fudge. How bad could one little bite of that be? So I took my first sample nibble of their crack peppermint bark candy. Just a crumb.
Besides, the first one's always on the house, if you know what I mean. It was beyond delicious! Creamy, and crunchy, cooling and deeply meltingly chocolatey, it was all things wonderful, in candy form.
Later, as I was careening through Costco, the carnival barker sample lady encouraged me to try some of Costco's peppermint bark candy. Almost equally delicious it was, to the stuff carried by Williams-Sonoma, but definitely much more affordable.
The Peppermint Bark Pusher Lady was located at the end of the bakery section, right across from the meat cases. You would have been amazed at how many times needed to go back to the bakery section that day, not to mention how many times I circled the meat cases, just watching the meat age.
And then, I began making my children get samples of that chocolaty minty treat that they do not even care for (but I do, dangit)! Where was their Christmas Spirit? It's all about giving gifts to OTHERS (and by others, I mean ~MOTHERS~).
After Googling How to Make My Favorite Christmas Crack:
After some serious googling, I discovered that making crack peppermint bark candy is super easy to do, and will not get you put in the DEA Watch List. Bonus!!!
So, today, I'm sharing this easy recipe with you. You are going to HATE me for doing it, because good quality chocolate is somewhat expensive, but IT'S SO WORTH IT!!! (By my use of capital letters and exclamation points in this post, you may have gathered that I'm a little jacked up on sugar at the moment, but, hey: my breath is minty fresh. There is that.)
Six Tips about the Ingredients for Peppermint Bark:
Do not make this with inferior chocolate. You actually do get what you pay for, for the most part, when it comes to chocolate. So no "artificial chocolate flavored candy coating" crud, OK? Lindt or Ghirardelli or Baker's are the way to go. My grocery store had Ghirardelli, and I didn't want to make a special search anywhere else, so that's what I went with.
For the dark chocolate, I used bittersweet, but you could also use semisweet. They have very similar levels of cacao, with bittersweet generally having a slightly higher level of cacao, and thus being slightly less sweet than semisweet. The white chocolate is quite sweet, so you need a little bitterness to balance that flavor out.
For the white chocolate, be sure the white chocolate you buy has cocoa butter (20%) rather than partially hydrogenated palm oil, palm kernel oil, soybean oil, or cottonseed oil . White chocolate is more finicky to melt, with more of a tendency to scorch or seize up than bittersweet chocolate, so, be gentle with it. Don't let the hot water you're melting the chocolate over touch the bottom of the bowl or double boiler. That will keep your heat gentle enough.
Use bars of chocolate and not chips. Those little chips have more "stabilizer" ingredients in them: that's why they don't melt all over your chocolate chip cookie. And the goal here is to MELT the chocolate. (If you use chips, you're going to need to add more oil/fat in some form or fashion to compensate for the added stabilizer, so just don't. Use chocolate in bar form instead.)
For the peppermint candy. Although I used those "starlight" wrapped mints, candy canes would also be fine. I tried breaking them in a big ziplock bag with the edge of a can, or a rolling pin, but nothing doing. I had to give up and go with pulsing them till they looked right in my food processor, and while annoyingly loud, that worked fine.
Peppermint oil: if you happen to have any peppermint essential oil (and I did, and mine was DoTerra, so it was a food grade oil), use it to flavor the dark chocolate! I used 3 drops, tasted the melted bittersweet chocolate, and then added 1 more drop, to bump up the mint flavor just a smidge. If you don't have any peppermint oil, it's FINE to use peppermint extract: about 3/4 of a teaspoon.
One More Word About Melting the Chocolates:
You can melt it in the microwave, if you are vigilant in only doing it in 15 second bursts and stirring and scraping between each burst of power, but I didn't, because I feel like I actually have more control, and know better what's going on, by melting the chocolate using a double boiler that has been insured with the Boiler Cover. If you don't have a double boiler, take a saucepan, put about an inch and a half of water in it, and bring it to a low simmer. Place the chopped up chocolate in a Pyrex glass bowl, or a metal bowl, that nests above the simmering water in the pot, and stand over it, stirring and scraping with a spatula, until it's melted. Now that's not too scary, is it?
The Recipe for Peppermint Bark Candy
Yield: 36 pieces of candy
Easy Peppermint Bark Candy Recipe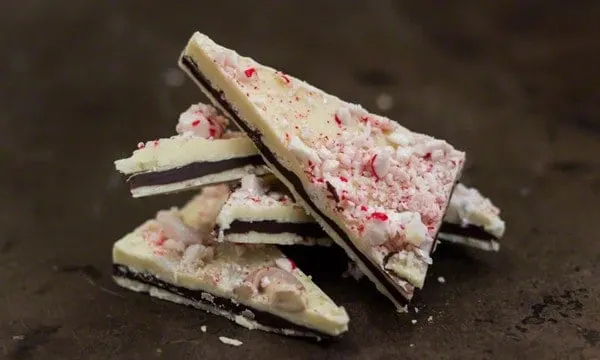 This is the food of the gods. Or the candy of the gods. What more remains to be said?
Cook Time
1 hour
15 minutes
Total Time
1 hour
30 minutes
Ingredients
16 oz. good quality white chocolate, finely chopped
30 red and white striped hard peppermint candies, coarsely crushed (about 6 oz.)
8 oz. good quality bittersweet or semisweet chocolate, finely chopped
5 T. whipping cream
3 or 4 drops of peppermint essential oil (or 3/4 t. peppermint extract)
Instructions
Line a small baking sheet that has edges (mine was 13' x 9") with foil.
Melt white chocolate in double boiler over gently simmering water. (Be sure to melt it gently.)Pour approximately 1/2 of the melted white chocolate into 3 long rectangular lines on the pan, and then quickly smooth the chocolate into one large rectangle with an offset spatula. Chill until set, approximately 15 minutes. (Set remaining half of melted white chocolate aside, to be worked with a little later as the top layer.)
Stir bittersweet chocolate, cream, and peppermint oil in a bowl over water simmering in a sauce pan, until just melted and smooth. Cool melted chocolate till it's barely lukewarm, which will take about 5 minutes. Pour bittersweet chocolate in 3 long rectangles, and smooth with offset spatula. Refrigerate until cold and firm, about 25 minutes. (The bittersweet chocolate ganache will lose its gloss with refrigeration - but that's OK. It's going to get covered up with the white chocolate, anyway.)
Rewarm previously melted remaining white chocolate over simmering water, and pour white chocolate over firm bittersweet chocolate layer. Spread with offset spatula to cover. Immediately sprinkle with crushed peppermint candies, until it looks like you want it to look. (It's not necessary to use all your candies.) Chill until firm, about 20 minutes.
Lift candy out of pan, and peel foil off bark. Place on cutting board, and slice into desired sizes. Can be stored in an airtight container in the refrigerator for 2 weeks. (As if it will last that long!!!) Let stand at room temperature 15 minutes before serving.


Recommended Products
As an Amazon Associate and member of other affiliate programs, I earn from qualifying purchases.
Nutrition Information:
Yield:
36
Serving Size:
1
Amount Per Serving:
Calories:

110
Total Fat:

7g
Saturated Fat:

4g
Trans Fat:

0g
Unsaturated Fat:

3g
Cholesterol:

5mg
Sodium:

13mg
Carbohydrates:

12g
Fiber:

0g
Sugar:

11g
Protein:

1g