This post contains links that, if you click on them and make a purchase, will earn me money. Regardless, I only recommend products or services that I believe will be good for my readers. Thanks for helping me continue to produce great content!
Chocolate Zucchini Cake is the very best use of your leftover, unwanted zucchini.
Because as we all know, it's the time of year when gardeners are paying their friends to take some of the zucchini they've grown off of their hands.
Now that I've got your attention….
The Fiasco BEFORE Making Chocolate Zucchini Cake
Now, as it turned out, the cake itself was NOT a fiasco, but I ask you: have you ever gone to cook something, and nothing, like NOTHING seemed to be EASY that day?
They make it look sooooooo easy on the cooking shows and Facebook videos, don't they? You just dump this into this, and that into that. You stir, you mix, you stick it in the oven, and ta-da. Culinary magic has occurred.
Why is my life almost NEVER like this?
A lot of this is my own fault.
Because I live in the Boonies, I tend to buy in quantity, so as to TRY to avoid running out to the store. Which is more like journeying out to the store. Trekking out to the store. Embarking on a pilgrimage to the store.
So you'll often see me buying those monster-size sacks of rice, and white flour, and sugar, and salt, and yeast, and eggs, and… you get the idea.
Which means I very often have to refill my "normal" size canisters that are on my counter from my monster size bags and bottles and boxes of stuff. A bit of ferrying is involved. From my pantry (for which I'm grateful) into closer proximity with my work area. (You know: oven, cooktop, sink, fridge.)
Plus, I have given my daughter freedom to cook in the kitchen. And so a lot of the time, she'll use up what's in the flour or sugar canister that are on my countertop, but not refill it. Are you with me?
Anywho, I woke up early yesterday morning, (4:50 AM) and since it was the day for my Friday Friends' group, and we were having breakfast that day, I thought: "I know! I'll make them a yummy chocolate zucchini cake!"
But before I could do that:
I had to clean the kitchen from last night. (Since we had pizza from a box, and I didn't cook, "nobody" thought they needed to clean up.) That took several minutes. Not saying we're PIGS…but…. Well, I can't stand to cook in a dirty kitchen.
Fine. Whatever. Frustrating, but, OK.
How To Make Your Own Buttermilk in 5 Minutes
Then, I had no buttermilk, and I needed to make buttermilk, by mixing a tablespoon of white vinegar with a cup of milk, and that needed to sit and sour for a few minutes, so I went to mix that up first: but my white vinegar bottle was empty. Shoot. No problemo: meander over to the pantry, and fill the bottle from your large Costco-size bottle of vinegar. Right? Well, it WOULD have been right, but as it happened, there WAS no white vinegar left there either, with which to fill up my bottle. Fine, put that on the shopping list. Throw out the empty bottle that's still in the cabinet. (Also throw out the empty peanut butter jar that I found left there to rot, by the somebody in my house who eats a LOT of peanut butter.) Try not to get upset that no one told you we were out of white vinegar. Substitute apple cider vinegar and hope that will suffice.
How I Happened To Have Zucchini That Was (Almost)Recipe-Ready:
Now, the really cool thing is that I KNOW I have an already grated, already measured out portion of frozen zucchini in the freezer, ready to be used in this recipe.
What an industrious Little Red Hen I have been, to already have done all that work! I simply need to thaw that frozen zucchini in microwave: (wow, that stuff can put off some water! Good thing I know to drain it, courtesy of my friend Robin). Only that process of thawing and checking on it, to make sure I'm not COOKING it takes about 10 minutes. No problem. I'll just do OTHER prep work while I wait.
Apparently, My Life is Filled with Emptiness
Open flour canister: it's empty. Walk to pantry: find huge bag of flour in pantry. Fill canister. Hey, we have flour on hand. That's a good thing! Try to be grateful.
Open sugar canister: empty. Walk to pantry: find huge sugar bag in pantry. Fill canister. Wonder why daughter never, ever, ever fills canister herself. But, again, hey: we have sugar on hand. That's a good thing! Try to be thankful.
Find container of special dark cocoa. Almost empty. Empty that into measuring cup. Find container of regular cocoa. It's inferior cocoa, but at least there's still some in it. Try to be grateful!
Get eggs out of the fridge to bring to room temperature. Throw out empty carton of eggs. At least we had enough. Try to be grateful.
By now, the already full trash can is overflowing onto the floor with the addition of the vinegar bottle, the peanut butter jar, the empty flour bag, the empty sugar bag, the empty cocoa container, the empty egg carton, and let's not forget the previous night's pizza box.
Yes, I know we should recycle.
Sue me.
You try living in the Boonies and recycling: I'd be spending more on fossil fuels to cart that stuff to a recycling place 35 minutes away, plus inviting all creation (mice, snakes to eat the mice) into my garage to feast on the box and container remnants, while it waited for me to remember to cart it to a recycling place. Friends, I apologize to those of greener sensibilities than mine own whose hearts I'm breaking right now, but, it's just not going to happen.
I'm exhausted just from writing all this. And all this, before 6:00AM. It had taken me a short eternity just to get all my ingredients together. It's a wonder the cake got made.
But it did.
In fact, the MAKING of the cake was…well…a piece of cake! It really was a bit of sifting of the dry ingredients, a dumping of the fats and sugar into the mixer, and then the eggs, and vanilla, and then alternately adding dry and wet ingredients, and finally the zucchini. Sprinkle the top with chocolate chips and toasted walnuts, and you've got some yummy yum yum.
And it was really, really good. My friends enjoyed it, and took home the leftovers to their families. (That's what they TOLD me, anyway. 😀 )
I got the recipe from epicurious.com.
Would I make it again? I would.
And maybe throw in a teaspoon or so of instant espresso powder. To give it a darker, richer flavor.
Oh, yeah, and one other change that I did make which I'd definitely do again: I lightly toasted the walnuts for 7 or 8 minutes on a cookie sheet in a 350º oven, before I sprinkled them over the cake batter.
I bet that if YOUR dishes are washed, and your flour and sugar canisters are full, and if you haven't run out of vinegar, or cocoa, or eggs, and if you happen to have some already grated zucchini on hand, that you can stir this up in two shakes of a lamb's tail.

The Recipe for Chocolate Zucchini Cake with Chocolate Chips and Walnuts
Yield: 12 servings
Chocolate Zucchini Cake with Chocolate Chips and Walnuts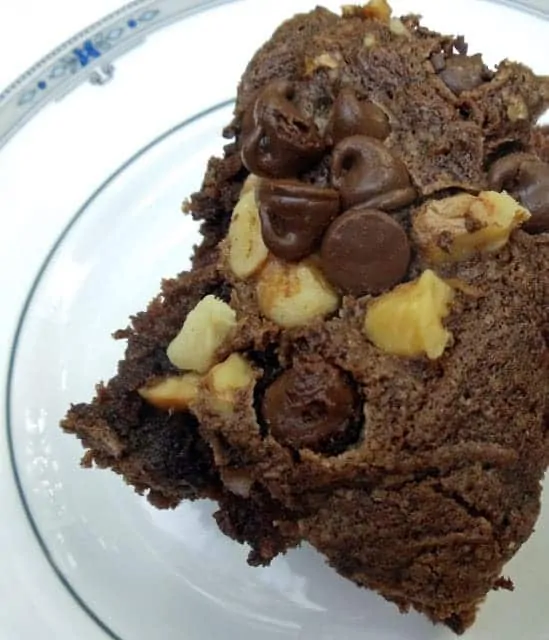 Chocolate Zucchini Cake is the very best use of unwanted zucchini: far better than a slow agonizing death in your refrigerator's crisper drawer.
Ingredients
2 1/4 cups sifted all purpose flour
1/2 cup unsweetened dark cocoa powder
1 1/4 teaspoon baking soda
1 teaspoon salt
1 3/4 cups sugar
1/2 cup (1 stick) unsalted butter, room temperature
1/2 cup vegetable oil
2 large eggs
1 teaspoon vanilla extract
1/2 cup buttermilk
2 cups grated unpeeled zucchini (about 2 1/2 medium)
1 6-ounce package (about 1 cup) semisweet chocolate chips
3/4 cup chopped walnuts, toasted
Instructions
Preheat oven to 325°F.
Butter and flour 13 x 9 x 2-inch baking pan.
Sift flour, cocoa powder, baking soda and salt into medium bowl.
Beat sugar, butter and oil in large bowl until well blended. Add eggs 1 at a time, beating well after each addition. Beat in vanilla extract.
Mix in dry ingredients alternately with buttermilk in 3 additions each. Mix in grated zucchini. Pour batter into prepared pan. Sprinkle chocolate chips and nuts over.
Bake cake until tester inserted into center comes out clean, about 45 minutes. Cool cake completely in pan.
Notes
Next time I make this, I might try adding a teaspoon of espresso powder, just to make the flavor of the chocolate a little more intense.
Recommended Products
As an Amazon Associate and member of other affiliate programs, I earn from qualifying purchases.
Nutrition Information:
Yield:
12
Serving Size:
1
Amount Per Serving:
Calories:

436
Total Fat:

20g
Saturated Fat:

4g
Trans Fat:

0g
Unsaturated Fat:

15g
Cholesterol:

33mg
Sodium:

346mg
Carbohydrates:

61g
Fiber:

3g
Sugar:

38g
Protein:

7g