This post contains links that, if you click on them and make a purchase, will earn me money. Regardless, I only recommend products or services that I believe will be good for my readers. Thanks for helping me continue to produce great content!
What Can I Do with All This Zucchini?
This recipe for Roasted Ratatouille Tart gloriously combines all the riches of your summer garden/CSA. Which is another way of saying that this recipe will help you deal with the Curse of the Overly Zealous Zucchini – the affliction by which many of you are currently plagued. And if that weren't enough, my friend Denny Jiosa (wine connoisseur and world class jazz guitarist) has a wine recommendation that pairs beautifully with it. So…lucky you. Looks like you stumbled onto Twofer Day!
What is Ratatouille?
First off, Ratatouille is not a rat.
Ratatouille is a vegetable stew from Provence, a region in the south of France, and more specifically, from the city of Nice (which is nice). It is made by stewing eggplant, tomatoes, and peppers onions and garlic. When I lived in Switzerland, we used to buy cans of it, and served it as you would serve spaghetti sauce – sort of like a chunky multi-veggie marinara. Last summer, I posted a recipe for grilled ratatouille pasta.

This recipe, however, uses the roasting method and then takes those lusciously sweetened and flavor-intensified roasted vegetables, combines them with goat cheese, Parmigiano Reggiano and mint, and places them in a rustic free-form tart. If you don't like goat cheese – and I have a friend who suffers PTSD stemming from an unfortunate stinky goat incident – you could certainly substitute feta cheese, or even mozzarella.
The pastry shell is buttery. Very buttery. But it makes enough for two tarts. So you can either double the filling ingredients, and make two tarts at the same time, or freeze the second pastry for later. I made a second tart the next day, just because I have a ton of summer squash right now. Which leads me to my next point: if you don't have zucchini, you can certainly substitute an equal amount of summer squash in their stead. Likewise, feel free to substitute whatever color pepper you might have – red, yellow and orange tend to be the sweetest, but green is fine, too. And use whatever variety of tomatoes that you have.
About That Italian Wine:
Now, in regard to the absolutely LUSCIOUS wine that Denny chose for us? You do NOT want to miss trying this wine. It is unique: deeply and richly flavorful, in a way unlike any wine I've tried before! The first word out of my mouth when I tasted it was, "Raisins"! You know how drying raisins in the sun concentrates and intensifies the grape's flavor? Since Denny's palate is so much more informed than mine, I thought I'd let you hear what HE had to say about it:
"I discovered a great new Italian wine while doing a show in Dallas, Texas called Gran Passione Rosso.This wine is done in the style of appassamento, like an Amarone is made. Amarone is an expensive special treat for most of us, however the Gran Passione is an affordable alternative (under $20) to introduce your taste buds to this delicious style of wine. Appassamento refers to a northern Italian process of wine-making that involves outdoor drying of the harvested grapes before pressing. The rich, full feel on the palate is very noticeable in this type of wine. Gran Passione is a blend of Merlot and Corvina grapes, Corvina being one of the three grapes used in Amarone. You will get flavors of raisins, plums and black fruits. Try this wine with any red sauce based pasta dish or grilled meats and of course it would be wonderful with Italian hard cheeses!
So make Susan's recipe, grab that someone special, turn on the jazz, and pop the cork! Remember, you need great music to complete your wine experience, so please visit https://jiosa.com/albums/ and get your copies today! Salute! "
The Recipe for Roasted Ratatouille Tart:
Yield: 4 servings
Roasted Ratatouille Tart Inspires a Gran Passione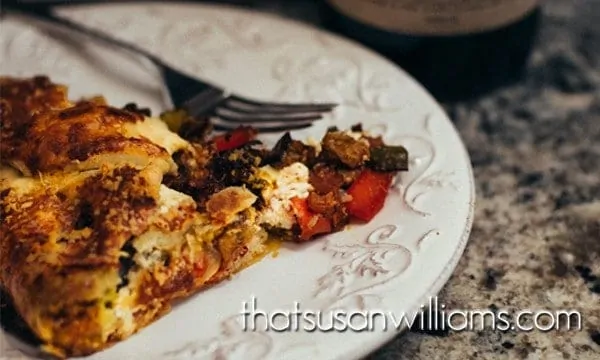 Roasted tomatoes, eggplant and zucchini in a rustic tart.
Prep Time
1 hour
30 minutes
Total Time
2 hours
15 minutes
Ingredients
For the pastry
. 2 c. all purpose flour
. 1/2 t. sea salt
. 1 c. very cold butter, cut into 1/2" cubes
. 1/4 c. ice water
For the filling
. 1 c. chopped tomatoes (I used cherry tomatoes, halved)
. 1 c. diced bell pepper (I used red)
. 1 small eggplant, sliced and salted to extract bitter juice, then rinsed clean and diced)
. 1 medium zucchini, diced
. 1/2 red onion, diced
. 2 T. olive oil
. sea salt
For the egg wash
. 1 egg yolk
. 2 T. heavy cream
For finishing the tart
. 1/4 c. grated Parmigiano Reggiano
. 1 c. cold fresh goat cheese, crumbled
. 1 T. thinly sliced mint
Instructions
For Pastry: Combine the flour and the salt in a food processor by pulsing briefly. Add the butter cubes, and pulse, quickly, about 20 times, till the butter and flour are like fine gravel. With the motor running, pour in the ice water in a steady stream. Stop the motor. Then pulse again, 6-8 times, until the mixture starts to come together, leaving the sides of the bowl.
Turn the mixture out and knead it slightly, incorporating all the loose crumbs into the pastry ball. Knead it once or twice more to smooth it out a bit. Don't work it too much, but bring it all together into a ball. Divide dough in half. Flatten each half into a disc, dust it with flour, and wrap it in plastic. Chill for at least 1 hour, and up to 3 days.
Remove the dough from the refrigerator right after you put the vegetables in to roast, so it will be easier to work with.
For the filling: Preheat the oven to 400º.
Position a rack in the center of the oven. On a rimmed baking sheet, lined with parchment paper, mix all the vegetables with the olive oil and salt, and then spread them out in a single layer. Roast for 45 minutes, until the vegetables have shrunk and caramelized.
Make the egg wash: In a small bowl, whisk the egg yolk and cream, to make a glaze for the pastry crust.
Assemble and bake the tart: Reduce the oven temperature to 350º. Remove the roasted vegetables from the baking sheet and set aside, momentarily. Line the rimmed baking sheet with a fresh piece of parchment paper.
Roll out the pastry dough on a floured work surface, into a 12" round. Roll up the dough onto your rolling pin, and transfer to the parchment covered rimmed baking sheet.
Sprinkle 1 T. of Parmigiano Reggiano over the dough, leaving a 2" border around the edge of the pastry (this is what you will be folding over the vegetables. Top the Parmigiano Reggiano with half of the goat cheese, half of the mint, and half of the roasted filling. Sprinkle with the remaining Parmigiano Reggiano, and the remaining goat cheese, mint, and veggies. Top with 1 T. of the Parmigiano Reggiano.
Pleat and fold the edges of that 2" border of pastry dough up and over the outer edge of the filling. Pleat with a total of about 8-10 pleats.
Brush the edges of the dough with some of the egg wash. Sprinkle the remaining Parmigiano Reggiano over the outside of the pleated crust.
Bake until nicely brown all over 35-40 minutes, depending on your oven. (You might want to check it at 30 minutes.) Let cool for a few minutes, and use the parchment paper to help slide it to a cutting board. Let cool another 5-10 minutes before slicing and serving.
Notes
The second crust can be frozen for up to 4 weeks. Thaw overnight in the refrigerator before using.
By Susie Middleton from The Fresh & Green Table
Adapted from Fine Cooking
Recommended Products
As an Amazon Associate and member of other affiliate programs, I earn from qualifying purchases.
Nutrition Information:
Yield:
6
Serving Size:
1
Amount Per Serving:
Calories:

812
Total Fat:

54g
Saturated Fat:

31g
Trans Fat:

1g
Unsaturated Fat:

19g
Cholesterol:

184mg
Sodium:

891mg
Carbohydrates:

67g
Fiber:

5g
Sugar:

20g
Protein:

18g
If you'd like to try this recipe, or if you need to remember the name of that wine, for the next time you head to the wine store, be sure to Pin this post on Pinterest!
If you need some more recipes for zucchini, I have two more you have got to check out! First, if the idea of making ratatouille to use as a pasta sauce that I mentioned earlier inspired you, I do have a KILLER recipe for that! Try making this Grilled Ratatouille Pasta with Roasted Garlic and Fresh Mozzarella And if desserts are more your style, and chocolate is what inspires YOUR Gran Passione, I have this gorgeous and delicious offering: Chocolate Zucchini Cake with Chocolate Chips and Walnuts.