This post contains links that, if you click on them and make a purchase, will earn me money. Regardless, I only recommend products or services that I believe will be good for my readers. Thanks for helping me continue to produce great content!
Behold the brilliant colors (and flavors) of summer! Love it!
It's almost officially summer, my friends, and the tomatoes, zucchini and eggplant will be rolling in before you know it.
And you'll be asking me if I have any great ideas for what to do with all that lovely produce. And I do! Oh, I do!
How about a lovely grilled ratatouille?
"Wait a minute!" (I can hear your objections now.) "Won't a French stewed vegetable dish drip through the grill grates?"
Nah. Not the way you're going to do this one.
And as a bonus, my friend and wine connoisseur, Denny Jiosa, has written another wine tutorial for me for wines for late spring and early summer. He mentioned a rosé to me that he said would go nicely with eggplant or some fresh mozzarella. So I came up with a recipe that would go nicely with the wines he's recommending. Be watching for his take on some lovely wines for early grilling season.
Isn't a rosé beautiful to behold?
But today, let's get started on a dish that uses some of lovely lusciousness of summer!
I use roasted garlic in this recipe, which adds a nice sweet, mellow note to this dish. Here's how I roast my garlic. When I go to the effort to roast some garlic, I always do several heads at a time, and then store the unused ones wrapped in foil in my fridge. Roasted garlic is one of those ingredients that can jazz up many dishes you are already making: it just takes thinking a bit outside the box to imagine what you could add it to. I use it in meatloaf, mac & cheese, pizza, pasta sauces: lots of things.
The Recipe for Grilled Ratatouille Pasta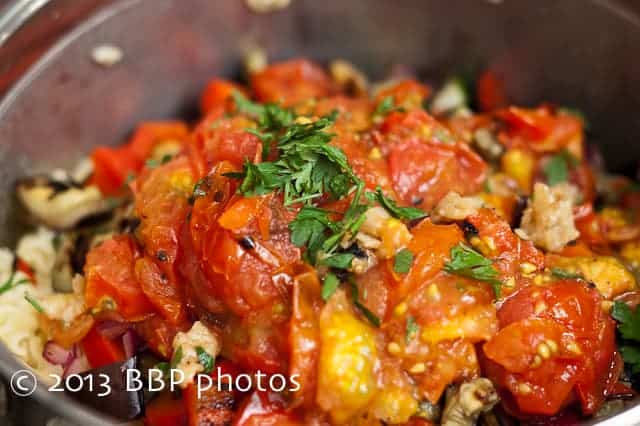 Grilled Ratatouille Pasta
2017-02-19 05:44:19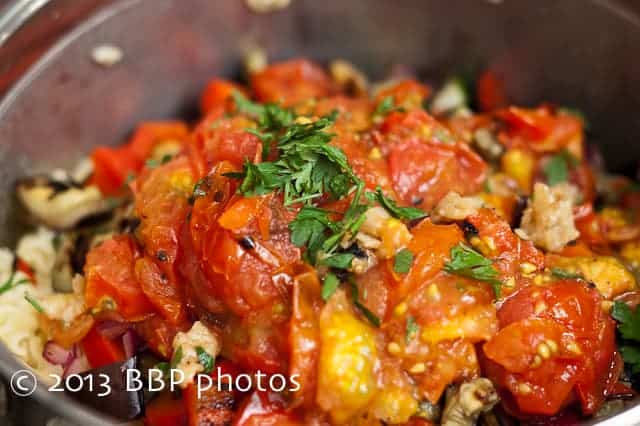 All the flavors that to me are quintessentially summer, wrapped up in one beautiful recipe.
Ingredients
1 medium zucchini, sliced lengthwise into 3 slices
1 red bell pepper, stemmed, seeded, and cut into eighths
1/2 red onion, sliced thickly
4 large tomatoes
3 T. white balsamic vinegar
1 head roasted garlic
1 log of sliced fresh mozzarella, with slices cut into bite-sized chunks
1/4 c. chopped parsley
1/4 c. chopped basil
salt
pepper
olive oil (about 1/4 c., for brushing on vegetables, and finishing the dish)
1 lb. large, thick, curly pasta (I used radiatore, but fusilli, gemelli or cavatappi would be nice as well)
Instructions
In a large pot of boiling salted water, cook your pasta according to package instructions. Reserve about a half a cup of pasta water to use to make a sauce at the end, if you desire. (I just used my veggies and olive oil, but in case your pasta and veggies might need an extra drink of liquid to make more of a sauce, you'll have it on hand.) Drain, and then return to the pot, to await your grilled veggies.
Heat a grill, or your grill pan to medium high. Clean, and lightly oil your hot grill. Brush all your veggies with olive oil, on both sides, and sprinkle with salt. Working in batches, if necessary, grill your veggies, turning occasionally, until browned and tender. Transfer veggies to cutting board and allow to cool slightly: I'd cut the tomatoes last, since they retain heat the best, and were quite hot when I was chopping them.
Roughly chop up the vegetables, and add them to the pasta, along with 2 or 3 tablespoons of vinegar (to taste) and a couple of tablespoons of olive oil, plus any reserved pasta water that you desire to achieve the consistency you like. Squeeze roasted garlic from head of garlic onto pasta. Add mozzarella chunks. Stir. Taste, and season to taste with salt and pepper. Sprinkle with chopped parsley and chopped basil. Serve!
That Susan Williams https://www.thatsusanwilliams.com/
Peppers, onions, and zucchini grilling.
Tomatoes, grilling.
Giving the veggies a rough chop.
Bon appétit!