This post contains links that, if you click on them and make a purchase, will earn me money. Regardless, I only recommend products or services that I believe will be good for my readers. Thanks for helping me continue to produce great content!
I have been making Chickpea Pasta with Spinach and Bacon since my kids were babies. It's one of my own personal favorite recipes. My only complaint about my own recipe, in the past, was that it tended to be a little dry. So I refrained from sharing it with you, my friends.
I finally came to the realization this year that I could try adding a little cream, rather than just the "more olive oil" solution that I'd tried in years gone by. And voilà! Complete recipe success was achieved, and I'm finally oh-so-ready to share this recipe gem with you.
Family Favorite, Easy Weeknight Meal, AND Frugal
For me, for a recipe to meet the qualifications of being a Family Favorite, it has to be a recipe that I truly make at least once (and sometimes twice) a month (assuming all the ingredients are in season). It's a recipe that everyone in my family loves, and for which, I get no complaints, or disappointed looks. In fact, it often earns an, "Oh boy!", when I answer the eternal question of "What's for dinner?". A recipe like that makes it into my recipe repertoire as a true family favorite.
If I'm lucky, a recipe that is a Family Favorite is also an Easy Weeknight Meal. This recipe, happily, falls into both those categories. For that reason, and because all God's chilluns need their iron, spinach is one of those staple greens that I buy when I shop.
But wait, there's more! Not only is this recipe a family favorite, and an easy weeknight meal, it's also what I'd call Frugal, or Budget Friendly! So this recipe is pretty much a grand slam of a recipe: Family Favorite, Easy Weeknight Meal, and Frugal. On the stage, we'd call that a Triple Threat.
Lucky you, to have found it!!!
Do I Have to Use Chickpeas that are Cooked from Scratch?
Absolutely not. I have made this recipe both ways, using canned chickpeas (also known as garbanzo beans) and using dried chickpeas that I've cooked from scratch. Both ways work. To keep the recipe quick and easy, just open and drain a can of chickpeas.
I do find, however, that the chickpeas I cook myself (and I usually cook them in a pressure cooker) have a better flavor, because I put in things like onions and bay leaves when I cook them. So if you're going for the best flavor, I encourage you to make the extra effort to cook your own chickpeas, from scratch. If you cook an entire 1 lb. bag of dried chickpeas, as I do, you'll have leftover chickpeas you won't need for this recipe, so you can use them to make, for instance, some Yummy Hummus, or some Crispy Air Fryer Roasted Chickpeas.
And if you're going to use canned chickpeas, you'll only need one can of them. Hope that helps.
Cook Your Bacon In The Oven
It's one hundred percent acceptable to just do bacon on the stove top. However, for years now, I've been putting my bacon in a cast iron skillet and frying it in the oven. First, I cut my slices of bacon in half. I set my oven to 400º and slide the skillet in the oven. It usually takes our home-cured bacon about 14 minutes in the oven, but with store bought thick sliced bacon, it can take up to 20 minutes.
What I'm telling you is that the oven temperature (400º) remains the same, but the cooking time can vary. So check your oven-frying bacon as soon as your kitchen begins to have that wonderful bacon-y aroma, and then decide how many more minutes your batch needs. But anywhere from 14-20 minutes is a good rule of thumb for half slices of bacon.
A Quick Overview of Chickpea Pasta with Spinach and Bacon
If not using canned chickpeas, pressure cook chickpeas.
Cook bacon in oven
Put pasta water on to boil.
Remove bacon from skillet and drain on paper towels.
Use bacon's grease to sauté chickpeas, pepper flakes, and thyme.
Cook pasta.
Stir garlic and shallots into chickpeas, then add spinach. Sauté till spinach is wilted. Add cream.
Pour over pasta. Stir.
To each plate add crumbled bacon, and grated parm.
Yield: 4 servings
Chickpea Pasta with Spinach and Bacon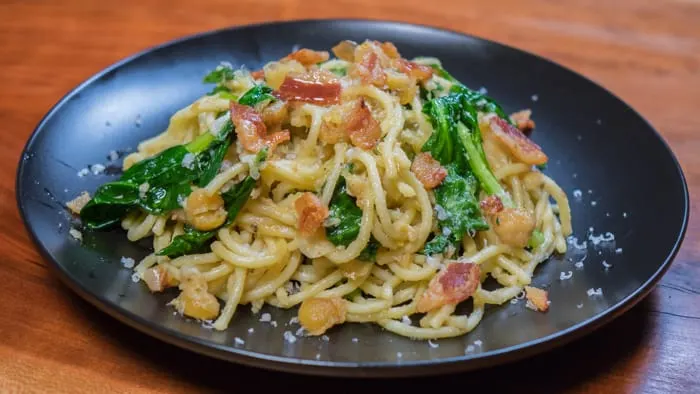 Chickpea Pasta with Spinach and Bacon is a weeknight meal that is quick, easy, delicious and affordable! It's a family favorite that is frugal, too.
Ingredients
4 slices bacon, cooked, drained on paper towel
bacon grease from the cooked bacon
2 Tablespoons of olive oil.
2 c. cooked chickpeas (or 1 can drained chickpeas)
2 t. minced fresh thyme
1/2 t. red pepper flakes
1 large shallot, finely chopped
2 cloves minced garlic
1/2 c. cream
1 6 oz. bag baby spinach
1 lb. spaghetti
1/2 c. grated Parmigiano Reggiano
Instructions
Put large pot of water on to boil over high heat, in which to cook pasta.
Pre-heat oven to 400º. Cut each bacon slice in half so it fits nicely in a cast iron skillet. Cook bacon in the cast iron skillet in the oven for 15-20 minutes, until it reaches your desired level of crispness. Reserving bacon fat in skillet, remove bacon from skillet and drain on paper towel.
Cook 1 lb. of pasta in salted boiling water, according to package directions.
While pasta is cooking, put cast iron skillet with bacon grease on a stovetop burner over medium high heat. Add an additional 2 T. of olive oil if needed. Brown chickpeas in bacon fat, adding in red pepper flakes and seasoning with sea salt and freshly ground black pepper. Cook, stirring occasionally, until chickpeas begin to caramelize, about 5-7 minutes.
Reduce the heat to medium, and add shallot and garlic. Cook until shallots are softened, about 3 minutes. Add the cream, and cook until slightly thickened, about 3 minutes. Turn off the heat, and stir in spinach, until wilted. Pour contents of skillet over 1 lb. of cooked, drained pasta, and stir.
Top each plate of pasta with crumbled bacon, and grated parmesan cheese.
Notes
If you're planning to cook dried chickpeas, those will need to be cooked earlier in the day.
Recommended Products
As an Amazon Associate and member of other affiliate programs, I earn from qualifying purchases.
Nutrition Information:
Yield:
4
Serving Size:
1
Amount Per Serving:
Calories:

638
Total Fat:

32g
Saturated Fat:

13g
Trans Fat:

1g
Unsaturated Fat:

17g
Cholesterol:

64mg
Sodium:

598mg
Carbohydrates:

64g
Fiber:

9g
Sugar:

7g
Protein:

26g
There's Never Enough Pasta
A collection of some of my favorite pasta recipes.