This post contains links that, if you click on them and make a purchase, will earn me money. As an Amazon Associate, I earn from qualifying purchases. . Regardless, I only recommend products or services that I believe will be good for my readers. Thanks for helping me continue to produce great content!
Coffee Cake with Cherries, Pecans and Browned Butter is the answer to the question: "What should I make for breakfast when I have guests coming for the weekend?". It's a coffee cake, yes, but it contains three ingredients that always make me swoon: cherries, pecans, and browned butter. How could a coffee cake made with those three ingredients possibly be wrong? The answer is, it couldn't possibly.
Why Tart Cherries, Pecans, and Browned Butter?
Shouldn't the answer to this question simply be "Why not?"
But here's my reason for these three beautiful ingredients: I had some leftover previously-frozen-but-now-thawed tart cherries from Michigan that I had thawed, when I made my last Cherry Pie. I had about a 2 cups, which just didn't seem like enough to make a pie. Who wants a skimpy pie, after all? So I needed to find a way to use them.
And then I remembered a recipe that I'd watched Mario Batali make back when there was a "The Chew" show. And back further, still, to when he was a cast member. I found several recipes that utilized sour cherries and browned butter online, and chose to put my own spin on them by adding pecans. I did that because one of my sisters makes a "Dump Cake" recipe that involves cake mix, canned cherries and pecans and a TON of butter, and I love the way that cherries and pecans go together.
Why Did You Want Browned Butter?
Browned Butter is called "beurre noisette" in French, (pronounced burr nwah-zett) because "beurre" is butter, and a noisette is a hazelnut. It adds a beautiful complex note that exceeds simply using butter alone. When you take the time to gently melt and begin to brown butter, all the milk solids rise to the top, and the butter underneath begins to turn an amber or copper color, and gives off a toasty, nutty aroma, and that aroma enhances the flavor, too. It's magnifique! If you keep going too far, it will smoke, and burn, which you don't want. So, the trick is to get it to the color you want, and then pull it quickly off the heat in order to stop the cooking process.
How Do You Make Browned Butter?
I hope I didn't make it sound too tricky. It's actually as easy as can be, but I made a video for you of me making mine, in case it might instill in you a little more confidence. Basically, you put your butter in a stainless steel pan, over medium heat, and melt it. You want a light colored pan, not cast iron, so that you can easily see the color the butter is turning. Give it an occasional swirl, especially after it's completely melted. Immediately pour it into a heatproof container off the stove, to stop it from browning further.
How I Make Almond Flour
This recipe requires almond flour in the topping. To make it, I simply put about 1/4 of a cup of almonds in my food processor, and ran it about 30 seconds to 1 minute, (depending on the strength of one's food processor) until the almonds were so fine, they looked like wet sand. Then I finished the topping by adding in the other ingredients, and merely pulsing them: they were more coarsely chopped than the almond flour. I hope that makes sense.
A Great Place to Order Pecans:
Let's talk about where to get some extraordinarily delicious pecans. I've recently begun a partnership with the Millican Pecan Company, the home of the MOTHER Pecan Orchard, in San Saba, TX. They are a 5 generation farm family! Their orchard pioneered the pecan industry in San Saba, back in 1888. I LOVE their pecans, and they don't JUST sell pecans. I heartily endorse their Sweet and Spicy pecans, that go great on a salad, or are delicious as an appetizer. If you'd like to order their VERY reasonably priced pecans, or any of their pecan treats from them, please use my coupon code: SUSAW100
A Few Recipe Notes for Coffee Cake with Cherries
When you make the cake batter, it may seem a little dry to you. It was dryer than I expected. But the cake turned out nice and moist.
Basically, you make the cake batter, put half the batter in the pan, spread the cherry mixture in the middle, add the second half of the batter to the pan, and top it all with the nut mixture. Pretty dang easy.
The Recipe for Coffee Cake with Cherries, Pecans, and Browned Butter
Yield: 12 slices
Coffee Cake with Cherries, Pecans, and Browned Butter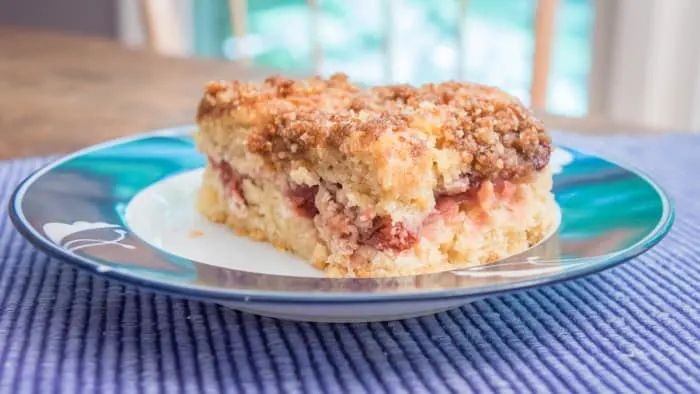 A Coffee Cake with a delicious difference: a cherry filling in the center, and a pecan/nut mixture for the topping. Delicious enough to serve to company, or take to a breakfast pot luck. Simple enough to make for the whole family.
Cook Time
50 minutes
45 seconds
Total Time
1 hour
20 minutes
45 seconds
Ingredients
FOR THE CAKE:
2 T. butter for greasing the pan
1 stick of butter (1/2 c.), softened
1/2 c. sugar
1/2 c. light brown sugar
1 c. plain Greek yogurt
2 eggs
1 T. vanilla extract
2 1/4 c. AP flour (divided)
2 t. baking powder
1/2 t. baking soda
1 t. salt
2 c. (thawed) frozen sour cherries
FOR THE TOPPING:
1/4 c. almond flour
1/2 c. dark brown sugar
1/2 c. chopped pecans
1 t. cinnamon
1/2 t. freshly grated nutmeg
3 T. butter
Instructions
Preheat the oven to 325º.
Grease and flour a 9x13 inch baking pan.
TO BROWN THE BUTTER: Place the butter in a saucepan over medium heat and cook until the foam subsides and the butter at the bottom of the pan starts to look like the color of a copper penny...or a medium brown. (This will probably take about 4-5 minutes, but watch the color of the butter carefully, and continue jostling the pan so you can see what color things are turning underneath.) Immediately pour the hot browned butter into a different heat proof vessel, to stop the cooking process.
Place the browned butter into the fridge, to cool for 15 minutes or so.
TO MAKE THE CAKE: While the butter is cooling, mix together these dry ingredients in a bowl: 2 c. of the flour (reserve the other 1/4 c. from the ingredient list to coat the cherries), baking powder, baking soda, and salt. Whisk until well combined.
Combine the sugar, light brown sugar, and cooled browned butter in a mixing bowl, and beat with an electric mixer at medium speed, scraping down the sides of the bowl often, until creamy.
Add the yogurt, eggs, vanilla, and continue beating until well mixed.
Reduce the mixer speed to low, and gradually add the dry ingredients, until well mixed. (Don't beat too long or the cake will become tough. Mixing flour too long in a cake develops stretchy gluten, and you don't want that.)
Drain any liquid off the thawed cherries, and reserve it. Add the reserved 1/4 c. of flour to the cherries, and stir to lightly coat the cherries. Add any of that reserved cherry liquid to the cake batter, and stir to incorporate.
Spread half of the batter into the prepared pan. Spoon the cherry mixture over the top of the batter. Spoon the remaining cake batter over the cherry filling, and try to completely cover the cherry filling.
FOR THE TOPPING: Combine the almond flour, dark brown sugar, pecans, cinnamon, nutmeg, and butter in a food processor. Pulse quickly until the mixture has a bread crumb texture.
Sprinkle the topping over the cake batter.
Bake the cake for 45 - 50 minutes until a toothpick inserted into the center comes out clean.
Notes
I think this would be a great coffee cake made with peaches or blueberries (or perhaps a different fruit of your choice). So consider that, depending on what you've got in your fridge, freezer, or sitting on your counter.
Recommended Products
As an Amazon Associate and member of other affiliate programs, I earn from qualifying purchases.
Nutrition Information:
Yield:
12
Serving Size:
1
Amount Per Serving:
Calories:

369
Total Fat:

18g
Saturated Fat:

9g
Trans Fat:

1g
Unsaturated Fat:

8g
Cholesterol:

65mg
Sodium:

450mg
Carbohydrates:

46g
Fiber:

2g
Sugar:

26g
Protein:

7g