This post contains links that, if you click on them and make a purchase, will earn me money. As an Amazon Associate, I earn from qualifying purchases. . Regardless, I only recommend products or services that I believe will be good for my readers. Thanks for helping me continue to produce great content!
Whole Wheat Blueberry Maple Scones
produces scones that are both tender and flaky in texture. And then, there's the delightful flavor of the blueberries, and the maple syrup. This the scone recipe you've been dreaming of.
Why Are These Scones Different Than Other Scones?
It's the mixing method that makes these Blueberry Maple Scones different, (and better, to my way of thinking) than any other scone recipe I've made. This recipe uses 2 different methods, or steps to incorporate the fat (the butter) , so that the end result is both tender and flaky.
The First Step in Incorporating the Butter:
Most scone recipes call for the butter to be be rubbed into the flour mixture until it's coated in flour. In this recipe, we accomplish that via the KitchenAid mixer, using the paddle attachment.
The Second Step in Incorporating the Butter:
This second step is going to leave you with some bigger chunks of butter in your scone dough. This time, after you add the remaining butter chunks to the mixer, rather than thoroughly mixing them into your flour, you're going to pulse the mixer paddle 3 or 4 times.
Devotees of my pie crust recipe are going to recognize the "bigger chunks of fat produces flakiness" concept.
Where Did You Find This Recipe?
I found this recipe via the NYTimes Cooking section. They got it from Dorrie Greenspan, the world famous chef. And she got it from Joanne Chang, the owner and chef of Flour Bakery + Café, in Boston. And that's the way things go with great recipes, am I right? You get it from this person, who got it from that person, who got it from…. And so it goes. I made a couple of simple alterations, myself, to this recipe, that worked better for me and my family. I'll let you know what those are, and you can choose to make them for yourself, or not, as you like it.
This Recipe Uses Both Whole Wheat and AP Flour
About 2/3 of the flour in this recipe is whole wheat, which adds a slightly nutty flavor and a certain toothiness to the the texture of the scones. (They're sooooo good!!!) I've got some strong opinions about whole wheat flour, that I mentioned in my 4 part How to Make Homemade whole wheat bread tutorial, but what it boils down to is this: wheat berries you grind yourself provide the very freshest, most delicious whole wheat flour there is. I use a Nutrimill Classic Grain Mill to grind my wheat berries.
Do I Have to Use Freshly Ground Flour?
Having said that, you CERTAINLY DON'T have to use flour you grind yourself!!! King Arthur Whole Wheat flour is the next best choice of any flour you might buy at your local grocery store, as long as it's been purchased in the last 6 months or so. Other brands of whole wheat flours are fine as well, as long as they are fresh. The main thing to remember is that whole wheat flour goes rancid quickly due to the wheat germ oil that's in it, so if your bag of whole wheat flour is older than 6 months, wish it a fond farewell (unless you've been storing it in the freezer, which is the solution to whole wheat flour going rancid quickly).
The other third of the flour is all-purpose flour, and the reason for that is that AP Flour keeps the scones from being too heavy. Baked goods that contain only whole wheat flour can lean toward the hockey puck side of things, and no one wants a hockey puck of a scone!
Three Important Tips for Making Whole Wheat Blueberry Maple Scones
Tip One: Ingredient Temperature Counts!
Don't forget to bring these ingredients to room temperature: Greek yogurt, buttermilk, egg
HOWEVER: Keep the butter COLD.
Tip Two: Solve the Problem of the Second Day Scone
There's a reason that I'm telling you this, so listen up, and then decide what you'd like to do for your family and/or guests.
These scones are not as good (if you have leftovers) on the next day, and I'll tell you why. Normally, to refresh a bread, I'll just pop it in the oven for a few minutes, and it's practically fresh again. NO CAN DO with this recipe, due to the glaze. The glaze will melt off and things just won't be the same.
However, if you try to keep these overnight, and then eat them WITHOUT heating them up…well…they're just not as good because you've lost one of the charms of the scone.
When scones come fresh out of the oven, they have a bit of a crust to them, that is delightful to crunch down on, only to reveal a tender interior. But if you do what I did, and try to keep out germs or whatever by putting them in a zip lock bag, they go completely soft, and lose that crunchy bite your teeth love so much.
What to do?
Since there are only a few of us around the house these days, and since this dough needs chilling, and can chill just fine up to 24 hours, I decided to only bake half of the dough on the day I baked them. I left half of the dough, continuing to chill, in the fridge.
So if you only bake half of the dough, you get to have fresh hot delicious Whole Wheat Blueberry Maple Scones two days in a row!
I'd encourage you to do this, unless you're going to have a lot of hungry people in one sitting.
Tip 3: Consider The Size of the Scone You'd Prefer
And then, because the portion size felt a bit large to me, I used my 1/4 c. cookie scoop to shape the scones, rather than my 1/2 c. measuring cup, and shortened the bake time. So in regard to whether you make them smaller , like I did, or not? You do you. If you decide to make them bigger, using a 1/2 c. measuring cup, just be sure to add a few minutes to the baking time.
And if you make them smaller, you can always have two scones, and remind yourself that technically, you're really only having one, according to the original recipe. Because denial works wonders, for me.
Here's what they look like, shaped by the cookie dough scoop, sitting on parchment paper, getting ready to go into the oven:
Here's what they'll look like when you take them out of the oven:
And here's what they look like, as I apply a little lipstick…figuratively speaking.
And finally:
Yield: 16 scones
Whole Wheat Blueberry Maple Scones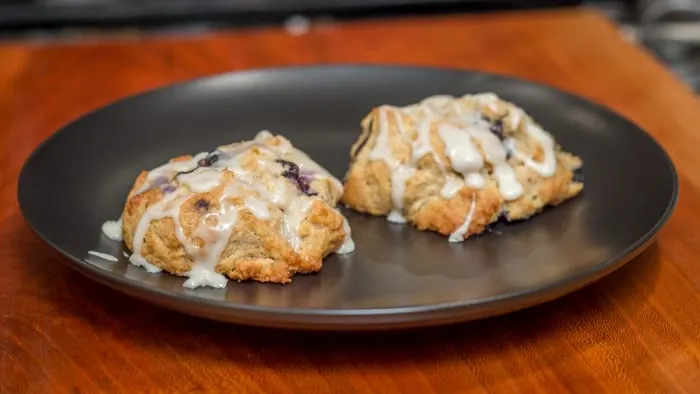 This recipe for Whole Wheat Blueberry Maple Scones produces scones that are both tender and flaky in texture. And then, there's the delightful flavor of the blueberries, and the maple syrup. This is the scone recipe you've been dreaming of.
Total Time
1 hour
50 minutes
Ingredients
FOR THE SCONES:
1 2/3 c. whole wheat flour
1 c. All Purpose Flour
1 1/2 t. baking powder
1/2 t. sea salt
1 1/2 sticks of butter (12 Tablespoons), cold, cut into 1/2" chunks, divided
1/2 c. Greek yogurt, room temperature
1/2 c. maple syrup, room temperature
1/2 c. buttermilk, room temperature
1 egg yolk, room temperature
1 c. fresh blueberries
FOR THE GLAZE:
1/2 c. confectioner's sugar
2 T. maple syrup
Instructions
In a stand mixer bowl, mix together the dry ingredients: both of the flours, the baking powder, baking soda, and salt, on low speed. Add half of the butter chunks, and reserve the rest. Paddle until fully mixed into the flour, 2 to 3 minutes.
Add the remaining butter chunks to the bowl, and pulse the mixer 3 or 4 times, to mix the pieces into the dough, while keeping them mostly whole.
In a separate bowl, or a 4 c. measuring cup, whisk together the wet ingredients: the yogurt, maple syrup, buttermilk, and yolk, until thoroughly mixed. Stir in the blueberries. Turn the mixer on low, and pour the blueberry mixture into the flour mixture. Mix it on low for about 10 seconds, to get some of the liquid mixed into the flour. Stop the mixer and mix the rest of the loose flour into the dough by hand. Gather up and lift the dough with your hands. Turn it over in the bowl several times until all the loose flour is mixed in. Scrape it out onto a large sheet of plastic wrap, and wrap it well. Chill it for at least one hour, and up to 24 hours.
Heat the oven to 350º, and position a rack in the center of the oven. Line a baking sheet with parchment paper.
Using a 1/4 c. cookie scoop, scoop out 8 mounds of chilled dough onto the baking sheet, spacing them evenly. Return the rest of the dough to the refrigerator, if you plan to bake it the next day. Or repeat, using a second baking sheet, for the next 8 scones.
Bake for 25-30 minutes, rotating the pan once, at about 15 minutes, to ensure they bake evenly. Check on them whenever you smell something delicious, but basically you want to bake them until they're golden brown.
Make the glaze while the scones are baking. Stir the maple syrup into the confectioner's sugar. Add up to a tablespoon more maple syrup if you need to. You're looking for a nice drizzly consistency.
When you've removed the scones from the oven, drizzle them with the glaze while they're still warm.
Recommended Products
As an Amazon Associate and member of other affiliate programs, I earn from qualifying purchases.
Nutrition Information:
Yield:
16
Serving Size:
1
Amount Per Serving:
Calories:

213
Total Fat:

10g
Saturated Fat:

6g
Trans Fat:

0g
Unsaturated Fat:

3g
Cholesterol:

36mg
Sodium:

229mg
Carbohydrates:

29g
Fiber:

2g
Sugar:

13g
Protein:

4g
Breakfast or Brunch Ideas for When Company's Coming
A few ideas, for when company's coming, and you'd like to serve something a bit special.