This post contains links that, if you click on them and make a purchase, will earn me money. Regardless, I only recommend products or services that I believe will be good for my readers. Thanks for helping me continue to produce great content!
The recipe for Leftover Steak Hash that I'm going to share with you is a recipe that I've been making for years. It provides a delicious solution to the problem of what to do with leftover cooked beef, whether that's some leftover prime rib from Christmas dinner, leftover corned beef from St. Patrick's Day, or some leftover steak, from date night.
Wait. You Have Leftover Steak???
One of the luxuries of having older kids who can drive, is that these days, my husband and I often find ourselves home alone at dinnertime. Can you IMAGINE the luxury of having a romantic dinner alone with the one you love? 😀 It's a happy little perk of the almost-empty nester. Eating steak is something special that we'll often choose to do, when faced with an impromptu "date night". We generally split a great big thick steak between the two of us. With two of us working on one slab of cow, we often have leftovers. So what to do with beef that's been cooked, but isn't enough for a meal, is the happy problem that this recipe solves.
I found this recipe on the blog of Ruth Reichl, the former editor of the now defunct Gourmet Magazine. She's such a great writer that I went looking for her blog when Gourmet closed their doors. And there, one day, I found a recipe for Prime Rib Hash. The name is a little jarring: hash is a humble meal, while Prime Rib is the most elegant of all the cuts of beef. But it really is the perfect solution for stretching those leftover bits of beef that wouldn't make a complete meal all by themselves, but are far too delectable to waste. Steak – any kind – can be used just as easily as prime rib.
Walking You Through The Process
The process is simple. The amounts are inexact. You can either either boil or bake however many potatoes you'll need for your family. Last night I baked two huge monster Russet baking potatoes, for the three of us. While those potatoes are baking, I get the the rest of my ingredients prepped. Dice your onion, cut your steak into small cubes, then finely chop your garlic, pepper flakes and herbs. When the potatoes are done, cut them into cubes.
As far as the choice of herbs goes, that's personal, but I myself have a strong preference for rosemary and parsley. You could certainly use thyme, or chives, if you prefer.
Browning Potatoes Takes Patience
Think of browning a hash as kind of a slow-motion stir fry. I always use one of my cast iron skillets, because the evenness with which they conduct and hold heat enables me to get a nice caramelization/crust on those potatoes. Then bit by bit the other ingredients are added in. The cream is kind of like an ultimate dose of fat to give you a nice crust. Top each serving with a sunny side up egg.
The result is so much more than the sum of the parts! It's a supremely satisfying meal.
The Recipe for Leftover Steak Hash
Yield: 4 servings
Leftover Steak Hash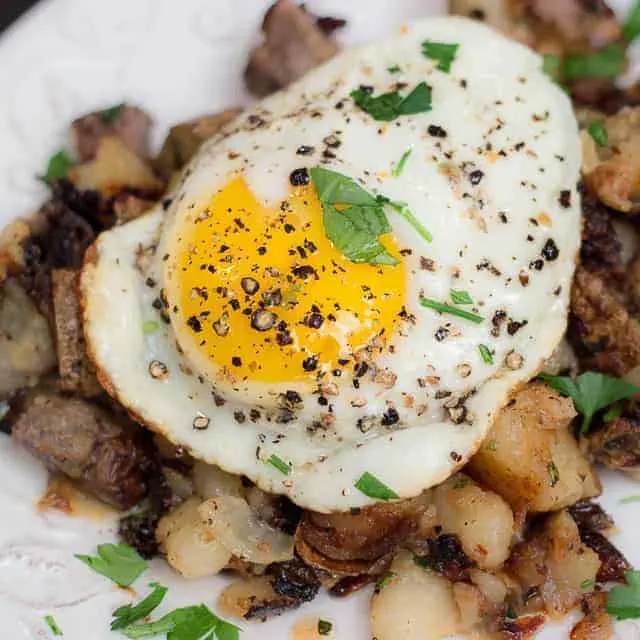 The perfect use of that leftover steak that is too small to make an entire meal out of, but too good to go to waste! The best hash I have EVER had. So easy, and so satisfying!
Ingredients
2 or 3 large potatoes, baked (or boiled), then cut into small cubes (taking into consideration the size of the group you're feeding, and the size of the skillet you're using)
Leftover steak: I had about 1 c. last time I made it, but more would be even better
2 T. butter
2 T. olive oil
1 medium onion, diced
2 cloves of garlic, minced
a few red pepper flakes, to your taste
1 sprig of fresh rosemary, chopped
1 t. parsley, chopped
1/2 c. cream
1 egg per person
Instructions
Melt butter and heat olive oil in a large cast iron skillet over medium heat, and add potatoes, stirring them from time to time, until they have turned golden, about 10 minutes.
Add the onions, and cook them until they have turned translucent, and the potatoes are beginning to crisp: another 10 minutes or so.
Add the steak, garlic, red pepper flakes, and whatever herbs -rosemary, or whatever else - you have chosen to use.
Season with salt and freshly ground black pepper. Cook for another minute or two: you don't want to burn the garlic, but you do want to cook the raw bitterness out.
Finally, pour the cream over the entire skillet. Stir it about, and then use your spatula to press it all down firmly, and turn up the heat, slightly. This will enable you to form a final crust. When the cream has disappeared into the hash, in about 8 minutes more, your hash should be done.
Top each serving with an egg, fried sunny side up, and season again with salt and pepper.
Recommended Products
As an Amazon Associate and member of other affiliate programs, I earn from qualifying purchases.
Nutrition Information:
Yield:
4 servings
Serving Size:
1
Amount Per Serving:
Calories:

455
Total Fat:

25g
Saturated Fat:

12g
Trans Fat:

1g
Unsaturated Fat:

11g
Cholesterol:

95mg
Sodium:

98mg
Carbohydrates:

52g
Fiber:

6g
Sugar:

5g
Protein:

9g
If you're a beef lover, and not many of us aren't, I have some more great ideas in regard to beef. In fact, I can even teach you how to get the taste of prime beef, out of choice cuts, through
dry aging!
More Moo For You
For those who love them some good moo, how about more ways to make the very best beef!