This post contains links that, if you click on them and make a purchase, will earn me money. Regardless, I only recommend products or services that I believe will be good for my readers. Thanks for helping me continue to produce great content!
This Homemade Chicken Pot Pie with Tarragon recipe is the chicken pot pie of your dreams – the perfect way to use up leftover chicken. Chicken pot pie is the ultimate comfort food, but this recipe has a decidedly gourmet touch. You won't believe how good it is!
Whenever I say the words, "chicken pot pie", I always think of a scene from an old sitcom, where a particularly abhorrent character sings a little song about "Chicken Pot, Chicken Pot, Chicken Pot Pie". Unfortunately, his song is a total ear worm. So now, whenever I TRY to say, "Chicken Pot Pie" it invariably comes out in that repetitive little song. My apologies to all of you whom I have just re-infected with that ear worm, who watched the bit when it was on, long ago. For those of you who have not heard it before, you can google it if you want to, but, I wouldn't. Stay here and focus on this WONDERFUL recipe instead. And for those of you who, when told NOT to do something, immediately go and do it: remember. You were warned.
About The Crust for this Chicken Pot Pie:
This recipe for Tarragon Chicken Pot Pie was a bit a unique, for me, because it's the first chicken pot pie I've ever made, where I used someone else's pie crust recipe! I wanted to try the recipe, as written, due to the source I tried the recipe from, and really, I altered this recipe very little! It came from a cookbook that contains recipes from two master chefs: Julia Child, and Jacques Pépin, from their cookbook, Julia and Jacques: Cooking at Home. That cookbook was written in 1999, and this recipe, like its authors, is a classic, that still holds up.
The Secret to Making Pie Crust Pastry in a Food Processor
I adored their pie crust recipe, even though it's quite different from my own. It was easy to put together using a food processor. The secret to making pie crust in a food processor is to PULSE the flour, salt, fat, and water together, (rather than to leave the food processor running) so that you leave the mixture in pebble-sized crumbs. Allowing the food processor to just run, until your pastry looks smooth, melts the fat. Do NOT over-process it, or you'll lose all flakiness, because over-processing causes friction, which heats the molecules up, which causes the fat to melt.
To get a flaky pie crust, you want that fat melting rapidly under the heat of your oven, and not before. When the fat melts, steam is produced. When the steam is produced, you get lift in the flour molecules, which gives you nice little layers. Using ice water rather than room temp water will also keep the fat from melting prematurely. Rather than using an egg wash to brush on my rolled out pie pastry, to get that sheen that's so attractive, I use an old trick I learned from my Mom: I pour a splash of milk or Half & Half into a cup, and then brush the pastry lightly with that, before I bake it. The fat in the dairy will give the baked crust a lovely sheen, and I won't use up an egg.

About the Herb, Tarragon:
Jacques and Julia call for tarragon in their pot pie, and tarragon, paired with chicken has been a favorite combination of mine, ever since I first tasted it in the Chicken Salad recipe from The Silver Palate Cookbook, back in the 80's.
Tarragon has a slightly licorice-like flavor, and fresh tarragon can be a little hard to find. I grew the herb one year, but it quickly withered in Nashville's summer heat. More frequently now than in years past, I've been able to find it in my grocery store's fresh herb section.
But in this recipe, I used dried tarragon, rather than fresh, and that worked out deliciously. Just remember: the ratio for using fresh herbs to dry herbs is 3:1, with dried herbs being the most potent. So if a recipe calls for 1 Tablespoon of fresh herbs, you can generally substitute 1 teaspoon of dried herbs.
Since the recipe calls for chicken stock, I have a great recipe for homemade chicken stock that I wanted to be sure to give you access to.
Please pin this recipe on Pinterest, so you'll know where it is the next time you have some leftover chicken. Or, you can share it with your friends on Facebook, or tweet it on Twitter.
Here's the recipe for:
Homemade Chicken Pot Pie
Yield: 8 servings
Best Recipe for Leftover Chicken: Homemade Chicken Pot Pie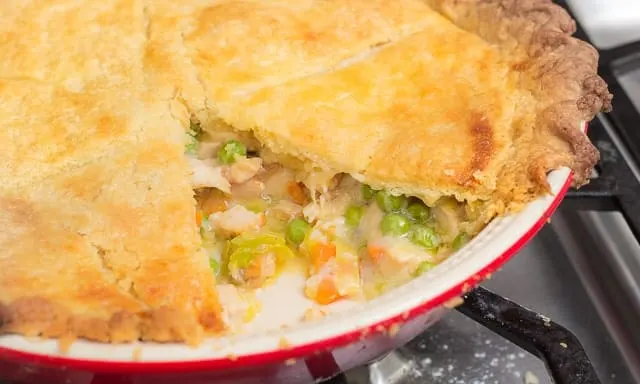 The very best way to use leftover chicken, Tarragon Chicken Pot Pie is the ultimate comfort food: creamy and delicious, with a buttery, flaky crust.
Total Time
2 hours
30 minutes
Ingredients
FOR THE CRUST:
2 cups all-purpose flour
14 tablespoons (1 3/4 sticks) cold unsalted butter, cut into pieces
1 tablespoon cold vegetable shortening
Scant 1/2 teaspoon salt
Scant 1/2 teaspoon sugar
1 tablespoon of half & half, to brush on top of pastry
FOR THE FILLING:
5 tablespoons unsalted butter
1 cup chopped carrot
1 cup chopped celery
1 cup carefully washed, thinly sliced leeks
1 tablespoon chopped fresh tarragon (or 1 t. dried)
1 cup frozen baby green peas
4 tablespoons all-purpose flour
2 ½ cups chicken broth
1 cup heavy cream
¼ teaspoon salt
¼ teaspoon freshly ground pepper
3 cups leftover roast chicken, cut into 1/2-inch chunks
Instructions
TO MAKE THE CRUST: Combine flour, butter, shortening, salt and sugar in a food processor. PULSE together, just until the mixture is crumbly and butter is broken into small pieces. Pour 1/3 cup ice water into the machine, and pulse 3 or 4 times. Squeeze a little dough in your hand to see whether it clumps together and is evenly moist. If not, add another tablespoon of water, and pulse 1 or 2 times more. Don't over mix so that the dough forms a ball.
Turn out dough on a large sheet of plastic wrap. Lift ends of plastic to gather dough together inside. Press into a large disk, and wrap tightly in plastic wrap. Refrigerate until ready to use, for at least one hour, and up to 2 days.
TO MAKE THE FILLING: Melt 2 tablespoons butter in a large skillet over medium-high heat. Add carrot, celery, leeks and tarragon, and cook, stirring, just until slightly softened but not browned (reduce the heat if necessary to prevent browning), about 3 minutes. Transfer cooked vegetables to a bowl, wipe out the skillet, and place it back on the stove.
Add remaining 3 tablespoons butter, and melt over medium heat. Whisk in flour, and cook, whisking, until the mixture bubbles and smells cooked - 1 or 2 minutes. Do not let it brown. Whisk in 2 cups broth, and cook, whisking, 1 minute. Whisk in cream, and cook 2 or 3 minutes, just until thickened. Add salt and pepper. If the sauce is too thick, whisk in remaining broth.
TO ASSEMBLE THE PIE: Heat the oven to 400 degrees. Add cooked vegetables and peas, chicken and sauce to 8-inch deep pie dish or other baking dish, mix gently, and taste for seasoning.
Flour a work surface. Remove dough from refrigerator. Roll out the dough, turning and flouring often, and cut a shape approximately the size of your baking dish plus 1 1/2 inches overlap all around.
Roll dough up onto the rolling pin, and unroll over dish, so it rests evenly on top of filling. Fold the edges under and crimp. Poke tip of knife through crust to create 3 vent holes near the center. Use a pastry brush to lightly coat the entire crust with half & half. Place on cookie sheet, and place in oven.
TO BAKE: Bake 20 minutes, then reduce temperature to 375 degrees. Bake 25 to 30 minutes more, until crust is golden and filling is bubbling through vents. Let rest 10 minutes before serving.
Notes
Before I roll out my pastry, I place a sheet of plastic wrap over top of it, and roll the dough with the sheet of plastic wrap between the pastry and the rolling pin. That way, the pastry never sticks to the rolling pin!
Recommended Products
As an Amazon Associate and member of other affiliate programs, I earn from qualifying purchases.
Nutrition Information:
Yield:
8
Serving Size:
1
Amount Per Serving:
Calories:

751
Total Fat:

54g
Saturated Fat:

29g
Trans Fat:

0g
Unsaturated Fat:

21g
Cholesterol:

179mg
Sodium:

629mg
Carbohydrates:

39g
Fiber:

3g
Sugar:

6g
Protein:

28g
Please pin this recipe on Pinterest, or share it on Facebook, or tweet it on Twitter.