This post contains links that, if you click on them and make a purchase, will earn me money. Regardless, I only recommend products or services that I believe will be good for my readers. Thanks for helping me continue to produce great content!
Chicken stock is one of those almost ubiquitous ingredients that efficient home cooks keep in stock (pardon my homonym). Smart cooks buy it by the box-full and store it on their pantry shelves, to have some handy when they need it.
Why Smart Cooks Make Their Own Homemade Chicken Stock
But smarter cooks store it in their freezer. And why would they do that? Because they make their OWN homemade chicken stock, themselves, silly goose. (Uh oh. A fowl pun. Poultry pun alert. You have been warned. Read no further, unless you enjoy playing chicken.)
"But I don't know HOW," you cluck. (That WAS you clucking, wasn't it?)
Say no more, my little chickadee, because Susan in the Boonies is gonna show you how to make your very own homemade chicken stock. And honest to goodness? It couldn't be easier! And, it's cheaper than shelling out three bucks a box for the store bought stuff. And BONUS: your meals are going to taste so much BETTER, once you start using your own homemade chicken stock.
Homemade Chicken Stock Tastes Better
I recently made a pot of Lentil Soup with Kielbasa with store bought stock and I could not believe how inferior the flavor was to my normal pot of lentil soup. Seriously! There was that much of a difference!
I haven't posted my recipe before because, and I hate to say this: chicken stock looks a lot like dishwater. Even homemade chicken stock looks kind of unappetizing. But homemade chicken stock tastes SO good, and makes such a difference in the dishes I cook. And it's so easy to make. I knew I really, really NEEDED to share the procedure with you! So the challenge has been to make an appetizing photo. I think we've finally arrived at shooting some nice ones.
Obligatory Poultry Puns You May Skip
Here's hoping we haven't laid a photographic egg. Did that crack you up? Because there's nothing like a good yolk. And that was NOTHING LIKE a good yolk. All these poultry puns are scrambling my brain. Omelette up in a minute, when I can't think of anymore, due to my brain being fried. At which point, I'll just poach some puns from some other chick. Unless you want to hen one over easy. STOP EGGING ME ON!!! I mean it!
Recipes of Mine that Use this Stock:
I have several recipes for soup on this blog (Lentil Soup with Kielbasa, Slow Cooker Tortilla Soup, White Turkey Chili, and Slow Cooker Chicken and Dumplings,) with which I use my own homemade chicken stock. Since I've been promising for a while that I'd post my recipe, in case you don't have your own, it's high time I make good on that promise.
In addition, I use it in my Thanksgiving stuffing: Tuscan Bread Stuffing with Prosciutto, Goat Cheese and Dried Cherries. I use it to make my gravy as well, and you can see that recipe here:Honey Brined Turkey with Giblet Cream Gravy .
Freeze Your Chicken Bones and Carcasses:
There's really nothing to making this recipe, as long as you've saved a chicken carcass or two from the last couple of chickens that you cooked. I also save/freeze the little bags of giblets/innards (heart, liver and gizzard and neck) that come with most chickens that you roast: no sense in wasting all that flavor.
If you haven't saved any carcasses or bones, and want to get going on this recipe right away, just start with a whole chicken, which is the way the recipe is written in the Gourmet Cookbook.
Making your own stock is a great way to get the most value out of the chicken that you buy, too. It's ALMOST like free chicken broth, because after I roast a chicken, I take the carcass, and dump it in a ziplock bag and stick it in the freezer. Then, when I have the celery on hand (not something I necessarily buy regularly), and a few hours at home (which is nearly any day), I can get a pot of stock going, and the whole house smells like Thanksgiving.
Don't Forget to Freeze the Leftovers:
I use what I need for the dish that I'm making that day, and freeze any leftovers, to have on hand for the next time I need chicken broth. It is so great to know that you have a delicious and wholesome basic recipe component on hand, waiting in the wings (as it were), for whenever you need it. And, you know exactly what ingredients are in YOUR chicken stock, (no MSG, for instance) because you made it yourself!
If you want to kick YOUR cooking up a notch? Homemade chicken stock is a wonderfully easy way to do it. The recipe I use comes from the yellow Gourmet cookbook. I've adapted/changed their recipe for my own use, because I use the carcasses of a couple of chickens, and their giblets. I don't go buy a whole fresh chicken just to make stock.
NOTE: Since you'll have stored your chicken carcasses in the freezer, it is fine to begin making this recipe with two frozen carcasses: no need to thaw them.
Everybody in the hot tub! Now, we just add water!
Please share this basic, but oh, so important recipe on Facebook, Twitter, Reddit, or Pinterest. If you haven't tried making your own chicken stock before, this is a Must Do. You will be so glad!
If you do make your own, how do our ingredient lists differ?
The Recipe for How To Make Homemade Chicken Stock
Yield: 1 gallon of chicken broth
How to Make Homemade Chicken Stock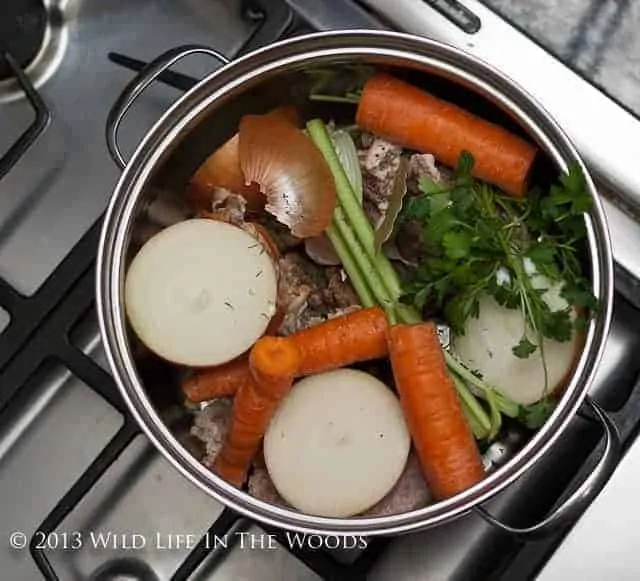 An easy to make chicken stock that will save you money at the grocery store, and VASTLY improve the flavor of your homemade dishes.
Total Time
3 hours
5 minutes
Ingredients
2 chicken carcasses, plus their giblets
4 quarts cold water
2 onions, unpeeled, and halved
2 whole cloves
6 garlic cloves, unpeeled
1 celery rib, halved
2 carrots, halved
1 t. salt
6 long fresh sprigs of parsley
8 black peppercorns
1 bay leaf
Instructions
Put chicken carcasses and giblets into a large stockpot, add remaining ingredients, and bring to a boil.
Skim froth. Simmer for 3 hours, skimming froth whenever necessary.
Strain stock through a colander, into a large bowl, and discard solids. If you have time, refrigerate stock a few hours, and you can skim the fat off the top.
Notes
I usually use half of this right away, and freeze the remaining half.
Recommended Products
As an Amazon Associate and member of other affiliate programs, I earn from qualifying purchases.
Nutrition Information:
Yield:
16
Serving Size:
1
Amount Per Serving:
Calories:

46
Total Fat:

2g
Saturated Fat:

1g
Trans Fat:

0g
Unsaturated Fat:

1g
Cholesterol:

41mg
Sodium:

176mg
Carbohydrates:

3g
Fiber:

1g
Sugar:

1g
Protein:

5g
Things I Make With Homemade Chicken Stock
If you're going to make homemade chicken stock using my recipe, I have lots of other recipes you'll enjoy using it in! Here are just a few!