This post contains links that, if you click on them and make a purchase, will earn me money. Regardless, I only recommend products or services that I believe will be good for my readers. Thanks for helping me continue to produce great content!
This easy crock pot recipe for Old Fashioned Slow Cooker Chicken and Dumplings produces dumplings that are light as a feather, in a rich and savory broth. And you get to brag that you made it from scratch! The recipe for old fashioned Slow Cooker Chicken and Dumplings, from the America's Test Kitchen
Slow Cooker Revolution
cookbook, is really, really, really great!
I grew up on chicken and dumplings, and while they weren't necessarily one of my mom's specialities, they were still pretty dang bueno. A little gummy when it came to the dumplings, perhaps, but delicious nonetheless.
I've made chicken and dumplings plenty of times now that I have my own family to cook for. It's one of our family's favorite comfort foods, in fact. And it's one of the dishes that I make that EVERYONE likes: no complaints from any quarter. I used to use the recipe from my Southern Living Cookbook, and they were good, but a little drab. Then I found a fantastic recipe by Tyler Florence, and it was AWESOME. Good enough to stay with, and never try another version.
But since I've been trying out the recipes from my America's Test Kitchen Slow Cooker Revolution cookbook, I thought I'd give their recipe for Chicken and Dumplings a whirl, since it required no extraordinary ingredients. I already had everything it called for in the pantry.
Things I didn't care for about the recipe:
Browning the chicken thighs was spattery. I just made that word up, but I think it's self-explanatory. My dog licked the floor in front of the stove. (Gross, right? Gotta mop there, for sure!) But, really, the spatteriness was a small thing. (Might have been less of a thing if I'd patted the chicken thighs dry, first, in retrospect.)
I found the addition of tomato paste unusual. I know why they did it. It was a depth of flavor idea, to bring out the sweetness of the onions. It added a pale orange cast to the dish, whereas I am used to a white cast to chicken and dumplings, coming from a more cream based/milk based white sauce. It wasn't unpleasant: the flavor was great. But it did strike me as unusual.
What I Liked About the Recipe:
The dumplings were fantastic. Texture-wise, these were the best dumplings I've ever made: very light, not heavy.
The flavor of the dish was fantastic. I think sherry was a great enhancer for developing flavor in the sauce. Definitely a "make this one again" recipe.
Using boneless, skinless chicken thighs was a great call. Nice tender, juicy meat, and it shredded easily with no muss, no fuss from picking out skin (or the fat that comes with that) or chicken bones.
Changes I'd make for next time:
I might chop up some chives to add to the dumplings. That was something that came from the Tyler Florence recipe that I liked a lot. For me, it would have improved flavor and appearance.
Since I'm missing a cream sauce appearance, I might omit the tablespoon of tomato paste, and maybe add a half a cup of cream as I'm finishing the recipe – and just heat it till it's warm.
The Only Thing I Did Differently Than The Recipe:
I used homemade chicken stock that I made earlier this week with some old chicken carcasses that I had in the freezer. My chicken stock is better than what comes in a box from the store, as yours would be, as well. But that's not necessary to do: the boxed stuff is perfectly respectable, and what I would use had I not had any homemade chicken stock on hand.
Tips for making it easier and better:
Since the onions are supposed to be minced, which is a really fine chop, I felt free to use my food processor. So much faster. To avoid making onion mush, pulse your onions in your food processor rather than letting it run. 10 to 12 pulses worked for me. Adjust to what looks right to you with your food processor, but don't let it turn into mush.
Use an ice cream scoop to get dumplings that are uniform in size, It made scooping the dumpling batter into the slow cooker super easy.
The Recipe for Slow Cooker Chicken and Dumplings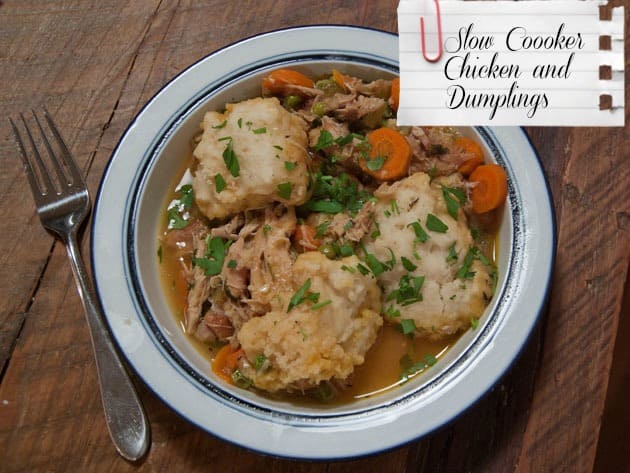 Slow Cooker Chicken and Dumplings
2015-01-08 10:22:33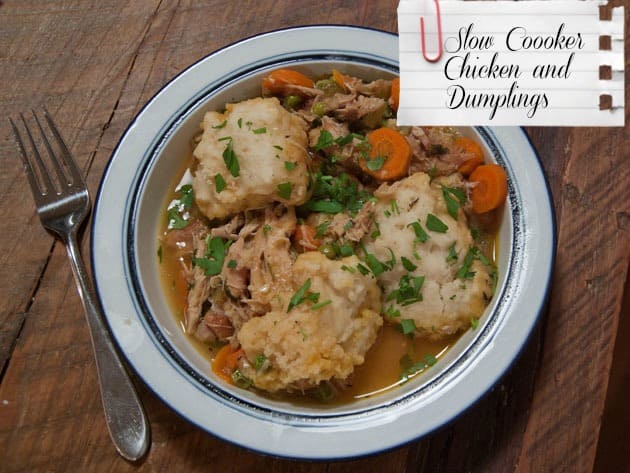 A delicious recipe for making chicken and dumplings in the slow cooker.
Ingredients for Stew
3 lbs. boneless, skinless chicken thighs
salt
pepper
3 T. vegetable oil
2 onions, minced
2 celery ribs, sliced 1/4" thick
6 garlic cloves, minced (I used more, because I love garlic)
1 T. tomato paste
2 t. minced fresh thyme, or 1/2 t. dried
1/3 c. all-purpose flour
1/4 c. sherry
4 1/2 c. low sodium chicken broth, plus extra as needed (I used homemade stock)
4 carrots, peeled and sliced 1/4" thick
2 bay leaves
1 c. frozen peas
3 T. freshly minced parsley
For the Dumplings
2 c. all-purpose flour
1 T. baking powder
1 t. salt
1 c. whole milk (I used 2%, and it worked fine)
3 T. unsalted butter (I used salted; it worked fine)
Instructions
FOR THE STEW: Dry chicken with paper towels and season with salt and pepper. Heat 1 T. oil in a 12" skillet over medium high heat until just smoking. Brown half of chicken lightly on both sides, 5 to 8 minutes; transfer to a bowl. Repeat with 1 T. more oil and remaining chicken; transfer to bowl.
Heat remaining tablespoon of oil over medium-high heat until shimmering. Add onions, celery, garlic, tomato paste, and thyme and cook until vegetables are softened and lightly browned, 8 to 10 minutes. Stir in flour and cook for 1 minute. Slowly whisk in sherry, scraping up any browned bits. Whisk in 1 c. broth, smoothing out any lumps; transfer to slow cooker.
Stir remaining 3 1/2 c. broth, carrots, and bay leaves into slow cooker. Nestle browned chicken with any accumulated juice into slow cooker. Cover and cook until chicken is tender, 4 to 6 hours on low. (It only took mine 4 hours, so you should check yours.)
Transfer chicken to cutting board, let cool slightly, then shred into bite-size pieces. Let stew settle for 5 minutes, then remove fat from surface using large spoon. Discard bay leaves.
Stir shredded chicken, peas, and parsley into stew, and season with salt and pepper to taste. (Adjust stew consistency with additional hot broth as needed.) Cover and cook on high until simmering.
FOR THE DUMPLINGS: Whisk flour, baking powder and salt together in large bowl. Microwave milk and butter together until warm (do not overheat), about 1 minute, then whisk to melt butter. Stir milk mixture into flour mixture until just incorporated and smooth.
Drop golf ball-size dumplings (here's where I used my ice cream scoop) on top of simmering stew, leaving about 1/4" between each dumpling (you should have about 18 dumplings). Cover and cook until dumplings have doubled in size, 25 to 35 minutes. Serve.
Notes
You can find my recipe for Homemade Chicken Stock here: https://www.thatsusanwilliams.com/2013/03/how-to-make-homemade-chicken-stock/
Adapted from Slow Cooker Revolution
Adapted from Slow Cooker Revolution
That Susan Williams https://www.thatsusanwilliams.com/
P.S. What comes to your mind when somebody mentions Chicken and Dumplings?