This post contains links that, if you click on them and make a purchase, will earn me money. Regardless, I only recommend products or services that I believe will be good for my readers. Thanks for helping me continue to produce great content!
Hummus is a Middle Eastern dip made with chickpeas, that is often eaten with pita bread, or fresh vegetables.
This yummy hummus dip recipe is easy, delicious, and one that I've been using for years. I've served it at parties, as an appetizer, because you can really dress it up to look elegant. But it's also perfect as a healthy after-school snack. I think you and your family are going to LOVE it!
Is Hummus Made of Chickpeas or Garbanzo Beans?
Chickpeas are also known as garbanzo beans. The two terms are used interchangeably. I never tried them until I moved to Texas to go to college. I noticed they were always available on salad bars, and decided to try them. I loved the taste, and felt like they kind of "beefed up" my salad a bit.
It turns out that I was right. Chickpeas are healthy: high in protein and fiber, and absolutely delicious. So, they not only taste good, they're good for you, too.
A few years later, I traveled to Israel as a young adult. There, I discovered that I loved hummus, which is a dip that is made from cooked, ground-up chickpeas. I dipped into a bowl of it that had been drizzled with olive oil, with a torn chunk of freshly baked pita bread. Oh, the pleasure!
To make my own hummus, I usually will cook up a bag of dried chickpeas by following the package directions, and then adding in a few garlic cloves, some salt and a bay leaf. Alternatively, if you're in a hurry, it is PERFECTLY fine to just use canned chickpeas in this recipe. I've tried it both ways.
If you go the route of cooking your own dried chickpeas, and you cook a whole 1 lb. bag of dried chickpeas, you will probably have some leftover cooked chickpeas. Fret not!
What Can I Do With Any Leftover Chickpeas That I Cook for Hummus?
You can use up any chickpeas that you have leftover, after making the hummus, by roasting them. It will bring out a wonderful nutty flavor. And you'll have another snack that is high in protein, and fiber.
To roast chickpeas, I simply drizzle them with a bit of olive oil, and sprinkle on some chopped thyme leaves, salt and pepper. Pop them in the oven on a baking sheet at about 450º, for 20 to 25 minutes. Look for some browning/caramelization, and then, you'll know they're done.
I've had this recipe in my recipe notebook since the 1990's, and I generally make it several times a year. It makes a wonderful appetizer, but also goes well as a side dish with many Greek, Turkish, or Middle Eastern dishes. And it is the perfect after-school snack for hungry, growing youngsters.
I've mentioned that I have tried this recipe with canned garbanzo beans and dried garbanzo beans that I cooked myself, and I prefer the flavor and texture of the ones I've cooked myself. They're cheaper, and taste better with a minimal amount of work.
If you've never done that before here's the procedure: basically, you have to soak them before you cook them. You can soak them overnight the night before you want to cook them, but I generally use the quick soaking method on the back of the package, which will tell you to boil them for 2 minutes and then leave them to soak for an hour in the water that they boiled in. Once you've soaked them for an hour, you only need to boil them in fresh water for a couple of hours, and then, they're ready to be used. I also throw in a sliced onion, a few garlic cloves, some salt, and a bay leaf or two for extra flavor.
I got this recipe from Gourmet magazine and the Epicurious website. The parsley oil and the pine nuts are totally optional, but they make for a nice presentation, especially if you're planning to serve this as an appetizer at a party. I serve mine with whole wheat pita bread.
What's This "Tahini" Stuff Your Hummus Recipe Calls For?
One of the more unusual ingredients in this recipe is tahini, which is actually just ground up sesame seeds. It comes in a jar, and I can find it in the Middle Eastern section of my grocery store. You'll see about an inch of oil that has separated from the bulk of the product at the top of the jar. This is normal. Just stir up the tahini to incorporate the oil that has separated back into it, before you start to measure it.
Hummus needs to be seasoned carefully or it can be bland. In general, if you taste a food and you're not "feeling it" because it seems a little ho-hum, you need to add either salt or an acid (a lemon juice or a vinegar, for example) to liven up the flavor. In the case of hummus, I usually find myself adding more of each, lemon juice and salt, until it tastes "bright" enough for me. So don't be afraid to adjust the seasoning till it suits your taste.
The Recipe for Hummus
Yield: 12 servings
Yummy Hummus Recipe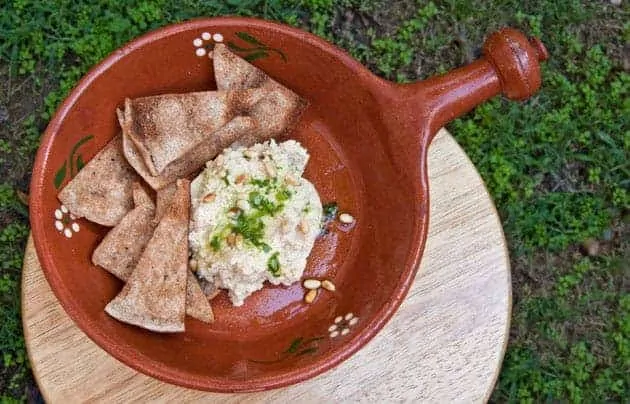 Hummus is a Middle Eastern dip made with chickpeas, often served with pita bread, or fresh vegetables. This yummy hummus dip recipe is easy, and delicious!
Ingredients
4 garlic cloves
1 t. salt
FOR THE HUMMUS:
4 c. chickpeas
2/3 c. well stirred tahini
1/4 c. lemon juice, or to taste (I almost always use more)
1/4 c. olive oil
FOR THE PARSLEY OIL
1/4 c. fresh parsley leaves
1/4 c. olive oil
Toasted pine nuts
Toasted Pita triangles
Instructions
On a cutting board, mince and mash the garlic to a paste with the salt.
In a food processor, purée the chickpeas with the garlic paste, the tahini, the lemon juice, the olive oil, and 1/2 c. water, scraping down the sides, until the hummus is smooth and add salt to taste.
Add water, if necessary, to thin the hummus to the desired consistency and transfer the hummus to a bowl.

DIRECTIONS FOR THE PARSLEY OIL: In a blender, purée the remaining 1/4 c. oil with the parsley until the oil is bright green and the parsley is minced.
Drizzle the hummus with the parsley oil, sprinkle with the toasted pine nuts, and serve with pita chips.
Notes
Toasted Pita Triangles can be homemade from fresh pita bread, by splitting pita bread, brushing it lightly with olive oil, sprinkling it with salt and pepper, and then cutting it into triangles, and toasting it, at 400º for 5 minutes.
Recommended Products
As an Amazon Associate and member of other affiliate programs, I earn from qualifying purchases.
Nutrition Information:
Yield:
12
Serving Size:
1
Amount Per Serving:
Calories:

291
Total Fat:

20g
Saturated Fat:

3g
Trans Fat:

0g
Unsaturated Fat:

17g
Cholesterol:

0mg
Sodium:

232mg
Carbohydrates:

22g
Fiber:

5g
Sugar:

3g
Protein:

8g
I'm always grateful if you think you'd like to make this recipe, for a Pin on Pinterest, a tweet on Twitter, or a share on Facebook.
If you're looking for more appetizers, I have quite a few more options for you.
You might also like this recipe for Goat Cheese with Sun-Dried Tomatoes on Toasted Crostini.
Perhaps some Crispy Lime and Cilantro ChickenWings with Sriracha?
How about an Heirloom Tomato Appetizer with Bacon, Fresh Mozzarella and Basil?
Have you ever had hummus? Ever made your own?
Appetizers and Snacks Your Friends and Family Will Love
Let's see what else I can tempt you with...