This post contains links that, if you click on them and make a purchase, will earn me money. Regardless, I only recommend products or services that I believe will be good for my readers. Thanks for helping me continue to produce great content!
This recipe for a Fabulous Frozen Fruit Smoothie is super simple! It's my very favorite blend of the frozen fruits I try to keep in stock in my freezer, plus a hint of citrus for zing, and sprig of refreshing mint.
A few years ago, I tried eating "raw" for a week, in an attempt to "detox" my body. It was an interesting exercise in self-control, but not something I wanted to continue as a lifestyle. I lost some weight, but what I gained from the experience was a method for making delicious smoothies. The smoothie I make the most, the super simple smoothie I'm going to tell you about, is easy, delicious, packed with antioxidants, and makes me feel virtuous just for having drunk it.
I'm writing this post in conjunction with "Smoothie Week" that's going on over at Williams-Sonoma. They have a whole selection of blenders you might want to check out.
Tips to Making Your Smoothie Super Fast & Frugal
So, here's what I do: I make my smoothies from fruits that I cut in advance, and store in the freezer. That way, my smoothies come out like a fruity frozen gelato shake.
In the summertime, when I buy a watermelon, I cut off the rind, slice the melon up into chunks, and freeze them for a few hours on a rimmed baking sheet. Then I take them out, and store them in the freezer in a ziplock bag. That way, the pieces of fruit don't stick together inside of the ziplock bag, and each piece is easy to remove, separately, to make a smoothie.
I do the same for pineapples, where I cut off the peel, and slice the pineapple into chunks.
I peel bananas that are approaching being very ripe, and slice them in half. These I also freeze separately on a cookie sheet, tossing them into their own ziplock, a few hours later.
I buy grapes fairly often throughout the year, so I freeze the grapes at the end of the bunch that I can tell that no one is going to eat, adding them to the ziplock full of grapes that is already in my freezer.
Blueberries and strawberries could be done that same way, but I tend to buy those already frozen in a large plastic bag, from Costco.
So, I take all my frozen fruit ziplocks from the freezer, and chunk the fruits that I want into my VitaMix. Usually it's half a banana, plus 3 big strawberries, 2 or 3 chunks of watermelon, 2 or 3 chunks of pineapple, a handful of grapes, and a big handful of blueberries. In the bottom of the blender, to help things loosen up, I pour about a half a cup to a cup of juice.
My favorite juice I have ever used was pomegranate, but I didn't have any of that on hand when I prepared the smoothie you see in the pictures. This time, I had cranberry grape juice, so that's what I used.
Use whatever flavor you like, although I will warn you that orange juice foams, so you might want to avoid it. The final addition, and one that I think is crucial, is to hit the entire concoction with a big squeeze of lime juice: maybe about a tablespoonful. The fruits I use are all so sweet, that this little zing of sour citrus brightens the flavor of the smoothie in a delightful way.
I whir my frozen fruits and juice on low, and gradually increase the speed to high, adding more juice if things start to freeze up, or need loosening up. If it's summertime, I go outside and pick a sprig of mint, and add several leaves: I love the refreshing flavor that a few leaves of mint add, also. But mint is totally optional.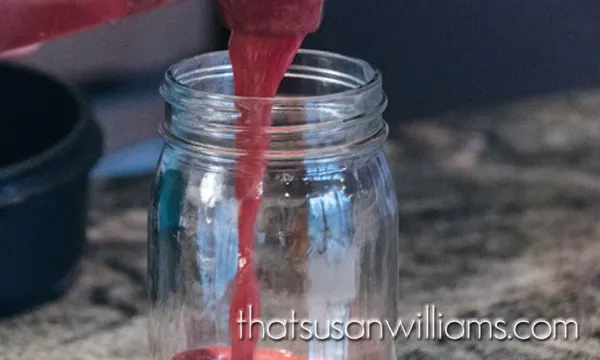 Pouring out the frosty fruit's frozen smoothie goodness.
The whole wonderful whirled up mess will yield around two glasses full, depending on the size of your handfuls of fruit, and the size of your glasses.
Pin this post on Pinterest, to remind yourself to try it!
Recipe for the Frozen Fruit Smoothie
Yield: 2 servings
Fabulous Frozen Fruit Smoothie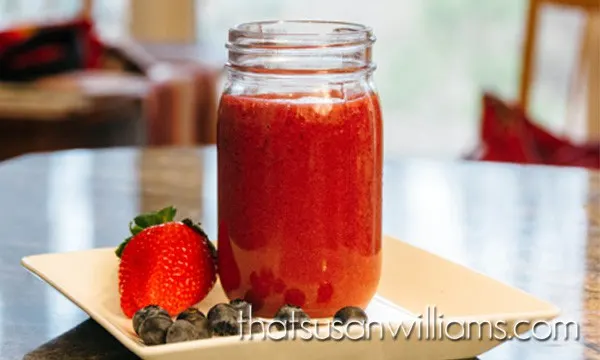 A super simple, phenomenally fabulous, frozen fruit smoothie: strawberries, blueberries, pineapple, watermelon, grapes and a hint of lime!
Ingredients
1/2 frozen banana
3 large frozen strawberries
3 large chunks of frozen watermelon
3 large chunks of frozen pineapple
1 handful of frozen grapes
1 large handful of frozen blueberries
1 c. fruit juice (I like pomegranate or apple peach and passionfruit)
1 T. fresh lime juice
3 mint leaves (optional)
Instructions
Drop frozen fruit into Vitamix. Pour in fruit juice and squeeze in lime juice. Add mint leaves, if using. Start VitaMix on low, and gradually increase speed to high. Blend until thoroughly incorporated, adding more juice if mixture freezes up.
Pour into glasses and enjoy!


Notes
I do not recommend trying this in a regular blender. Frozen fruit smoothies have been known to give up the ghost when overtaxed. But you know your blender better than I do. 🙂
Recommended Products
As an Amazon Associate and member of other affiliate programs, I earn from qualifying purchases.
Nutrition Information:
Yield:
2
Serving Size:
1
Amount Per Serving:
Calories:

423
Total Fat:

1g
Saturated Fat:

0g
Trans Fat:

0g
Unsaturated Fat:

1g
Cholesterol:

0mg
Sodium:

90mg
Carbohydrates:

107g
Fiber:

13g
Sugar:

79g
Protein:

4g