This post contains links that, if you click on them and make a purchase, will earn me money. Regardless, I only recommend products or services that I believe will be good for my readers. Thanks for helping me continue to produce great content!
Food sure does bring people together, and in my life, you could even say that one of the main reasons I have my very own family is due to food! Back when I was dating the man who is now my husband, I invited him over for lasagna. You can ask him yourself, and he'll tell you it's true. He was already falling in love with me, but the lasagna I made him that night sealed the deal.
(Lasagna: I owe you a lot! For us, you were the language of love.)
So when the nice folks at Red Gold Tomatoes sent me a lasagna kit, which consisted of several cans of Red Gold tomatoes, a box of Creamette's lasagna noodles, a coupon for – and a lovely apron from – Laura's Lean Ground Beef, I thought it might be fun to use their ingredients to SHOW you HOW to assemble a lasagna.
Sometimes, I read a recipe about how to make something, and when there are a lot of steps (as there are in assembling a lasagna) my eyes start to glaze over. Have you ever felt that way?
Have you ever wished someone would just SHOW you what they're talking about it in the recipe ?
Once I've watched someone DO the process, reading the recipe becomes a lot easier. I know in which direction the horse is headed, and roughly what route we're going to take.
So watch the video. It's only about a minute long. I hope you enjoy it. My man and I had a lot of fun putting it together for you.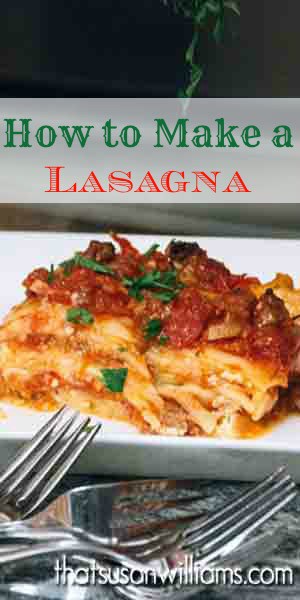 If you loved this recipe and video, please, PIN IT ON PINTEREST!!!
Here's the recipe I used to make this batch of lasagna: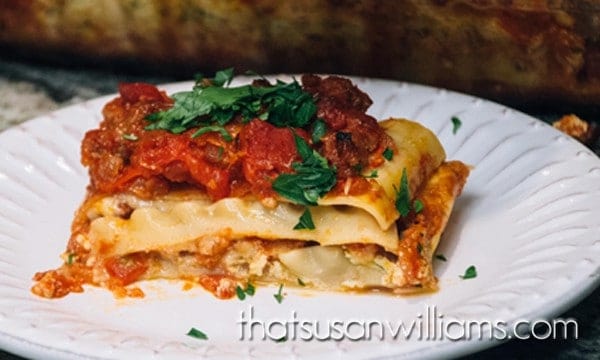 Lasagna with Homemade Tomato Sauce
2015-01-26 12:47:14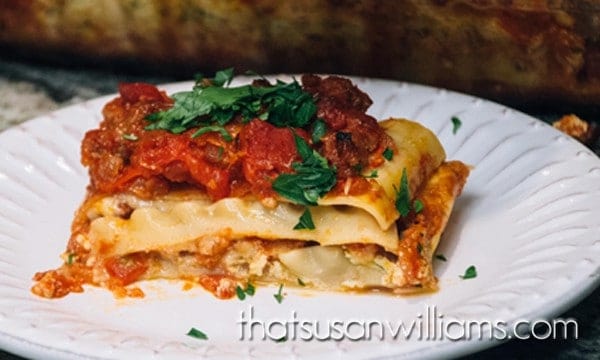 Serves 8
Lasagna, the Language of Love, with a homemade tomato sauce
For the Tomato Sauce
1 lb. Laura's Lean Ground Beef
1/2 lb. Italian Sausage
3 medium yellow onions, diced
1/4 c. olive oil
8 garlic cloves
sea salt, to taste
1/2 t. red pepper flakes
1 T. sugar
3 28 oz. cans of peeled whole tomatoes
12 lasagna noodles, 1/2 cooked in salted water, drained, rinsed in cold water, and drained flat, on waxed paper
For the Filling
2 c. ricotta
2 beaten eggs
1/2 t. sea salt
1/4 t. freshly ground black pepper
1/4 t. freshly grated nutmeg
1/3 c. chopped fresh parsley
1 lb. shredded mozzarella cheese
1/2 c. freshly grated Parmigiano Reggiano
Instructions
Begin browning the sausage in a large skillet. Add the ground beef into the pan. If the fat the sausage has rendered is insufficient to keep the beef from sticking, add another T. of olive oil to the pan. When the meat is browned, remove it from the pan onto a plate covered in paper towels.
Using the pan you browned the meat in, heat 1/4 c. olive oil over medium high heat until shimmering. Add the onions to the oil and cook until translucent, about 3 to 5 minutes. When you are nearing the last minute of cooking time, add in the garlic, and the salt and pepper flakes, and allow the garlic to become fragrant. (That should take about a minute. Be careful not to burn the garlic.) Add in the tomatoes, and the sugar. Use a large spoon to break up some of the whole tomatoes and cook for 10-15 minutes, over medium heat, stirring from time to time.
Add in the reserved meat.
To assemble the lasagna
Pre-heat the oven to 375º.
Spread a little sauce over the bottom of a 9" x13" baking dish.
Cover with a layer of noodles.
Put a blotch of filling here and there. Use 1/2 the filling.
Spread 1/3 of the sauce over that.
Spread 1/2 of the mozzarella, hither and thither.
Top that with 1/3 of the noodles.
Top them with the remaining filling.
Spread another 1/3 of the sauce on top of that.
Cover that with the remaining mozzarella.
Apply the last layer of noodles.
Top with the ultimate dosage of sauce.
And sprinkle on the parmesan cheese.
Cover with foil.
Bake for 45 minutes, and remove the foil.
Bake last 15 minutes.
Let stand 10 minutes before serving.
Notes
I really think this lasagna is better on the second day! So, if you can bear to wait (and we NEVER can), try to make it the day before you plan to eat it. Good luck with that. The waiting will likely kill you.
That Susan Williams https://www.thatsusanwilliams.com/
And you can find another, easier recipe, my very own favorite recipe for lasagna,
here
.