This post contains links that, if you click on them and make a purchase, will earn me money. Regardless, I only recommend products or services that I believe will be good for my readers. Thanks for helping me continue to produce great content!
Grown-Up Grilled Cheese Sandwiches combine the made-for-each-other flavors of wine, cheese, and bread, in a somewhat sophisticated sandwich. And, if you like, you can add a sweet note by spreading those sandwiches with some slow-simmered apple butter. What a luscious delight of a bite!
Cheese, Wine, and Bread
As you may know, I'm a complete cheese-hound. Cabot Cheddar Cheese is my favorite cheddar, and I love to use it to make grilled cheese sandwiches.
I'm also a strong devotee of Cook's Illustrated, and the other day on their site, I saw a recipe for a sandwich called a Grown-Up Grilled Cheese. They mixed cheddar cheese with creamy brie, and then added a hit of white wine and some shallots for flavor. Wine and brie in a grilled cheese sandwich? Yes, please! What could be wrong with that, right?
How I Changed Cook's Illustrated's Recipe
Well, I'll be honest: the only thing I didn't LOVE about it was that when I tasted it, the raw shallot was just a little bit acrid.
Sautéing those shallots for a couple of minutes in a scant tablespoon of butter would soften them, so they didn't crunch, and mellow out that acrid "whang" on my tastebuds.
Then, I decided that an element of sweet wouldn't be a bad thing. I've learned that I love the combination of salty, melty cheese with a little bit of sweet. So, I spread the sandwich with some apple butter, and voilà! The transformation I desired was complete.
(Here's a link for my recipe for FABULOUS homemade Slow Cooker Apple Butter, if you're curious. You, too, can make GREAT apple butter that's homemade!)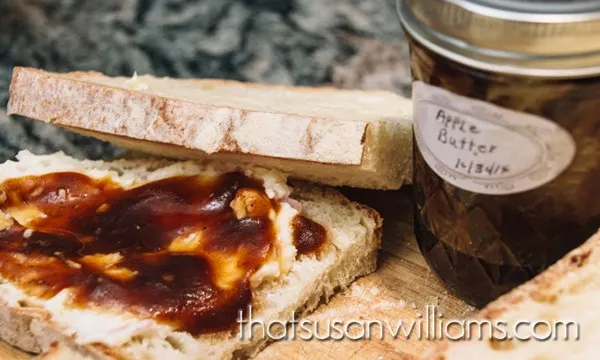 Got any homemade apple butter? So much the better!
Bring Cheeses and Butter to Room Temperature!
It's really important when you make this to bring the cheeses and the butter to room temperature. The cheeses need to blend easily in the food processor with the wine and with each other. And the butter needs to be soft in order to mix with the mustard. "And that mustard butter goes on the OUTSIDE of the sandwich?", you ask. "Yes, I'm sure," I reply. On the OUTside. Don't worry. Everything browns together for the good.
Don't scrimp by buying cheap ingredients! A simple sandwich can soar to gourmet heights when you use great cheese, and great bread. Buy a crusty, beautiful loaf of artisan bread. Use your cast iron skillet or grill to achieve all the crispy, creamy goodness that your heart and tastebuds desire.
My family LOVED this! I bet yours will, as well!
So easy, too! Dinner in a flash, with everyone giddy with melted-cheese bliss.
(No, I'm not exaggerating.)
PIN THIS!!!
The Recipe for Grown-Up Grilled Cheese Sandwiches with Apple Butter
Yield: 4 sandwiches
Grown-Up Grilled Cheese Sandwiches with Apple Butter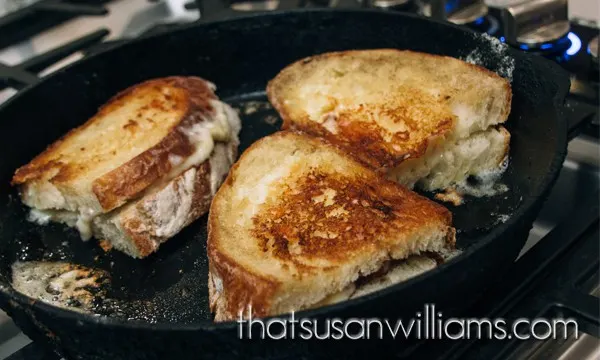 Grilled Cheese reaches new heights with the addition of Brie, shallots, and wine to the Cheddar, with just a hint of sweet from the apple butter.
Ingredients
7 oz. aged Cheddar Cheese, like Cabot, at room temp
2 oz. Brie cheese, rind removed, at room temp
2 T. dry white wine
4 t. minced shallot
1/2 c. apple butter (optional)
4 T. butter, divided, and at room temperature
1 t. Dijon mustard
8 slices Tuscan bread (or some type of crusty artisan bread)
Instructions
Sauté shallots in 1 T. of the butter, until shallots start to become transparent and soft.
Process cheddar, Brie, and wine in a food processor, until a smooth paste is formed, which takes about 20 or 30 seconds. Add sautéd shallots and pulse to combine: about 3-5 pulses.
Combine rest of butter (3 T.) and mustard in a small bowl.
Spread 1/4 of the cheese mixture on the inside of one side of the bread. Then paint the inside of the other slice of bread with about 2 T. of apple butter, and place together to form a sandwich. Paint the outside of the sandwich slices with mustard butter.
Pre-heat a cast iron skillet or grill over medium heat for 2 minutes. Droplets of water should dance and sizzle when flicked onto the pan - that's how you know it's ready. Place the sandwiches in the skillet, reduce heat to medium low, and cook till both sides are crispy and golden brown.
If your skillet - or grill - is too small for all that bread, you can cook two sandwiches at a time, and hold the first two in a 200º oven while you cook their little friends.
Notes
The apple butter is optional. I made one set of sandwiches with apple butter, and one set without, and we honestly couldn't decide which we preferred. They both had their charms.
Recommended Products
As an Amazon Associate and member of other affiliate programs, I earn from qualifying purchases.