When September arrives, I am so impatient for fall that I can nearly taste it, and nothing tastes like fall to me quite as much as slow cooker apple butter. In the town that I was born, Berkeley Springs, WV, each year, they have an apple butter festival in October, where they make huge copper kettles of apple butter outside, over an open flame. My mother must have acquired a taste for it, while we lived there, because I grew up eating apple butter on my toast. So, to me, apple butter speaks of love, and my mother, my roots, that are in a town that couldn't be closer to Mayberry, in size, appearance, and spirit.
Not having my own huge copper kettle, nor being willing to cook apple butter outside over an open flame, I poured through cookbooks and recipes online, wanting to come up with my own version. I think I called it Boonie Butter, back when I first made it. The homeschool forum where I posted the recipe went ~poof~ and was gone, and with it went my recipe.
But in digging through an old cookbook this week, I found an envelope with my handwriting on it, on the back, and I ~think~ this might be my original recipe for Boonie Butter. If anyone who knows me from those olden days on that forum still has a copy of my recipe, please, let me know if this is it. Whether or not this IS the original, it is AWESOME!!!! I'm so glad I wrote it down, and buried it in that old cookbook. It's a treasure!
Slow Cooker Apple Butter: Easy AND Delicious
A slow cooker is a fur piece easier than cooking over a campfire. Just be prepared to use a lot of apples, and be aware that they WILL cook down to a small fraction of what you had. The flavor, then, is super-concentrated, and luscious. It may LOOK like applesauce, but the intensity of the flavor will knock your socks off. You're looking for the apples to become the color of copper pennies that have been around for a while: a deep, gorgeous hue.
The idea is to cook and cook the liquid out of the apples, for about 9 hours (depending on YOUR crockpot, cooking times may vary), and then add the spices, sugar, and lemon zest for the last hour of cooking. That way, the spices still have their zing. The lemon zest adds acidity and brightness. Put that with a warm biscuit, spread with melting butter, and you have a taste that quite literally made my knees grow weak.
What Variety of Apples Did You Use?
I used Granny Smith and Cripps Pink apples. I recommend using a combination of apples for a more exciting flavor profile. I like the tartness of the Granny Smith, and the sweetness of Cripps Pink, and they were both what I had on hand. You need approximately 6 lbs of apples to make it, so, that's kind of a lot. The yield was only about 3 lbs, when all was said and done. That's about 4 c. of apple butter. I kept one for the fridge, and froze one. That way, when company comes around at the holidays, I have a wonderful homemade treat in store for them!
Not only is this Slow Cooker Apple Butter delicious with homemade biscuits, or as a breakfast treat, it's also fantastic as a spread in savory sandwiches, as well. I happen to have a couple of options for you, right here: my Heavenly Havarti and Black Forest Ham with Apple Butter and my Grown-Up Grilled Cheese with Apple Butter.
The Recipe for Slow Cooker Apple Butter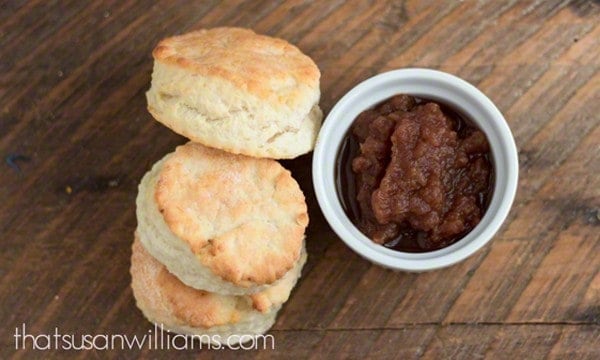 Slow Cooker Apple Butter
2015-09-03 11:13:16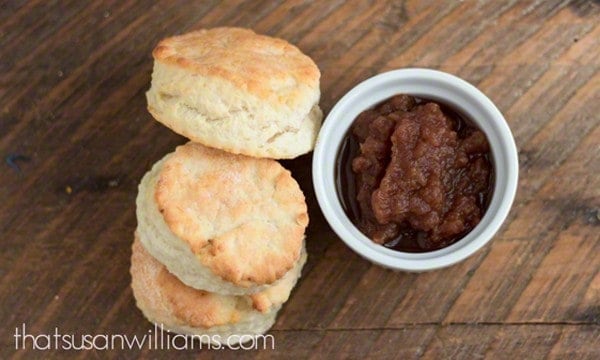 A wonderful treat with the flavors of fall, that goes great as a condiment for breakfast, or as a sandwich spread, for lunch.
Ingredients
6 lbs. of apples (I used Granny Smith and Cripps Pink)
1 c. brown sugar
2 c. apple cider
2 t. ground cinnamon
1/4 t. ground cloves
1/2 t. ground allspice
1/2 t. freshly grated nutmeg
2 2" slices of lemon zest
Instructions
Peel, core, and slice apples. Cook apples and apple cider on high in slow cooker for approximately 9 hours. Stir occasionally toward the end. The apples should be greatly reduced, and darkened in color. You're looking for the texture of apple sauce. Then add sugar, spices and lemon zest, and cook on high for one additional hour. Remove the large slices of lemon zest. Allow the apple butter to cool, and then refrigerate or freeze in pint containers.
That Susan Williams https://www.thatsusanwilliams.com/
Yum