This post contains links that, if you click on them and make a purchase, will earn me money. As an Amazon Associate, I earn from qualifying purchases. . Regardless, I only recommend products or services that I believe will be good for my readers. Thanks for helping me continue to produce great content!
Here's a recipe for the Best Buttermilk Cornbread, using freshly ground cornmeal. But if you don't have access to freshly ground cornmeal, never fear: this recipe will also work fine using stone ground cornmeal from the grocery store,
If you're lucky enough have access to your own freshly ground cornmeal made from popcorn, you will be amazed by the fresh, sweet, nutty difference in flavor! It really is amazingly better!
Why I Know Cornbread:
I grew up eating beans and cornbread every Wednesday night – Wednesday night was church night, don'tchaknow, and Mom needed something quick and easy before she shooed us out the door and into the car for church. When I grew up, I immediately discontinued the habit of beans before church…and I'll leave it to you, if you'd like to take a guess as to why…
Years later, with Mom in heaven and unable to share her cornbread recipe with me, I resorted to the cornbread recipe I found in my Southern Living cookbook. This made a reasonable facsimile of Mom's cornbread.
But then, I found Nancy Vienneau's WONDERFUL cookbook, Third Thursday Community Potluck Cookbook. It is my understanding that Nancy, a chef and food writer from Nashville, hosted potlucks for foodies for years. She collected many of their wonderful recipes, and put together this cookbook that has become one of my favorites!
Since very often, Foodie Knows Best, I decided to try the cornbread recipe in Nancy's cookbook entitled Maggie's Best Skillet Buttermilk Cornbread. I altered it only slightly, in that I use my own freshly ground cornmeal. I LOVED it! It differed from the Southern Living Recipe in that it had the addition of half a cup of flour, as well as more oil, more buttermilk, and a little more sugar.
Two Important Tips for Making Cornbread:
First, you bake this in a cast iron skillet. I will entertain no discussion on this matter. As far as I'm concerned, this is non-negotiable.
Secondly, the recipe calls for buttermilk, but I never keep buttermilk in stock in my fridge, and always make my own buttermilk. I do this by adding 1 T. vinegar (or lemon juice) to each cup of milk. Thus, for this recipe, I make my buttermilk first, as I'm assembling my ingredients. To do this, put 3 T. of vinegar into a measuring cup, and then fill it with milk to the 3 c. marker. Let it sit for 10 minutes or so, and it's ready to be used in the recipe.
I thought you might appreciate seeing a few of the steps pictured:
The Recipe:
Yield: 8 servings
Best Buttermilk Cornbread Recipe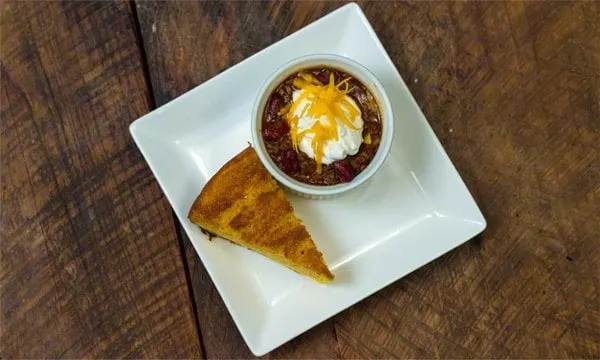 A deliciously moist and tender cornbread, with a beautiful crispy crust, that is especially flavorful if made from freshly ground cornmeal.
Ingredients
2 c. freshly ground cornmeal from popcorn (stoneground is OK)
2/3 c. all-purpose flour
2 t. salt
2 t. sugar
1 t. baking soda
1/2 c. canola oil
2 eggs, at room temperature
3 c. buttermilk, at room temperature
Instructions
Preheat oven to 425º. Place a 9" cast iron skillet into the oven to preheat while the oven preheats.
In a large bowl, whisk together the cornmeal, flour, salt, sugar, and baking soda until the ingredients are well blended. When the oven has reached 425º, remove the skillet. Pour the vegetable oil into the skillet, and return it to the oven so the oil will get hot.
Make a well in the cornmeal mixture. Add the eggs and lightly beat. Pour in the buttermilk. Stir well until all the ingredients are combined, but do not overbeat. It's fine for the batter to be somewhat lumpy.
Remove the skillet from the oven. Pour half of the oil into the batter and whisk until well combined. Pour the batter into the skillet. Place the skillet in the center of the oven and bake for 35 minutes. Turn the cornbread out onto parchment paper to preserve the crispness of the crust.
Recommended Products
As an Amazon Associate and member of other affiliate programs, I earn from qualifying purchases.
Nutrition Information:
Yield:
8
Serving Size:
1
Amount Per Serving:
Calories:

345
Total Fat:

18g
Saturated Fat:

3g
Trans Fat:

0g
Unsaturated Fat:

15g
Cholesterol:

50mg
Sodium:

976mg
Carbohydrates:

39g
Fiber:

3g
Sugar:

6g
Protein:

8g