This post contains links that, if you click on them and make a purchase, will earn me money. Regardless, I only recommend products or services that I believe will be good for my readers. Thanks for helping me continue to produce great content!
For people looking for an effective diet program, you might have wondered which is better jenny craig or nutrisystemKale? While both of them are effective, they still have their differences which you must read about before opting for one.Bacon and Cannellini Bean Skillet Pot Pie is creamy, delicious comfort food for a cold winter's night. You get all the nutritional health benefits of kale, that dark leafy green that haters love to hate, all the fiber of beans, and….BACON. And…Pot Pie! Who doesn't love a pot pie? Even a kale hater is going to love *this* pot pie, with bacon! So, there's a little something for everyone!
Kale, Bacon and Cannellini Bean Skillet Pot Pie is delicious, nutritious comfort food for a chilly evening.I'm always on the lookout for creative ways to use greens, because I belong to a CSA group. (That's a Community Supported Agriculture group.) Each week, they provide a box of fresh locally and organically grown veggies, and I share my box with two other friends, each with smaller families. In the late fall and winter months, our CSA gives us tons of greens, which, I personally love. Kale is one of the most nutritionally packed veggies in the veggie world, but I have one family member who doesn't care for it. So to get that person to eat kale, I sometimes will "dress it up", a bit.
A few months ago, a local friend of mine, Nicki Pendleton Wood, who is a fellow Nashville food blogger, sent me a cookbook to enjoy. It was a cookbook she'd compiled that shared recipes from great southern cooks, and many of them were food bloggers! The cookbook is entitled Southern Cooking for Company. Nicki's cookbook contains not only tons of wonderful recipes, but it also is packed with tips for entertaining, from great hostesses all over the South. Because you KNOW if you ask a food blogger to share one of his or her stand-out recipes, they're going to share with you their very best! Nicki has been a food writer for the Nashville Banner, the Nashville Scene, and the Nashville City Paper, so she knows her way around telling a story. I read this cookbook like a novel, from cover to cover, because that's the way I roll when I find a cookbook I'm excited about. I didn't want to miss a thing. For each cookbook I really like, I compile a list of recipes I want to try, and leave that sheet of paper inside the book. The piece of paper I used for Nicki's book got filled front and back , and then, I needed another! So, that should tell you something! Here's the first recipe I've actually tried, and I altered it a bit, as good home cooks nearly always do.
The recipe I'm sharing with you today was contributed to Nicki's cookbook by Kat Riehle. Kat's Bacon and Kale Pot Pies were made and served in adorable little individual ovenproof bowls (you could also use ramekins). But I didn't want to take the time to portion the filling out, or even transfer the filling to another cooking vessel. Plus, I have my own pie crust pastry recipe that invariably works, that I know like the back of my hand, so I decided to use my own pastry recipe, and make enough for a double crust pie so that I would be sure to have enough pastry to cover my cast iron skillet and make a nice fluted edge.
I'd never tried making a pot pie in a cast iron skillet before, but I couldn't see why it wouldn't work. And, it would save me washing one more dish, which sounded awfully appealing at the time. It's a one pan plan I highly endorse! OK, technically, there was also the pan in which I mixed up my pie crust pastry, but APART FROM THAT, it really was a one pan meal. Well, except for that sauce pan I used to make the sauce. But that's IT! 😀
And if you wanted to make it even quicker (and remember that I never ever do this) you could even use a store bought crust. But I hope you won't. Pie crust pastry is simple to make, and only takes a few minutes, and it's sooo much more delicious and flaky.
Although Nicki sent me a copy of her cookbook to enjoy, she did so with no strings attached, and doesn't even know I'm giving her this shoutout. 🙂 I'm doing it because I want to, so, clearly, all opinions are my own. I like to tell my friends about good books I've read.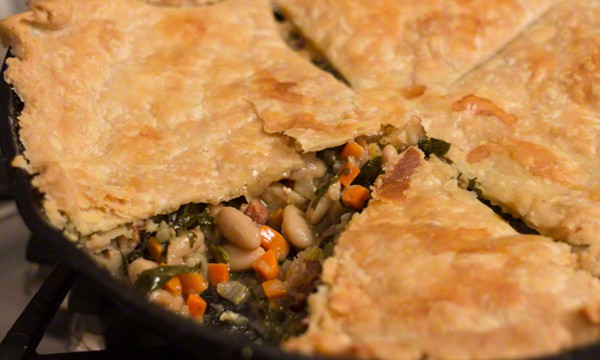 Kale, Bacon, and Cannellini Bean Skillet Pot Pie
2016-01-25 09:50:04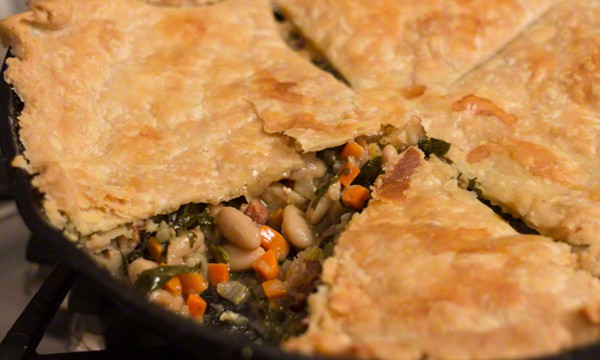 A creamy comfort food pot pie recipe, made in a cast iron skillet, that combines kale and bacon with cannellini beans.
For the Pastry
2 c. all purpose flour
1 t. salt
2/3 c. + 2 T. shortening
4 to 5 T. ice water
1 T. of half & half to brush over top of raw pastry, before placing in oven
For the Filling
olive oil
4 slices diced thick cut bacon
1 onion, finely chopped
1 carrot, finely chopped
1 celery stalk, finely chopped
2 cloves of garlic, minced
pinch of hot red pepper flakes
sea salt, to taste
4 c. thinly sliced kale leaves, thick ribs remvoed
freshly ground black pepper
For the Sauce
4 T. butter
4 T. flour
4 c. chicken broth
sea salt and freshly ground pepper to taste
1/4 t. freshly ground nutmeg
2 c. cannellini beans, (if you use canned, as I did, be sure to rinse and drain them; Great Northern Beans would also work well, if you have those)
For the Pastry
Combine flour and salt; cut in shortening with pastry blender until mixture resembles coarse meal. Sprinkle ice water, 1 T. at a time, evenly over surface; stir with a fork until dry ingredients are moistened. Shape into a disc. Chill for one hour.
For the Filling
Heat about a tablespoonful of olive oil in a large cast iron skillet over medium heat. Add the bacon and cook until crisp. Drain on paper towels and crumble. Add the onions to the pan, as well as the carrot, celery, pepper flakes, and a pinch of salt, and cook until the vegetables are tender, about 8 minutes. Add the garlic, and cook about 1 minute longer. Add the lake and cook until it is wilted. Season with more salt, and freshly ground black pepper. Add the bacon to the vegetables in the skillet.
At this point, it's a good time to preheat your oven to 375º.
For the Sauce
Melt the butter in a medium sauce pan over medium high heat. Add the flour, and cook, stirring constantly, until the flour is browned: this will take a couple of minutes. Whisk in the broth, a little at a time, mixing completely between additions. Scrape up any bits from the bottom of the pan, and mix. Bring the mixture to a boil. Reduce the heat to low and simmer the sauce until thickens, about 10 minutes. Season with salt, pepper, and nutmeg. Add the beans. Pour the sauce over the vegetables and bacon in your cast iron skillet.
Remove chilled pastry from your refrigerator, and roll it on a floured surface into a round that will cover your cast iron skillet, with enough to drape over the edge. Loosely roll the pastry onto your rolling pin, and unfurl it over the skillet. CAREFULLY (your skillet will be hot!!!) crimp or flute the edges of the pastry, and cut slits in the top to vent it. Brush the top of the pastry with a bit of half and half or cream.
Bake pot pie for 30 - 35 minutes, or until crust is golden, and filling is bubbly.
Adapted from a recipe by Kat Riele, from Nicki Pendleton's Southern Cooking for Company
That Susan Williams https://www.thatsusanwilliams.com/
Here's the pin, and if you want to do me a favor, I'd really appreciate it if you'd pin it on Pinterest!