This post contains links that, if you click on them and make a purchase, will earn me money. Regardless, I only recommend products or services that I believe will be good for my readers. Thanks for helping me continue to produce great content!
This flaky homemade pie crust recipe makes the best pie crust my family and I have ever had. Guests in our home testify to this truth. It's won pie contests a-plenty and even won a ribbon in the state fair. So, yes, you've come to the right place.
I'm Sharing All My Secrets for a Flaky Pie Crust
In this post, I'll share with you all the secrets my momma taught me for how to make a flaky pie crust. This is no small thing, because my Momma's pies were the best I've ever had, and she was known far and wide for them.
This Recipe Makes Enough for a Double Crust Pie
The recipe makes enough pie crust pastry for one double crust pie. If you're only making a single crust pie, like my strawberry pie recipe, you can either halve the ingredient amounts, or wrap one disc of pastry tightly in plastic wrap, and freeze it in a food saver vacuum sealed bag. The idea is to keep air and moisture out, while the pastry dough itself freezes. You want to avoid developing ice crystals and freezer burn that will damage your pie crust pastry's texture, and flavor.
This Recipe Uses Shortening
I am the original butter lover, but nothing does quite as good a job at making a flaky pie crust as shortening. I know, because I have tested, and seen. I did a blind taste test with my family members, and each of us agreed that while the butter crust was, indeed, delicious, that we each preferred the flavor and texture of the shortening crust. (I dare you to do your own, and be sure you make it a blind taste test. You butter lovers might be surprised!)
I use shortening sticks because they're super easy to measure, cut, and plop into the mixing bowl, without scraping a measuring cup. But now that I exclusively use a scale when I'm making pie crust, it's a whole lot easier to measure shortening: just add in the approximate amount you need and then add and subtract bits to get the precise measurement you want.
I Weigh My Ingredients With an OXO Food Scale
OXO hasn't paid me anything to say that, but buying a scale was a small investment of money into my kitchen tools, that has paid off HUGE dividends in the quality of my baking.
But don't worry: I also provide you the ingredients in cups, in case that's the way you roll.
I believe weighing your flour is important. One cup of flour scooped, and 1 cup of flour spooned lightly into a measuring cup can weigh vastly differing amounts! And that can be the difference between a dry cake and a moist cake.
When I weigh my flour, I prefer to use grams. They're so much more exact than ounces. It's not that I'm a snob. I just think that if I'm going to go to the time to make something, I want it to taste WONDERFUL! Not just OK.
My Secrets To a Flaky Homemade Pie Crust:
Measure your ingredients carefully. Using grams is much easier to me, and much more exact.
Use a 2:1 flour to fat ratio.
If you're working the fat into the flour with a pastry cutter, you're aiming for pea sized lumps of fat. If you're using a food processor instead, only pulse the shortening in, using short pulses. Never turn it on and just let it run. (Been there, done that, ruined that pie crust.)
Use ice water to avoid melting the fat.
Mix the ice water gently into the mixture. DO NOT OVERWORK THE MIXTURE. (When you overwork flour and water you're developing gluten, which are like little elastic strings within the pastry. This is bad. It makes your crust tough.) Gently gather the pastry mixture into a ball. I weigh it, divide that number in two.
Then form it into 2 approximately equal discs. discs.
When you roll the pastry out, first place a sheet of waxed paper down on the counter, and sprinkle it with flour. That will make your counter easier to clean up, and the pastry won't stick to the waxed paper due to the flour you sprinkled. Then, use the plastic you wrapped the pastry in to place over the top of the disc of dough, where it stays, while you roll the dough into a large circle. Keeps the dough from sticking to the rolling pin.
And you can use the waxed paper to assist you in lifting and wrapping the pie crust around the rolling pin. Then you simply transfer the pastry, still rolled onto the pin over to the waiting filled pie, and gently unfurl it, edge to edge, over top of the pie.
After cutting slits in the pie, I flute the edges by pin pushing the index finger of my right hand between the thumb and index finger of my opposite hand.
Finally to give my crust a sheen, I finger paint a little half and half onto the top, and sprinkle the whole with about a tablespoon full of sugar.
How Long Do You Bake the Crust?
If this is for a one crust pie, like a cream pie, or a strawberry pie, you'll roll out one disc, and do what is called blind baking (pre-baking) at 450º for 10 – 15 minutes, till it's the color you like.
For other pies, baking times vary according to the filling you're using. For example, an apple pie needs longer to cook than a blueberry pie, because the apples need to be tenderized by their time in the oven. A pumpkin pie needs to bake till your filling is set. So, those pies baking times will vary according to the specific recipe you're using.
Without further ado, here's the recipe for:
Flaky Homemade Pie Crust: Double Crust Recipe
Yield: 2 pastry discs for one double-crust pie
How to Make a Flaky Homemade Pie Crust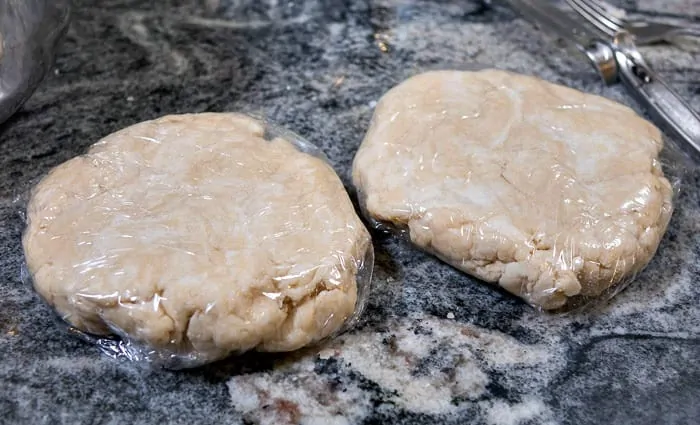 The best pie crust ever, ever, ever in the whole wide world. Made with shortening.
Total Time
2 hours
15 minutes
Ingredients
2 cups (300 g) of all-purpose flour
1 teaspoon salt
2/3 c. plus 2 Tablespoons (150 g) of shortening
4 to 5 Tablespoons of ice water
Instructions
Combine flour and salt with a whisk.
Cut in shortening with a pastry blender. Mixture should appear like coarse meal, with lumps of shortening no larger than peas.
Sprinkle ice water, 1 Tablespoon at a time, over surface. Blend with a fork after each addition, until dry ingredients are moistened. Bring together into a ball, and then divide the ball equally into two discs.
Chill pastry discs for at least 1 hour.
Recommended Products
As an Amazon Associate and member of other affiliate programs, I earn from qualifying purchases.
Nutrition Information:
Yield:
8
Serving Size:
1
Amount Per Serving:
Calories:

143
Total Fat:

4g
Saturated Fat:

1g
Trans Fat:

0g
Unsaturated Fat:

2g
Cholesterol:

2mg
Sodium:

265mg
Carbohydrates:

24g
Fiber:

1g
Sugar:

0g
Protein:

3g
Now that you know precisely how it's done, let's take a look at all the lovely recipes you can make with it.
Me, Oh My: I Love Pie
For all the pies I've loved before....