This post contains links that, if you click on them and make a purchase, will earn me money. Regardless, I only recommend products or services that I believe will be good for my readers. Thanks for helping me continue to produce great content!
Blueberries are my favorite fruit, and at least ONCE a summer, I have GOT to have a homemade blueberry pie, and nothing else will do! My mom made blackberry pies when I was a little girl that everyone else in the family loved…except for me! I just couldn't handle the crunch of the blackberry seeds. But I have a feeling, now that I have my own kids, that whenever she'd make a blueberry pie, she'd smile inside, knowing how pleased her baby girl Susan would be.
Blueberries Are Good, and Good FOR You!
Blueberries are always on those lists of Top 10 Super Foods, and for good reason. They are packed with antioxidants, and antioxidants destroy free radicals! (Free radicals are responsible for doing a lot of damage to our bodies.) So, pie or no pie, blueberries are one of the best foods you can eat.
When I have time to pick my own, my friend Teresa owns a blueberry farm up in Edmonton, KY, called Bellview Blueberries. It's about a two hour drive for us from the Nashville area, but it's worth it to me, just to get to spend some time with Teresa. That farmland has been in Teresa's family for five generations, and Teresa and her husband Bill are really turning it into someplace special. It's going to be a destination where families can bring their kids, and enjoy picking berries together. If you live in the vicinity of Bowling Green KY, or Metcalfe County, I'd encourage you to check out the their scrumptious, organically grown blueberries!
Blueberry Pie is Easy to Make
Blueberry pie is surprisingly easy to make! I love to make it for guests, when we're having company for dinner. Who knew that such a simple recipe could be such a show stopper? It's a positively holy moment when people have their first bite! I have so many sweet memories of serving pie to appreciative friends! If compliments are what fill your "emotional cup", prepare to feel immensely gratified. Your friends and family will LOVE this pie!
(If you're interested in other blueberry recipes, might I suggest my world famous Blueberry Cheesecake? The crust is made from Scottish Shortbread. If you need something fast and easy, how about my Blueberry Crisp. That's one of the most delicious quick and easy recipes I know!)
Steps for Making Homemade Blueberry Pie
Make and Chill Pie Pastry
Make Pie Filling
Assemble & Bake Pie
I'm including some pictures here of the pie being assembled.
Homemade Blueberry Pie Recipe
Yield: 8 servings
How to Make Homemade Blueberry Pie Recipe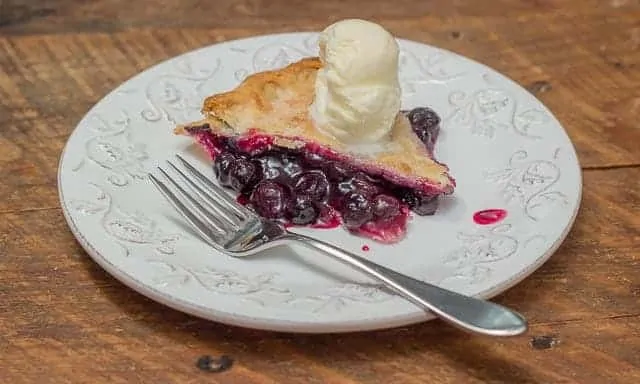 This is the best blueberry pie I've ever had. It ain't braggin' if it's the truth.
Ingredients
DOUBLE-CRUST PASTRY:
2 c. all purpose flour
1 t. salt
2/3 c. plus 2 T. shortening (I use those sticks from Crisco - no mess measuring!)
4 to 5 T. cold water
(I use ICE water - and sometimes I only need 3 T. water, especially if it's humid.)
FOR THE FILLING
3/4 c. sugar
3 T. cornstarch
1/8 t. salt
4 c. blueberries (divided into 2 c. each)
1/2 c. water
1 T. butter
1 T. lemon juice
Instructions
For the pie crust pastry: Combine flour and salt; cut in shortening with pastry blender (use two forks if you don't have a pastry blender) until mixture resembles coarse meal.
Sprinkle cold water (1 T. at a time) evenly over surface; stir with a fork until dry ingredients are moistened. Shape into two discs and wrap each in plastic wrap. Chill for at least 1 hour.(Remember: I use ICE water - and sometimes I only need 3 T. water, especially if it's humid.)
For the filling:
Combine sugar, cornstarch and salt in saucepan.
Add water and 2 c. blueberries, cook over medium heat, stirring constantly, until mixture comes to a boil and is thickened. (Mixture will be quite thick - I added another 1/4 c. water to mine at that point to get the consistency I wanted, which was somewhat thinner.)
Remove from heat and stir in butter and lemon juice. Add remaining blueberries.
To Assemble and Bake the Pie:
Pre-heat the oven to 400º.
Roll out the first pie pastry disc and place in pie dish.
Pour in pie filling.
Cover with 2nd rolled out pastry disc.
Flute edges, and cut in vents for steam.
Here's a little trick I learned from my Momma and it will give your crust a sheen, and a sparkle: take about a teaspoon or so of milk and kind of dabble and smooth it over the top of the crust, and then, sprinkle about a tablespoon full of sugar on top of the crust before you slide it in the oven.
Bake at 400º for 35 minutes.


Recommended Products
As an Amazon Associate and member of other affiliate programs, I earn from qualifying purchases.
I sure would appreciate it if you'd share this post: either on Pinterest, or Facebook, or Reddit, or StumbleUpon, or Flip, or Yummly, or wherever you share great recipes with those you love!