This post contains links that, if you click on them and make a purchase, will earn me money. Regardless, I only recommend products or services that I believe will be good for my readers. Thanks for helping me continue to produce great content!
What's the Easiest Dessert to Make?
The season of fresh blueberries is upon us! What's more, you need a quick, easy blueberry crisp recipe that is as simple as the "livin' is easy" qualities of summertime itself! You've come to the right place, my friends!
I can't wait to go to my friend Teresa's blueberry farm, up in Kentucky, to pick blueberries with her. We have tons of fun, and it's a great time to reconnect. But if you don't have a friend with a blueberry farm, save yourself the sweat, and the drive. Blueberries are as close as your local grocery store!
The recipe I'm going to share with you today is called Easy Blueberry Crisp, but the recipe also works very well for many kinds of fruit. I've personally used it successfully to make apple crisp, and peach crisp, too.
And there's no reason you shouldn't use it for blackberry crisp, strawberry-rhubarb crisp, cherry crisp, or whatever kind of summer fruit you've got a hankering to try it with! Add a spice or two that you think would complement the fruit you've chosen, for even more flavor. For apples, I might add cinnamon and a touch of nutmeg, for example.
The Origins of my Recipe for Blueberry Crisp
The recipe was given to me on a sheet of notebook paper, as a wedding present, and having used it about a zillion times, I have to say I've rarely been given a more imminently useful gift. I've made this fruit crisp recipe so often I can make it from memory now.
While I'm a pie lover, first and foremost, the thing I *love* about fruit crisps is that they can be done in a snap. They're super easy. Just throw the crumble ingredients into a bowl, and squash them together lightly with your fingertips (or use a fork, or even pulse then in a food processor, if you prefer). You're squishing the butter into the flour, sugars, and oats, to make little clumps of goodness.
How Much Fruit Will I Need to Make a Crisp?
The amount of fruit you'll need is dependent on the size of the baking dish you use – my baking dish was a totally retro-from-the-era 9″ Corning Ware Baking Dish, and I used 4 c. of berries, but if your dish is larger, you can certainly use more berries. If your fruit is sweet enough, no sugar might be necessary.
Butter your baking dish and put the fruit in it. One half of a cup of sugar might be enough to mix up with the fruit, or, if your fruit is tangy, and needs a little more sweetening (these blueberries didn't need ANY, and I've had peaches that were just as sweet), you can add up to a cup of sugar. Lemon is a nice flavor to pair with blueberries. Grate a little lemon zest onto the sugared fruit. A little pat of butter or two on top of the fruit and sugar mixture won't hurt a thing.
Put it in the oven, and let it bake, while you're having dinner. When you've finished eating dinner, it will smell glorious, and be ready. A scoop of vanilla ice cream on top would not go amiss, either. It happens I didn't have any when we were shooting the pictures for this post. Here's the recipe for:
The Recipe for Easy Blueberry Crisp
Yield: 8 servings
Easy Blueberry Crisp Recipe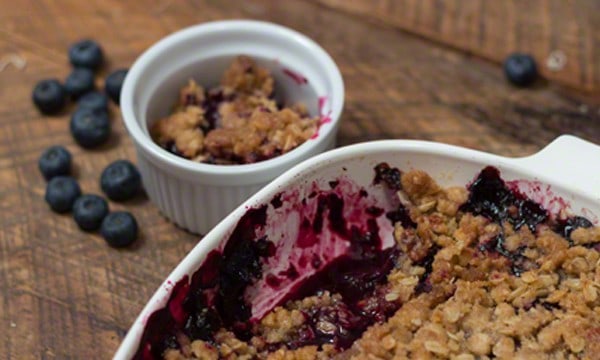 What to do with fruit, when you've got to have dessert, but you need it in a hurry!

Cook Time 35 minutes

Total Time 35 minutes
Ingredients
Crumble Topping:
1/2 c. flour
1/2 c. old fashioned rolled oats
1/2 c. white sugar
1/2 c. brown sugar
1/2 t. salt
1 t. cinnamon
1 stick butter, cut into tablespoon sized pieces
Filling:
4 - 6 c. blueberries
1/2 c. sugar
1/2 t. grated lemon zest
2 T. butter
Instructions
Preheat oven to 375º.

Mix crumble ingredients with your fingers, or a pastry cutter, until they form clumps. (You can also pulse them in a food processor.) Set aside.

Mix berries with sugar and lemon zest in a buttered baking dish. Top with the bowl of crumble. Bake at for about 35 minutes, or until color of the topping is golden brown, and beautiful.
Notes
I'm linking a Microplane Zester, for grating the lemon zest you'll need, a pastry blender, and a pretty stoneware dish from Lodge.
Recommended Products
As an Amazon Associate and member of other affiliate programs, I earn from qualifying purchases.
Nutrition Information:
Yield:
8
Serving Size:
1
Amount Per Serving: Calories: 567 Total Fat: 16g Saturated Fat: 9g Trans Fat: 1g Unsaturated Fat: 5g Cholesterol: 38mg Sodium: 267mg Carbohydrates: 110g Fiber: 12g Sugar: 80g Protein: 5g

I have several other blueberry recipes, if you're looking for something else. If you'd like to learn how to make a Homemade Blueberry Pie, I can teach you how! Or, if you'd know how good fruit goes with pork, have you ever considered trying a blueberry barbecue sauce? I've got one for you: Ribs With Blueberry Barbecue Sauce. If you'd like something cold and refreshing to drink next time you grill out, imagine how delightful a nice tall glass of Fresh Blueberry Lemonade might be. Or maybe some homemade Frozen Lemon Yogurt with Blueberry Sauce for dessert?
Now, what kind of fruit will YOU use this easy Fruit Crisp recipe for?
Yum