This post contains links that, if you click on them and make a purchase, will earn me money. As an Amazon Associate, I earn from qualifying purchases. . Regardless, I only recommend products or services that I believe will be good for my readers. Thanks for helping me continue to produce great content!
This recipe for Mango, Feta, and Honey-Toasted Almond Salad is the perfect salad to accompany this easy summer grilling menu: Grilled Pork Tenderloin, Cardamom-Cilantro Lime Rice, and salad.
An Easy Summer Grilling Menu
Our Memorial Day weekend plans are typically pretty low key: it's often just the fam, hanging out at home, grilling and chilling. This weekend our plans changed, quite suddenly. Life has a way of doing that to you.
A dear friend of mine was scheduled to go in for surgery, when suddenly, the day before her procedure, her husband fell and broke his shoulder! So there they were, both needing care, and both unable to care for the other!
Suddenly, that oh-so-convenient meal I had planned for my own relaxing cookout, became a needed and necessary component of caring for my friends! Could I pull a meal together quickly, and then transport it to my friends' house, so that she and her family could eat?
My husband and I make grilling a team effort. I man the kitchen, as it were, and he mans the grill. While my husband prepped the grill, and grilled the pork loin, I had time to fancy up the rice, and the salad.
Simple Grilled Pork Loin:
To grill the pork, my husband simply grilled the pork loin over direct heat until there was a slight char on it. Once he had obtained the desired crust, he finished cooking the meat by moving it off to the side of the coals. (That's called using indirect heat.) He turned it frequently so as not to burn the outside of the meat, and used a meat thermometer to check the internal temperature of the pork. He removed it from the grill when the pork had reached a temperature of around 145º, and let it rest for 10 minutes before cutting it.
How to Make Cardamom Cilantro Lime Rice
For the rice, I used a basmati rice, that I first toasted in some butter and olive oil with cardamom seeds, until it smelled nutty and was beginning to brown. I added a minced garlic clove, toasted the rice with the garlic 1 minute more, and then poured in the water, and the zest of one lime. When the rice had cooked 15 minutes, I took it off the heat, let it rest with the lid on 10 more minutes. I then fluffed the rice with a fork, and poured in the juice of half a lime, and a huge handful of minced cilantro, which I mixed in with my fork. Basmati-Cardamom Rice, with Lime and Cilantro. Done.
The Perfect Salad to Go With The Pork Loin
I know that pork and fruit have a love connection, so I wanted to incorporate some fruit into this meal. I had some mangos sitting around in the fruit basket, so I added them to the salad. To balance the sweetness of the mango, I chose a salty crumbled feta cheese. The honey toasted almond slices added a great crunchy texture and nutty flavor. My friend's husband could NOT get enough of that salad! He raved over the yummy bits that fell to the bottom of the salad bowl, and the vinaigrette. I'd really encourage you to try the recipe for salad that I'm sharing today. It's simple, but show-stoppingly delicious!
Between the flavors of the grilled pork loin filet, the lime and cilantro of the basmati rice, and the mango and almonds in the salad, the whole meal came together harmoniously, and deliciously! We finished the meal with an easy peach cobbler, topped with ice cream. What a way to kick off summer!
My kids and my girlfriend's kids have been friends since Diaper Days, (which feels like just yesterday!), but now that all four of them have reached their College Days, their separate paths have taken them literally all over the US. It was so great to see them reunited, talking and laughing together over that meal. And it brought my husband and me so much joy to be able to help out some truly appreciative friends.
Mango, Feta and Honey Toasted Almond Salad is a Great Salad When You're Grilling
Whether you spend your Memorial Day Weekend remembering those who gave all for our country, or re-uniting with family and friends, or both, service is a beautiful thing. And I found that this simple dinner plan made my job both easy, and delicious.
If you're looking for other grilling recipes, I have some great ones. How about Smoky Chipotle Barbecue & Bacon Baked Beans? I'll put a list of suggestions below the recipe.
Perfect for Pinning on Pinterest!
Here's the recipe for the salad and vinaigrette:
Mango, Feta, and Honey Toasted Almond Salad
Yield: 4 servings
Mango, Feta, and Honey Toasted Almond Salad Recipe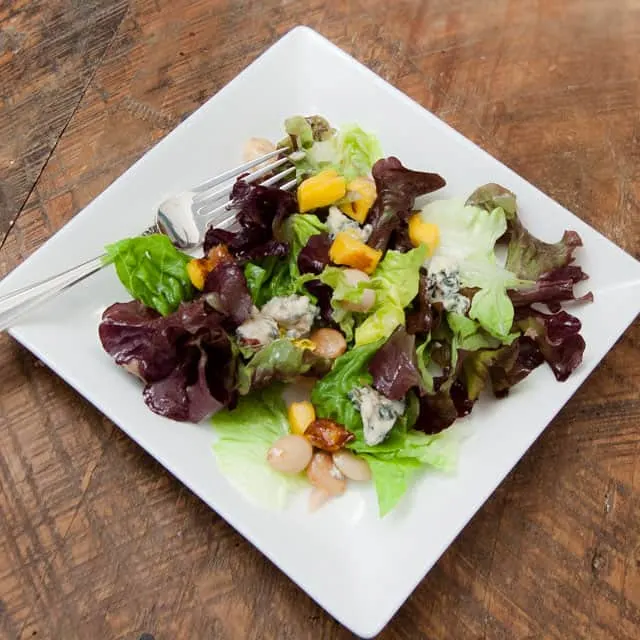 A beautiful and delicious green salad, with chunks of mango, cucumber, honey-toasted almond slices and a sprinkling of feta, perfect for any grilled pork.
Ingredients
Salad greens (I used a variety package, that contained 4 varieties of artisanal lettuces, but whatever you have will be fine)
1 cucumber, chopped
1 mango, peeled, pitted, and chopped
1/2 c. feta cheese, crumbled
1/2 c. honey toasted sliced almonds
For the vinaigrette:
1/3 c. extra virgin olive oil
1 clove garlic, minced
1/4 c. red wine vinegar
1 teaspoon Dijon mustard
1 teaspoon honey
a pinch of sea salt
Instructions
In a small bowl, whisk together the garlic, vinegar, mustard, honey, and olive oil. Season with salt to taste.
Gently mix together the mango, almonds, salad greens and feta cheese in a large mixing bowl. Toss with the vinaigrette.
Notes
I found the honey-toasted almonds at Trader Joe's. They're delicious, all on their own!
Recommended Products
As an Amazon Associate and member of other affiliate programs, I earn from qualifying purchases.
Nutrition Information:
Yield:
4
Serving Size:
1
Amount Per Serving:
Calories:

539
Total Fat:

34g
Saturated Fat:

6g
Trans Fat:

0g
Unsaturated Fat:

26g
Cholesterol:

17mg
Sodium:

254mg
Carbohydrates:

57g
Fiber:

5g
Sugar:

50g
Protein:

9g
Side Dishes for Summer
Here are some great side dishes for summer that use all that glorious produce that's in season. I know you're going to love them!