This post contains links that, if you click on them and make a purchase, will earn me money. Regardless, I only recommend products or services that I believe will be good for my readers. Thanks for helping me continue to produce great content!
Aztec Salad is the perfect side dish for grilling out, or a light, tasty, healthy vegan lunch. This salad packs plenty of protein, in a no-fat dressing.
I thought that after my last HORRIBLY NAUGHTY post, the one on Chocolate Sour Cream Pound Cake with Raspberry Sauce, that a season of contrition, nay – repentance – was in order. Fortunately for you, I've never been very good at eating to punish myself. If I'm going to ingest calories, they'd better be good ones.
Aztec Salad more than qualifies.
Although some of the recipes I post are decadent, they truly are not the norm, chez moi. (They're just the ones I get most excited about! 😀 ) We generally eat vegetarian a couple of nights a week, and try to keep it to lean meats and lots of good veggies, most other nights.
Lots of good veggies are what this salad is all about.
Aztec Salad is the Perfect Summer Salad
This salad SINGS summer, in fact. I could eat this all day long and twice on Sunday. No lie.
I honestly can't remember when I first had this dish: maybe ten years ago? Maybe more? I was looking for no-fat dishes, and stumbled across this one. I remember taking it to a church potluck picnic once, and my friend the non-salad eater going nuts over it. It goes really nicely all on its own, or with tortilla chips, or as a wonderful side dish. It's perfect to take to a picnic/grill out, because there is no mayo, so it won't go bad.
Aztec Salad is Great for a Healthy Lunch
The dish is beautiful to look at, and it keeps in the fridge for several days, so it's perfect if you're trying to shed a few pounds, and you want something delicious and healthy to eat for lunch. Just make up a batch and store it in the fridge. And do your best to keep your family vultures out of it. Good luck with that, by the way. Mine tend to swarm around it, no matter how diligently I try to keep them waved off.
(Note to my friend, Pearl: you could take THIS in your lunch all week long, and it'd be a lot better than instant oatmeal.)
Where Did the Recipe for Aztec Salad Come From?
The recipe originally came from a cookbook called The Peaceful Palate, by Jennifer Raymond. I found the recipe somewhere on the internet, and have adapted it slightly to the groceries and produce that I had on hand.
Here are my recipe notes, on how I altered the recipe
Changes I Made to the Original Recipe::
The original recipe called for Seasoned Rice Wine Vinegar. Seasoned Rice Wine Vinegar is just rice wine vinegar with some sugar and salt thrown in. Since I only had regular rice wine vinegar, that's what I used. I mixed it all up, and decided that with the overall sweetness of the roasted corn that I used, adding sugar was unnecessary. Nor did I add salt. I could have…but, to my taste, it didn't need it, so I didn't.
The original recipe also called for one green pepper, and a red or yellow pepper. I find green peppers to be less sweet, and so I omitted that, and since I thought an orange pepper would be really pretty with the red of the tomato and the purple of the onion, that's what I used. You can use whatever colors float your boat, or whatever are available most cheaply.
The original recipe called for 1 15 oz. can of corn kernels, drained, or 1 10 oz. bag of frozen corn, thawed, or 2 c. fresh corn. I STRONGLY endorse fresh corn. I had a leftover ear of grilled corn from the night before, and so that's what I used. It was so incredibly sweet and yummy! If you must use canned corn, it will work, but "the fresher, the better" should be words that you live by.
I used lemon juice rather than lime juice, but either will do.
You should totally pin this on Pinterest. Take it to a picnic , or a potluck. The 4th of July or Labor Day are both ideal occasions, when the corn is sweet, and the tomatoes are ripe. Write me a thank you note later. No rush. Please share your thoughts or questions: you know I love hearing from you.
Here's the recipe, then, with my adaptations in place, for your consideration.
Recipe for Aztec Salad
Yield: 8 servings
Aztec Salad: Repentance Never Tasted So Good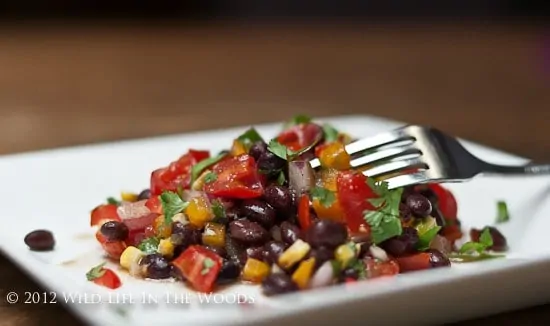 A marriage of what the Aztecs called The Three Sisters: corn, tomatoes, and black beans, brought together in perfect harmony by a tasty vinaigrette, a couple of aromatics, and cilantro.
Ingredients
For the salad:
2 15 oz. cans black beans, drained and rinsed
1/2 c. finely chopped red onion
1 orange bell pepper, seeded and diced
1 ear roasted corn kernels, cut off the cob - raw is fine, too
2 c. cherry tomatoes, diced (regular tomatoes are fine!)
3/4 c. chopped cilantro (optional if you're a cilantro hater; you could substitute parsley)
For the vinaigrette:
2 T. rice wine vinegar
2 T. apple cider vinegar
1 lemon, juiced
2 garlic cloves, finely minced
2 t. ground coriander
1/4 t. red pepper flakes
Instructions
In a large bowl, combine first salad ingredients.
In a small bowl, combine dressing ingredients.
Pour over salad and toss gently to mix.
Recommended Products
As an Amazon Associate and member of other affiliate programs, I earn from qualifying purchases.
Nutrition Information:
Yield:
8
Serving Size:
1
Amount Per Serving:
Calories:

185
Total Fat:

2g
Saturated Fat:

1g
Trans Fat:

0g
Unsaturated Fat:

1g
Cholesterol:

2mg
Sodium:

13mg
Carbohydrates:

33g
Fiber:

11g
Sugar:

4g
Protein:

11g
Other Great Summertime Recipes
Because one great recipe deserves another!