This post contains links that, if you click on them and make a purchase, will earn me money. As an Amazon Associate, I earn from qualifying purchases. . Regardless, I only recommend products or services that I believe will be good for my readers. Thanks for helping me continue to produce great content!
Esquites is a summertime side dish recipe that uses the wonderful fresh corn that's in season right now – one that will positively tantalize your tastebuds. I first tasted esquites at a party at my friend's house, after which, I begged her for the recipe.
One of my favorite parts of summer is grilling corn on the cob, because it takes the sweetness of the corn, and naturally enhances it, through the caramelization that occurs on the grill. But what if you found a way to accomplish that caramelization, and added some heat to the sweet, and then some creaminess, and some savoriness, a bright hit of citrus, and then some fresh herbal notes?
What you'd have would be a fiesta in your mouth. And that's exactly what this dish, esquites, accomplishes.
What, Exactly, Is Esquites?
For those of you who don't know (as I didn't) what esquites are, I did a little digging in wikipedia for the origins of the word. "Esquites" comes from the Nahuatl (Aztec) word ízquitl, which means "toasted corn". It's a dish that some folks call "Mexican Street Corn", because it's often sold at little food carts or food trucks on the streets of Mexico.
How Did You Alter Your Friend's Recipe?
I altered the recipe my friend shared with me only slightly. I changed it up a bit by choosing a slightly different spice, and by using a different cheese.
In terms of the spice, I used ground chipotle chile powder, rather than regular chile powder. I mention this because I think it made a significant improvement in the flavor. I put a link to where you can order some in my Recommended Products section, just below the recipe card, in case you don't have any on hand.
Ground chipotle chile powder is an ingredient which I've only noticed at my mainstream grocery store here in TN, recently . I like chipotle chile powder better than regular chile powder because a chipotle pepper is a chile that has been smoked. The smoky flavor is delightful, but the heat level is hotter than regular chile powder, so be advised that a little bit goes a longer way than you might think. (Alternatively, you could also use smoked paprika, for a similar smoky flavor, with less heat.)
The first time I made esquites, I used queso fresco, which crumbles, but is not a super melty cheese. The second time I made it, I used queso blanco, which melts pretty well, but is a little squeaky on my teeth. I preferred the queso fresco, and my husband preferred the queso blanco. I think feta would work well as an alternative cheese. Feel free to use whichever cheese you prefer, and experiment with this recipe to make it your own.
You are going to want to shower me with kisses for having shared this amazing recipe with you. In case you can't find me to give me those kisses, a simple share on Pinterest, Facebook or Twitter will do, nicely.
The Recipe for Esquites: Mexican Street Corn
Yield: 4 servings
Esquites (Mexican Street Corn): a Fabulous Summer Side Dish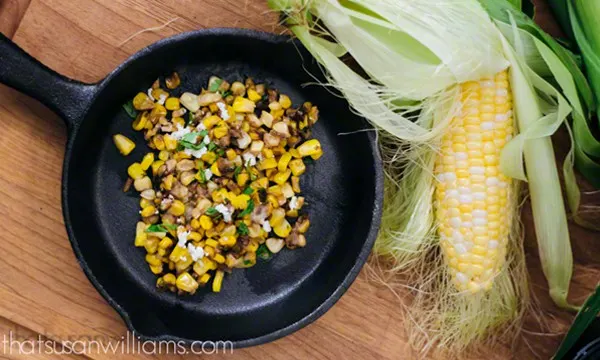 A delicious side dish that turns fresh corn into something sublime.
Ingredients
3 T. Butter
The kernels of corn from 4 ears of corn, sliced off the cob (around 3 cups)
1/2 of a jalapeño pepper, seeded and diced
1 clove of garlic, minced
1/4 c. mayonnaise
2 green onions, sliced
1/2 c. cilantro, chopped
juice of 1 lime
2 T. queso fresco, or queso blanco, crumbled, or chopped
1/4 t. smoked ground chipotle chile
Instructions
Melt the butter in a skillet over medium high heat.
Add the corn, and allow it to char. Stir it up and allow it to char again, about 6 -10 minutes.
Add the jalapeño and sauté it for a minute.
Add the garlic and sauté it for one minute longer.
Remove from heat and add the rest of the ingredients. Stir.
Serve warm, or at room temperature.

Recommended Products
As an Amazon Associate and member of other affiliate programs, I earn from qualifying purchases.
Nutrition Information:
Yield:
6
Serving Size:
1
Amount Per Serving:
Calories:

255
Total Fat:

19g
Saturated Fat:

8g
Trans Fat:

0g
Unsaturated Fat:

10g
Cholesterol:

35mg
Sodium:

265mg
Carbohydrates:

17g
Fiber:

2g
Sugar:

4g
Protein:

7g
If you'd like me to hook you up with a few other great recipes for summer side dishes, I can highly recommend my recipe for Aztec Salad. Another favorite that always brings exclamations of delight is my Shamefully Easy and Delicious Coleslaw. Or, if they've asked you to bring a salad, how about The Salad to Bring When They Ask You to Bring a Salad? That one's another sure-fire winner!
Side Dishes for Summer
Here are some great side dishes for summer that use all that glorious produce that's in season. I know you're going to love them!