This post contains links that, if you click on them and make a purchase, will earn me money. Regardless, I only recommend products or services that I believe will be good for my readers. Thanks for helping me continue to produce great content!
This recipe for Air Fryer Crispy Smashed Potatoes is every bit as delicious as french fries. A bold claim, is it not? And I'm a bit of a french fry snob. When I lived in Switzerland, french fries were called frites. I call these Crispy Smashed Potatoes: Faux Frites.
That's pronounced "foe freet", for those of you who don't speak-ah de frawn-say.
The process of making them is so easy that they are a perfect side dish for whatever protein you're serving. Once you know the general technique, No Recipe Required. And isn't that what we all kind of long for?
Here's a video that will show you how it's done:
What Kind of Potato Do I Need?
I've made these with new potatoes, and russet potatoes, but find that I really prefer new potatoes. I think the waxiness of the new potato makes them turn out a little more crispy. But whatever type of white or gold potato you have will do nicely.
Simply cut the potatoes of your choice into large bite sized chunks. Boil them in salted water for approximately 10 minutes, or until fork tender.
How Many Potatoes Do I Need?
As far as how many potatoes per person, again, that depends on the variety of the potato you use. But I try to picture how large a baking potato is. In general, they're around 8 oz. So estimate approximately 8 oz. of whatever type of potato you're using, per person. That helps me decide how many potatoes I need to prepare. With new potatoes, that might be 3 or 4 per person.
When the potatoes are fork tender, drain them and allow them to dry for a minute by spacing them out on a cookie sheet, so that they're not touching.
Smash them with the bottom of a mug, or a ramequin, so that they spread out on the cookie sheet. If they stick to the bottom of the smashing tool, scrape them off with a spatula.
Drizzle the smashed potatoes with olive oil, and sprinkle with plenty of sea salt.
How I Cook These In My Air Fryer
Place one layer of smashed potatoes in the basket of your air fryer, for approximately 12 to 15 minutes, flipping them over half way through their roasting time. (I use the root vegetable setting on my Cosori Air Fryer: 400º for 15 minutes.) Your cook time may vary, according to the strength of your air fryer, and the size of your potato chunks, but basically, you want them to look gloriously delicious, like this:
My air fryer is on the smallish side, so I often do two batches. When the meat comes off the grill, I dump the already crisped potatoes back in the air fryer basket, willy nilly, for a quick one or two minute warm up, so that everything is hot at the same time, when it's time to sit down to dinner.
Do I Have to Have An Air Fryer?
Absolutely not. Do these in your oven, if you like. It may take a little longer, say 20 minutes at 400º, but they'll turn out great in your oven as well.
The Recipe for Air Fryer Crispy Smashed Potatoes: Faux Frites
Yield: 4 servings
Air Fryer Crispy Smashed Potatoes: Faux Frites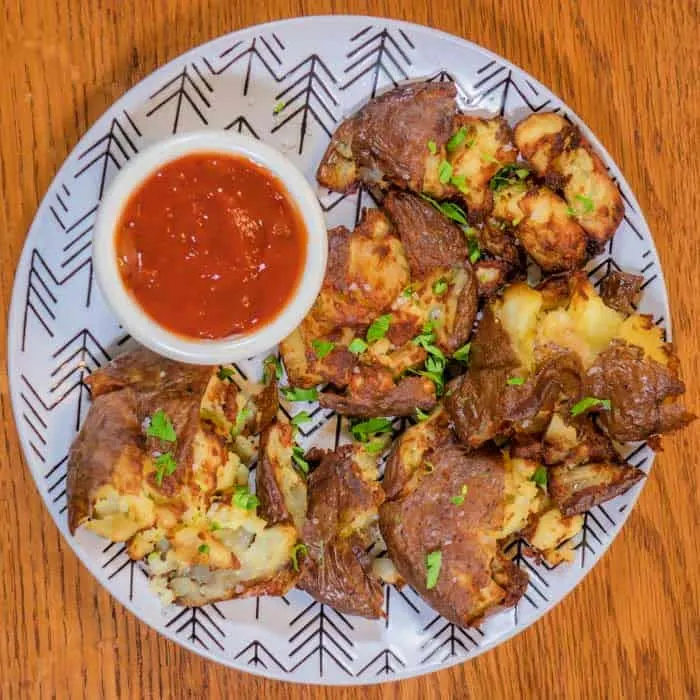 Air Fryer Crispy Smashed Potatoes, or, as I like to call them, Faux Frites, are an easy and delicious weeknight side dish. They're also extremely frugal, in tough economic times.
Ingredients
2 lbs. new potatoes: (red skinned potatoes preferably)
sea salt
olive oil
Instructions
Cut potatoes in large bite sized pieces, and place in boiling salted water. Boil till fork tender, approximately 10 minutes.
Drain potatoes, and place them so they're not touching on a cookie sheet, to dry for a few minutes.
Smash them/flatten them, using the bottom of a mug or small bowl.
Drizzle with olive oil and sprinkle with plenty of sea salt.
Air fry them using the root vegetable setting on a Cosori Air Fryer, or for about 15 minutes at 400º, until they are a lovely, crispy golden brown, turning them halfway through the cooking process.
Optional garnishes: chopped parsley or chopped green onions.
Notes
These taste especially good with a Korean condiment called Gochujang, which I've linked to on Amazon, immediately below this recipe. It's a spicy sweet condiment that is quite hot. I like to make a mixture that is half ketchup, half Gochujang, to dip my faux frites in.
Recommended Products
As an Amazon Associate and member of other affiliate programs, I earn from qualifying purchases.
Nutrition Information:
Yield:
4
Serving Size:
1
Amount Per Serving:
Calories:

30
Total Fat:

3g
Saturated Fat:

0g
Trans Fat:

0g
Unsaturated Fat:

3g
Cholesterol:

0mg
Sodium:

145mg
Carbohydrates:

0g
Fiber:

0g
Sugar:

0g
Protein:

0g
Easy Weeknight Meals
Some other meals that come together in a hurry.