This post contains links that, if you click on them and make a purchase, will earn me money. Regardless, I only recommend products or services that I believe will be good for my readers. Thanks for helping me continue to produce great content!
Chicken Dukkah is a great main dish to build a weeknight meal around. Homemade weeknight dinners that are easy and quick to throw together, and also overflowing with wonderful flavors are tough to come by. I know cooking on weeknights, after a busy day, can be really tough to get motivated to do. I've been wanting to provide my readers with more recipes that are quick, and delicious dinner solutions. Chicken Dukkah fills that bill.
What the Heck is Dukkah?
Dukkah is an Egyptian seasoning: a blend of spices and nuts that have been toasted, and finely ground. You can grind them in either a mortar and pestle, or in a spice grinder (a small electric coffee bean grinder that you've dedicated to spices, for example).
At its most elemental level, dukkah can be used as a dip for a slice of crusty bread: pour out a small pool of olive oil on a saucer. Sprinkle it with a teaspoon or so of dukkah. Dip that slice of crusty bread (or that torn off piece of fresh pita bread, or naan) into the saucer, eat, and enjoy.
But dukkah is also perfect to use as a rub for meats, such as chicken, pork, or fish. Alternatively, you could use it to season vegetables, or salads, or in a salad vinaigrette, or….. use your imagination. I had it once on avocado toast: delicious!!!
So What's In Dukkah?
The recipes I found online are as varied as the cooks who created them.
If you want to make your own Dukkah blend (which I have yet to do), the recipe I found on Cook's Illustrated contains the following ingredients, which need to be toasted first, and then ground:
sesame seeds, coriander seeds, cumin seeds, and fennel seeds,
pistachios, which are also toasted and finely chopped
salt and pepper
To compare, here's the ingredient list from the pre-fab store-bought jar of Private Selection Dukkah, which is the store brand at Kroger, and which is what I used when I made my Chicken Dukkah:
flax seeds, sesame seeds, sunflower seeds, pumpkin seeds
salt
sumac
sugar
chile peppers
lemon peel
paprika
After I'd tried the Kroger brand of Dukkah, and loved it, I found a jar of Dukkah at Trader Joe's, and purchased it. Here are its ingredients:
Almonds, sesame seeds, fennel seeds, coriander, anise seeds, kosher salt
Believe it or not, I've seen other variations as well! The formula seems to be sesame seeds + several other seeds + nuts, and a few spices. The nuts have been either hazelnuts, or almonds, or pistachios.
How I Came Up With This Recipe for Dukkah
The first recipe I tried for Dukkah Roasted Chicken came from Donna Hay's blog. She called for using store-bought dukkah. I enjoyed her recipe very much, and then decided that for my family's taste, more garlic would be a good thing, along with more lime juice, and lime zest.
In the pictures you see here, I used chicken thighs. You can certainly substitute chicken breasts, for example, or even a whole chicken, but you'll need to adjust the cooking times accordingly. You're on your own in that department, bearing in mind that chicken needs to be roasted to 165º at its thickest part, to be safe.
In these pics, I served my Chicken Dukkah with couscous, and roasted asparagus. But the other night, I served it with rice, and a simple arugula salad. It doesn't get much easier! Just plan on serving simple side dishes: whatever you have in the fridge or pantry that can be quickly prepared. (If you need a suggestion, I have a recipe here for oven roasted broccoli, one here for roasted cauliflower with browned butter, pine nuts and lime, and here's another one for roasted asparagus.)
So here's how you make it:
Chicken Dukkah Recipe
Yield: 4 servings
Chicken Dukkah: An Easy Weeknight Recipe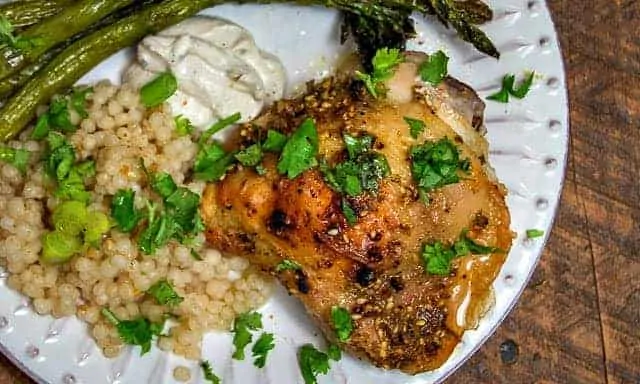 A scrumptious, flavor-packed weeknight meal that is so easy, you can throw it together in a flash.
Ingredients
1 3 lb. package of chicken thighs
1 t. sea salt
1/4 t. freshly ground black pepper
1 large lime, from which you will grate all the zest (this should give you at least a teaspoon of zest), and squeeze all the juice (about 1/4 c. of lime juice)
4 garlic cloves, minced (you can use less if you need to, but we loved all the garlic)
2 T. store-bought Dukkah spice blend
1 T. extra virgin olive oil
For garnish: chopped cilantro, or parsley, or green onions, or any combination thereof
Instructions
Preheat oven to 450º.
Pat the chicken thighs dry, and season them first with the sea salt and pepper.
In a bowl, combine the Dukkah, lime zest, lime juice, minced garlic, and the olive oil. It will be a kind of liquidy paste/rub.
Place the chicken into a cast iron skillet, and evenly distribute the Dukkah blend over the top of each piece.
Roast in oven for about 30 minutes, or until the chicken thighs have reached a temperature of 165º.
Garnish with chopped cilantro, or parsley, or green onions, or any combination thereof If you're serving the chicken with rice, the juice/drippings in the pan are nice to spoon overtop of the rice. You could also sprinkle everything with more dukkah. Why not?


Notes
This particular recipe for dukkah would also be delicious as a topping for fish. Like...halibut, for example.

I adapted this recipe from Donna Hay.
Recommended Products
As an Amazon Associate and member of other affiliate programs, I earn from qualifying purchases.
I'd love it if you'd share this with your friends and/or family, wherever you do your thing! Facebook, StumbleUpon, Flip, Yummly, or Pinterest. It matters not to me where, one bit. But share away!