This post contains links that, if you click on them and make a purchase, will earn me money. As an Amazon Associate, I earn from qualifying purchases. . Regardless, I only recommend products or services that I believe will be good for my readers. Thanks for helping me continue to produce great content!
Oven Roasted Broccoli with Panko and Parmesan Cheese is a delicious side dish to any main course, and you can prepare it in a flash!
Veggies On Sale Often Means Veggies That Are in Season
I don't know what it's been like at YOUR grocery stores lately, but at my stores, there hasn't been much produce on sale lately. Obviously, in the colder months, there's less produce that is "in season". And the rule of supply/demand applies in produce, just as it does in other markets. The more there is of something, the lower the price.
I have, however, been able to find some pretty good buys on broccoli. Broccoli is a cool weather crop.
Seeing the broccoli reminded me I wanted to share with you a delicious and easy side dish recipe for roasted broccoli.
Roasted Veggies Rule
Up until a few months ago, I had tried nearly every other vegetable roasted: potatoes, carrots, parsnips, asparagus, sweet potatoes, green beans and even cauliflower. I don't know why I was a holdout on trying roasted broccoli. It didn't sound appetizing to me.
I was so wrong.
I used Alton Brown's recipe. This couldn't be much simpler, or much more delicious. I've tried it WITH parmesan cheese, and without parmesan cheese, and it's delicious both ways.
The only ingredient that is a little high falutin' is panko, which is a kind of Japanese flaked bread crumb, which makes for a crispier bite. But the first time I tried this recipe, I decided to use some bread crumbs that I had from a homemade loaf of bread that I needed to use up, and it was absolutely delicious as well. So if you don't have any panko sitting around, don't let that hold you back from trying this recipe.
I served this with Ginger Roasted Chicken the first time we had it, and it really was a perfect accompaniment for that dish, but now I serve it with whatever main course I have that needs a side dish. (Especially if I found a good buy on broccoli in the produce section like I did last week.)
I found that if I followed Alton's directions to pre-roast my panko crumbs for 2 minutes, that I kept burning them, so one minute in my oven (with my pan) is all that was necessary. I changed the time in this recipe to reflect that. Also, while I'm including the Parmesan in this recipe, I forgot to use it the first two times I made it, and never missed it once. So if you're out of Parmesan or wanting to cut a few calories wherever you can, feel free to omit the Parmesan. It's nice, but unnecessary.
Here's the recipe for:
Oven Roasted Broccoli with Panko and Parmesan Cheese
Yield: 6 servings
Oven Roasted Broccoli with Panko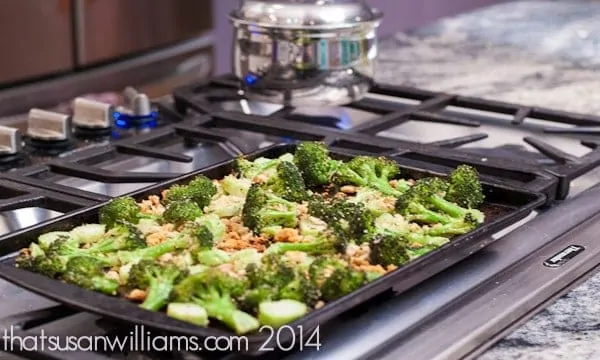 Oven Roasted Broccoli with Panko and Parmesan Cheese is a delicious side dish to any main course, and you can prepare it in a flash!
Ingredients
1 lb. of broccoli, rinsed and trimmed
2 T. olive oil
2 cloves garlic, minced
1/2 t. kosher salt
grinding of fresh pepper
1/3 c. panko bread crumbs (or homemade bread crumbs)
1/4 c. finely grated Parmesan cheese
Instructions
Preheat oven to 425º.
To prepare the broccoli, peel the broccoli of the tough outside stem. Then cut the stalk into slices 1/4" thick. Trim the florets into bite sized pieces.
Toss the broccoli with the olive oil, minced garlic, salt and pepper in a large mixing bowl.
Spread the bread crumbs on a 13" jelly roll pan, and toast for about one minute.
Remove the bread crumbs from the oven, and toss with the broccoli mixture.
Spread the whole mixture onto the jelly roll sheet, and roast just until the broccoli is tender, 8 to 10 minutes. Remove from the oven, and top with grated Parmesan, if you like.
Notes
Preheating the oven may take more time than actually making this dish.
Recommended Products
As an Amazon Associate and member of other affiliate programs, I earn from qualifying purchases.
If you like the way that last picture looks, here's a link to the Ginger Roast Chicken and Elbow Macaroni with Tomatoes.
Be so kind as to share this on Pinterest, would you?
Have you ever tried roasted broccoli before?