This post contains links that, if you click on them and make a purchase, will earn me money. As an Amazon Associate, I earn from qualifying purchases. . Regardless, I only recommend products or services that I believe will be good for my readers. Thanks for helping me continue to produce great content!
I remember well the first time I had strawberry pie. My mother was hosting a graduation party for my brother and had made several strawberry pies. I was 10 years old, and didn't even think I liked strawberries. They had that awful little seed/crunch factor going on.
But then I tried one small bite. And there was something about the tender flakiness of my Mom's excellent pie crust, combined with the seductive sweetness of the glaze around the berries, and the unctuousness of the freshly whipped cream, and my taste buds went 'round the bend, never to return.
As a result, every spring since, it just ain't spring unless the pie gets sprung, if you know what I mean.
A Better Recipe Than Mom's!
Since that time, I have found a recipe that even surpasses my Mother's pie, may God forgive me for the desecration of her name. If she weren't already eating far more luscious pie with the angels, she might not. (I love you, Mom. You taught me ALMOST everything that I know that's worth knowing.)
A couple of years ago, Cook's Illustrated shared their recipe for strawberry pie, and since it didn't involve jello (which under any circumstance other than strawberry pie is prone to make me shudder), I decided to give their recipe a try. Smart move on my part.
Best strawberry pie I've ever made. Not cloyingly or artificially sweet, because the redness of the glaze comes from NOT jello's artificial flavoring or food coloring, but, surprise, surprise: strawberries. Yum!
The only alteration I made in the recipe was that I used only 2 lbs. of strawberries, instead of the 3 lbs. that the Cooks Illustrated recipe called for, because:
a) when I was at the grocery store I didn't know how much I needed to buy for their recipe, and
b) I'm cheap on time and money, and it's a 1 hour round trip to the grocery store from out here in the Boonies, and I made do just fine with only 2 lbs. of strawberries. If you're making a bigger pie (like a 10″) or you like a lot of strawberries, or you have a lot that you'd like to use up, by all means, add in the other pound, like their recipe called for.
So…here's the recipe. I'll give you a link to my pie crust dough, so you can make your own crust.
The Recipe for Springtime Fresh Strawberry Pie:
Yield: 8 servings
Springtime Fresh Strawberry Pie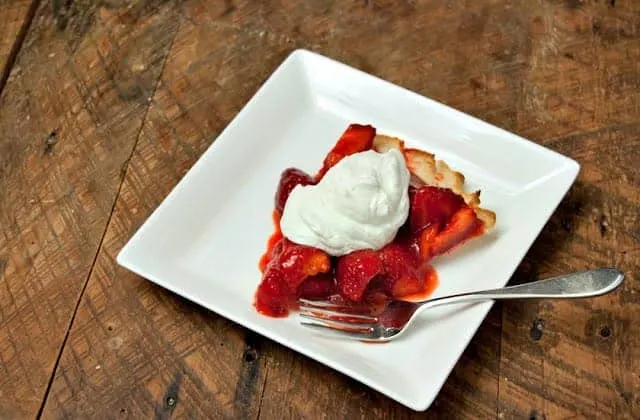 The best use of strawberries in the whole, wide world.
Total Time
1 hour
25 minutes
Ingredients
2 lbs. fresh strawberries (3 lbs. if you want a bigger pie), rinsed and hulled
3/4 c. sugar
2 T. cornstarch
1 1/2 t. Sure-Jell for low sugar recipes (pink box)
1 pinch table salt
1 T. fresh lemon juice
1 pre-baked pie crust shell
Instructions
Select 6 oz. of your ugliest, softest strawberries (about 1 1/2 c. worth if you don't have a scale to weigh them, and puree them for 20 to 30 seconds in a food processor. This should yield around 3/4 c. purée.
Whisk sugar, cornstarch, Sure Jell, and salt in a medium saucepan, and stir in berry purée. Cook over medium-high heat, stirring constantly with a heat-proof spatula, and bring to a boil. Boil for 2 minutes, scraping the sides and bottom of the pan to prevent scorching. The mixture will look frothy at first, and will then darken and thicken. Transfer to a large bowl to allow it to cool more quickly and stir in lemon juice, allowing mixture to come to room temperature.
Cut the remaining strawberries into halves, and add to purée mixture when it has reached room temperature. Stir until berries are evenly coated. Scoop into pie shell, piling into mound. Turn all berries on top face down for a prettier finished appearance. Refrigerate until pie is chilled, about 2 hours.
Notes
Top with
1 c. cold heavy cream, whipped with
1 T. sugar
Recommended Products
As an Amazon Associate and member of other affiliate programs, I earn from qualifying purchases.
Nutrition Information:
Yield:
8
Serving Size:
1
Amount Per Serving:
Calories:

238
Total Fat:

6g
Saturated Fat:

2g
Trans Fat:

0g
Unsaturated Fat:

4g
Cholesterol:

0mg
Sodium:

108mg
Carbohydrates:

45g
Fiber:

3g
Sugar:

26g
Protein:

3g
Have you ever had strawberry pie?Serve with cold cream and sugar that have been whipped to soft peaks (this takes about 60 seconds in my mixer).
Please, share this post with your friends on Facebook, or better yet, pin it on Pinterest!

Me, Oh My: I Love Pie
For all the pies I've loved before....