This post contains links that, if you click on them and make a purchase, will earn me money. As an Amazon Associate, I earn from qualifying purchases. . Regardless, I only recommend products or services that I believe will be good for my readers. Thanks for helping me continue to produce great content!
Pumpkin pie is typically dense, and heavy, but in this post, I'm going to teach you how to make the lightest, fluffiest pumpkin pie, ever.
When I was a kid, I didn't even ~like~ pumpkin pie. Till I made this one for my husband, on the first Thanksgiving that I hosted, all by myself. He kept going on and on about how good it was: so much better than any other pumpkin pie he'd ever had before. So I took one small bite, and oh, mercy! It was the fluffiest pumpkin pie I'd ever had!

My Two Traditional Holiday Pies
I use the same crust recipe on my fluffiest pumpkin pie one as I do for my pecan pie. Since they're both one crust pie, I make one recipe for a double crust pie, and use one pastry disc for each of my pies that I'm making that day. Pumpkin Pie and Old Fashioned Pecan Pie are the two pies I typically make at Thanksgiving, and thankfully, (see what I did there?) both are delightfully easy to do. While you're on my blog, you should definitely check out my recipe for how to make Old Fashioned Pecan Pie. I make it a bit differently than most you've had, but the secret ingredient I use makes all the difference!

The lightest, fluffiest pumpkin pie you'll ever have! Please, pin this on Pinterest so you'll have the recipes, when the holidays roll around.
How I Make Two Pies for One Holiday
On Thanksgiving or Christmas, here's what I do. I make the pie crust dough the night before, and then wrap it in plastic wrap to chill overnight in the fridge. When I get up, I bake the pies first thing in the morning. That way they are fresh for the evening meal, but the oven real estate is open for business for the stuffing and rolls. (Or in the case of Christmas, the oven is hosting the roasted potatoes and the standing rib roast.) Anything that has to go in the oven, near meal time is able to go in, because I got my pies done in the morning.
Anyway, here's the pumpkin pie recipe, and, again, I'll give it crust/pastry first, since that is what I make first. This recipe comes from the Southern Living Cookbook, and is their recipe for Sweet Potato Pie, and I just substitute canned pumpkin instead of sweet potatoes. I have tried other recipes, but keep coming back to this one because of how light the texture is due to beating the egg whites. Maybe you get the idea from looking at the surface of the pie in the pictures. It is the lightest, fluffiest pumpkin pie I have ever had.
A Tip About Nutmeg:
Always use freshly grated nutmeg. You can buy whole nutmeg cloves if you look for them at most health food/whole food stores these days, and it wouldn't surprise me if most major grocery chains carry them now. When I was growing up, nutmeg made me gag. My mom used to sprinkle it on eggnog, and I thought it was putrid. As an adult, I have learned that this was probably due to the fact that she was using stale, already ground nutmeg from a can. (Which is very reminiscent in flavor to cigarette ashes.) I grate my nutmeg with a Microplane grater, which is a glorified wood rasp, and it works beautifully. No need for a special tool only for nutmeg.
The Recipe for the Fluffiest Pumpkin Pie Ever
Yield: 8 servings
The Fluffiest Pumpkin Pie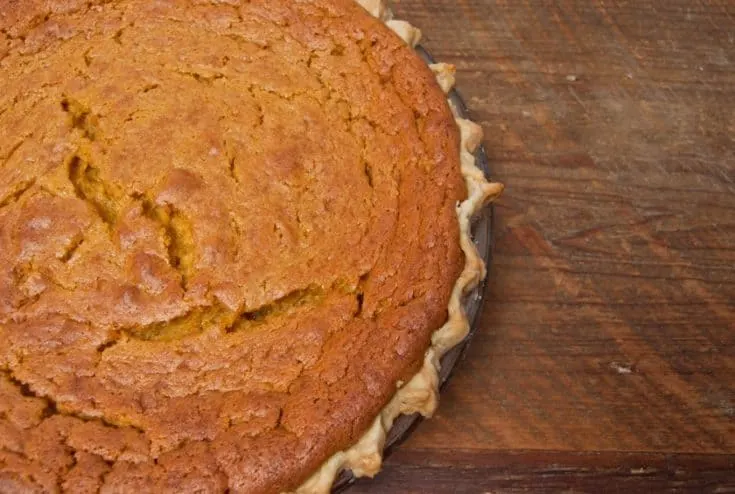 The lightest, fluffiest, most delicious pumpkin pie you'll ever have.
Total Time
2 hours
20 minutes
Ingredients
For a 9" crust:
1 1/4 c. all purpose flour
1/2 t. salt
1/3 c. plus 2 T. shortening
3 to 4 T. ice water
For the Pie Filling:
1 15 oz can pumpkin
1 c. firmly packed brown sugar
1/2 c. butter, softened to room temperature
2 eggs, separated, room temperature
1/2 teaspoon ginger
1/2 teaspoon cinnamon
1/2 teaspoon freshly grated nutmeg
1/4 teaspoon salt
1/2 cup evaporated milk
1/4 cup sugar
Instructions
For the Pie Crust: Combine flour and salt; cut in shortening with pastry blender until mixture resembles coarse meal.
Sprinkle ice water, 1 tablespoon at a time, evenly over surface.
Stir with a fork after each new tablespoon of water is added, until dry ingredients are moistened.
Shape into a ball, and wrap in plastic wrap. Chill in fridge for at least 1 hour.
Roll dough to 1/8" thickness on a lightly floured surface. Place in pie plate, and flute edges.
For Pie Filling: In a clean mixing bowl, beat egg whites (at room temperature) until foamy; gradually add the 1/4 c. sugar, 1 tablespoon at a time, beating until stiff peaks form. Transfer fluffy egg whites to another bowl, and set aside.
Combine pumpkin, brown sugar, butter, egg yolks, spices, and salt in the now-empty large mixing bowl; (no need to wash bowl after beating egg whites). Beat pumpkin mixture until light and fluffy.
Add evaporated milk to pumpkin mixture; beat just until blended. (Mixture will be splattery.)
Fold the beaten egg whites into the pumpkin mixture. Pour filling into pastry shell. Bake at 400º for 10 minutes; reduce heat to 350º, and bake an additional 45 to 50 minutes, or until set. Cool. Top with dollops of whipped cream.
Notes
Before you begin making the pie, be sure that your eggs and butter are at room temperature. Otherwise you'll have big fat blobs in your pie filling mixture, and nobody wants that.
Recommended Products
As an Amazon Associate and member of other affiliate programs, I earn from qualifying purchases.
Nutrition Information:
Yield:
8
Serving Size:
1
Amount Per Serving:
Calories:

398
Total Fat:

19g
Saturated Fat:

10g
Trans Fat:

0g
Unsaturated Fat:

7g
Cholesterol:

83mg
Sodium:

377mg
Carbohydrates:

53g
Fiber:

1g
Sugar:

33g
Protein:

6g