This post contains links that, if you click on them and make a purchase, will earn me money. As an Amazon Associate, I earn from qualifying purchases. . Regardless, I only recommend products or services that I believe will be good for my readers. Thanks for helping me continue to produce great content!
This easy, southern, homemade, Old-Fashioned Pecan Pie Recipe is just like my mom, the best pie maker I ever knew, used to make. She taught me a secret ingredient, and I'll share it with you!
I love pie. I especially love Old-Fashioned Pecan Pie.
Have you SEEN how many pie recipes I have on this blog??? It should be OBVIOUS how much I love pie. I adore pie.
I make this old-fashioned pecan pie every year at Thanksgiving. My mother did that, too, but she made it even more often even than that. I was thin when I was young, so that worked out just fine for me. When I was young, this was my second favorite pie, right after cherry pie. Well, maybe third favorite. Don't forget apple pie.
The Secret Ingredient in My Pecan Pie
Anyway, here's the recipe that I use for pecan pie every Thanksgiving. It's from Southern Living, but I have changed it slightly, in order to make it the way my Momma did. Instead of just light corn syrup, I use half light, and half dark Karo syrup. The dark Karo syrup is my secret ingredient. It's darker due to a higher molasses content than regular clear corn syrup. That extra molasses really does give it a nicer depth of flavor. That's the only change to the Southern Living recipe, though.
About the Pecans You Use in Pecan Pie:
Let's talk about where to get some extraordinarily delicious pecans. I've recently begun a partnership with the Millican Pecan Company, the home of the MOTHER Pecan Orchard, in San Saba, TX. They are a 5 generation farm family! Their orchard pioneered the pecan industry in San Saba, back in 1888.
I LOVE their pecans, and they don't JUST sell pecans. (I also heartily endorse their Sweet and Spicy pecans, that go great on a salad, or are delicious as an appetizer.) If you'd like to order their VERY reasonably priced and highest quality pecans, or any of their pecan treats from them, please use my coupon code: SUSAW100
Enjoy!!!
By the way, if you've now got a hankering for that deliciously light looking Pumpkin Pie pictured above, let me link you here to the Fluffiest Pumpkin Pie recipe, ever.
But for now,
The Recipe for How to Make Old Fashioned Pecan Pie
Yield: 8 servings
How to Make Old-Fashioned Pecan Pie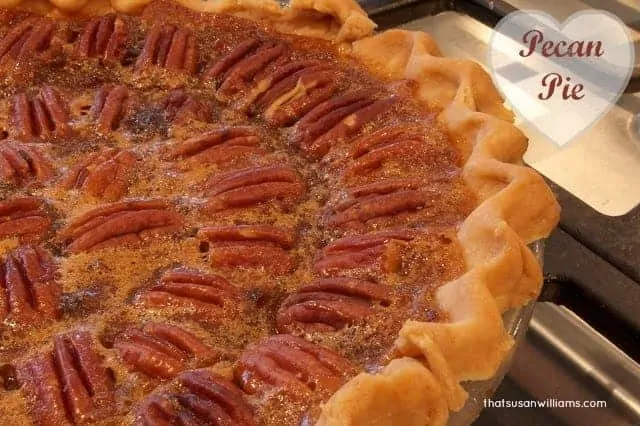 A dark, rich, easy and delicious holiday dessert
Total Time
2 hours
25 minutes
Ingredients
FOR CRUST:
1 1/4 c. all purpose flour
1/2 t. salt
1/3 c. plus 2 T. shortening
3 to 4 T. ice water
FOR FILLING:
1/2 c. butter, melted
1 c. sugar
1/2 c. dark corn syrup
1/2 c. light corn syrup
4 eggs, beaten
1 t. vanilla
1/4 t. salt
1 unbaked 9" pie shell
1 to 1 1/4 c. pecans
Instructions
FOR CRUST: Combine flour and salt.
Cut in shortening with pastry blender until mixture resembles coarse meal.
Sprinkle ice water, 1 T. at a time, evenly over surface.
Stir with a fork until dry ingredients are moistened.
Shape into a ball, and wrap in plastic wrap. Chill in fridge for at least 1 hour.
Roll dough to 1/8" thickness on a lightly floured surface.
Place in pie plate, and flute edges.
FOR FILLING: Combine butter, sugar, and corn syrups in medium saucepan.
Cook over low heat, stirring constantly, until sugar dissolves.
Let cool slightly (to keep eggs from prematurely cooking).
Add eggs, vanilla, and salt to mixture; mix well.
Pour filling into unbaked pastry shell, and top with pecan halves.
Bake at 325º for 50 to 55 minutes. Serve warm or cold.
Notes
This recipe courtesy MY MOM (!!!) and the Southern Living Cookbook.
I usually make the pastry dough and form the pie crust discs to chill, the night before. I assemble and bake the pie the morning of Thanksgiving.
Recommended Products
As an Amazon Associate and member of other affiliate programs, I earn from qualifying purchases.
I'm going to go out on a limb here, and guess that if you're reading up on a dessert this decadent, you might be looking for even more recipes that are worthy of the holidays. You're in luck!!! I have more than a few!
Recipe Suggestions for the Holidays
Looking for holiday recipe suggestions? Well, look no further! These are the best of the best!