This post contains links that, if you click on them and make a purchase, will earn me money. As an Amazon Associate, I earn from qualifying purchases. . Regardless, I only recommend products or services that I believe will be good for my readers. Thanks for helping me continue to produce great content!
There's no cookie quite so simple, nor so sublime, as buttery, easy, Scottish Shortbread cookies. When made correctly, they are tender, flaky, and absolutely melt in your mouth. This recipe will teach you how to achieve those results.
Are Scottish Shortbread Cookies A Christmas Tradition?
When I was young, shortbread was a Christmas treat. Our family would often be treated to a plaid tin of buttery Walker's Shortbread. There's nothing better to savor with a lovely cuppa. At least, there wasn't, until I tried making my own, homemade.
You probably won't be surprised to read that I find shortbread cookies taste even BETTER when they're homemade. I found this recipe in an old Southern Living cookbook, although I've altered it by using salted butter, and adding a bit more salt. They're the perfect dessert, when you're craving just a little bite of something sweet. Or perhaps you'd most enjoy one in the mid-morning, with a cup of Joe, which is when I'm most likely to grab one. And there an absolutely perfect cookie to add to your Christmas cookie traditions.
Wait…Are You Having Christmas in July?
These days, though, I typically make Scottish Shortbread cookies in the summer. And if you're wondering why I'd make buttery shortbread in the midst of bathing suit season, I can answer that question with one word: Cheesecake.
Hope I didn't just give you culinary whiplash. But for me, it was actually quite a logical mental progression.
I was browsing through a Williams Sonoma catalog one day, when I came upon a most lovely picture of cheesecake. This was back in the day when catalogs came in the U.S. Mail, and dinosaurs roamed the earth. The Williams-Sonoma picture of cheesecake had a recipe that accompanied it, and the crust was made of…of all things…animal crackers.
I thought…"Oh, my ….that sounds deliciously different than a graham cracker crust." And then, lightning struck. Because my next thought was, "But animal crackers are a little dry…and bland. Now, how good would a cheesecake be with a CRUST MADE FROM SHORTBREAD???"
My famous blueberry cheesecake was born that day, and you can find that recipe here.
But in the meantime, in case you were only looking for an awesome cookie recipe, this one is just what you're looking for. Scottish Shortbread, in all its elegant simplicity, is an awesome cookie, all by itself.
I hope you'll share this recipe with your friends, wherever you share stuff: Reddit, Facebook, Flipboard, Twitter, or Pinterest.
Enjoy!
Yield: 36 squares
Buttery, Easy, Scottish Shortbread Cookies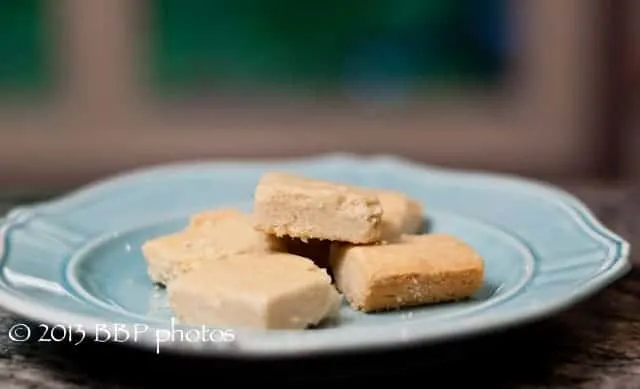 A delicious bar cookie, delightful with a cup of tea, or coffee.
Ingredients
1 lb. butter, softened
1 c. sugar
2 t. vanilla extract
4 c. all-purpose flour
1/2 c. cornstarch
1/2 t. salt
.
Instructions
Beat butter at a medium speed in a mixer until creamy; gradually add sugar, beating well, and finally, stir in vanilla.
In a medium bowl, combine flour, cornstarch and salt. Gradually add to butter mixture in mixer, beating at low speed, after each addition. It will be a very stiff mixture.
Turn dough out onto a lightly floured surface, knead lightly 8-10 times.
Press dough into an ungreased 15x10" sided baking sheet. Prick dough at 1" intervals with a fork, and score (cut) into 2 1/2" x 1" bars. Cover with plastic wrap, and chill for 2 hours.
Bake at 325º for 35 minutes. Cool in pan on a wire rack for 5 minutes, then cut shortbread into bars. Cool completely before removing from pan. Store in an airtight container at room temp for up to 1 week.
Notes
I also use this recipe to make the crust for my blueberry cheesecake.
This recipe makes more cookies than you'll need for making the cheesecake crust. You only need 2 c. of shortbread cookie crumbs for the crust.
Recommended Products
As an Amazon Associate and member of other affiliate programs, I earn from qualifying purchases.
A Collection of Christmas Recipes
As long as you're hear looking at a Christmas cookie recipe, I'd be willing to bet you're open for suggestions. Well, lucky you! Tis the season for giving! And I'm in the mood to dish!