This post contains links that, if you click on them and make a purchase, will earn me money. Regardless, I only recommend products or services that I believe will be good for my readers. Thanks for helping me continue to produce great content!
Remember: I'm an Amazon affiliate, which means if you click over to Amazon from my site, in search of Amazon Prime Day Deals, I'll earn a bit off of whatever you purchase, at no extra cost to you!
I found some Amazon Prime Day deals that I wanted to let you know about. They're mostly kitchen items, although, after a long day of slaving in the kitchen, I think a weighted blanket might almost count as a necessity. The picture of Gus, the German Shepherd, has nothing to do with anything in this post. Pretend that what it means is that Gus is wondering if I'll order *him* anything special for Amazon Prime Day.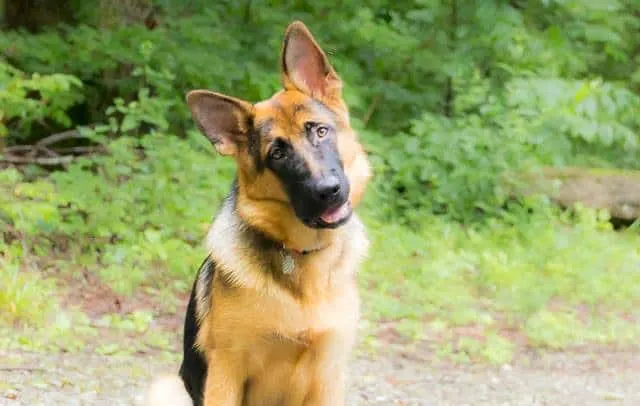 Amazon Prime Day Deals:
The Oxo salad spinner is the one I always *wish* I'd gotten. You could use it to dry your greens when you make the Salad to Bring When They Ask You to Bring a Salad.
The InstantPot is an 8 quart model. (I only have a 6 quart model.) I think they have several InstantPot deals going. I use a pressure cooker when I make How to Make Creamy Homemade Polenta in a Pressure Cooker, for example.
The OXO scale is the one I have, and STRONGLY recommend, for measuring flour. I always weigh my flour when I make pie crust, for instance, in this post: Apple Pie Recipe and the Winner of the Pie Crust Showdown Snag that deal on the scale!
I bought myself a weighted blanket, but mine is sized for a double bed. Since my husband prefers, at least in the summertime, to sleep without one, I kind of wish I'd gotten one sized for a twin bed. But *you* can get one for you or someone in your family, if you want one, at half the price of what I paid.
There are less expensive Sous Vide devices, so you might want to shop around more for a less expensive Sous Vide, but we love our Anova one, so I thought I'd link to that. We used ours for lusciously moist salmon, this weekend. In this post, I explain How to Make Homemade Ricotta Cheese with a Sous Vide
We've all been scooping ice cream wrong. I really want to try the ice cream scoop linked below.
There are a couple of excellent deals on a Vitamix. It's my blender, and it's more like a wood chipper. I absolutely love mine. One linked in the post is a refurbished VitaMix. If you've always wanted one, this may be your moment!
Click Over to Amazon From One of the Following Product Links:
Amazon Prime Day Deals: July 15-16, 2019
Sweet deals I found on Amazon for Prime Days: July 15-16, 2019.
Ingredients
1 Bargain Hunter
1 Amazon Prime Account
1 Credit Card
Instructions
Click a link to an Amazon product from *That* Susan Williams website.
Search for whatever you're interested in buying on Amazon.
Score a sweet deal, and thatsusanwilliams.com earns a little, at no extra cost to you.
Notes
Using my affiliate link will NOT interfere with any charity you may have designated for Amazon's Smiles program. They still make their part, as well. Win/win/win.