This post contains links that, if you click on them and make a purchase, will earn me money. Regardless, I only recommend products or services that I believe will be good for my readers. Thanks for helping me continue to produce great content!
What if you knew you had a recipe for homemade apple pie that was totally excellent? A recipe that produced an apple pie that was perfect in its simplicity?
Meet. That. Pie.
This post contains affiliate links. If you purchase something after clicking one of my links, I earn money, at no extra cost to you.
You name the season, I'll name you a pie to long for. Strawberry is the pie that makes spring sing. It's Blueberry Pie in the early summer. Fabulous Fresh Peach Pie is what I make when summer is ripe. Apple is my go-to pie when summer begins to wind down. My family demands my fluffiest Pumpkin Pie in the late fall, and Old Fashioned Pecan Pie in the winter.
I ask you, when is it NOT time for pie???
When I told you about my pie-crust showdown, I promised you that I'd provide you with the recipe. Well, I aim to always keep my promises, so, today, I'm making good on them.
But first, let me give you:
Six Tips for Making the Best Ever Homemade Apple Pie.
Tip 1 for Making Apple Pie:
Both of the recipes, for the filling and the pastry, were adapted from a cookbook that is a bit dated, with a copyright date of 1987, but while it may be an oldie, it's a goodie: The Southern Living Cookbook. This Southern Living cookbook has a brown cover. The recipe for the pie filling is called Country Apple Pie, and really I can only think of one significant alteration that I've made to their recipe. Instead of "ground nutmeg" which is what the original recipe called for, the recipe that I'm sharing with you today calls for freshly ground nutmeg.

I've said this before, probably in my Peach Pie recipe, but it bears repeating: there is a WORLD of difference between the already ground nutmeg that you buy in a can or jar in the supermarket, and buying a whole nutmeg and grating it yourself. I used to hate nutmeg, or so I thought. And then, I tried grating my own, with a whole nutmeg that my sister brought to me from one of her Caribbean vacations. Man, oh, man! The flavor: she sings!
Tip 2 for Making Apple Pie:
The tool I use for the job is a Microplane Grater, and I use it to zest limes and lemons, grate chocolate and nutmeg, and most often to grate Parmesan cheese. It is absolutely indispensable in my kitchen. I probably use it 5 or 6 times a week, at least. You just need a fine rasp to scrape teeny bits off the side. When I've grated what I need, I put the nutmeg back in a plastic baggy till the next time I need some freshly grated nutmeg. No muss, no fuss. And they last forever. I put a link to the Microplane Grater, just below the recipe card, if you're thinking you might need one for your very own.
Tip 3 for Making Apple Pie:
The other note that I'd give you for this recipe is that I prefer to use Granny Smith apples. Some cooks like the flavor of Golden Delicious variety, but I've tried both, and I find the Golden Delicious to be too sweet, and too mooshy. I like the tartness and the firmness of the Granny Smith.
Tip 4 for Making Apple Pie:
I also use one of these gizmos, an apple peeler/corer/slicer which saves me SO MUCH TIME! (They're also pretty entertaining for the kids to watch!) I bought mine probably 20 or so years ago from the Vermont Country Store, and it was one of my smarter purchases. It's kept my family in apple pie, year after year. They're available now on Amazon, and you'll find a link it, just below the recipe card.
Tip 5 for Making Apple Pie:
The lemon juice in the recipe gets sprinkled on the apples to keep them from turning brown. The Vitamin C in the lemon juice prevents oxidization, so after you've cut the apples, be sure to sprinkle them fairly soon afterward with the lemon juice.
Tip 6 for Making Apple Pie:
After you lay the top crust on top of the pie, and crimp or flute the edges to form the crust, paint the top of the crust with half & half or milk. It will give the top crust a gorgeous sheen.
Then, to gild that gorgeous lily, sprinkle about a teaspoon of sugar all over the top of the crust. It causes guests to DROOL.
You can DO this! Go forth, make one, eat, and enjoy!
The Recipe for Blue Ribbon Apple Pie:
Yield: 8 servings
Apple Pie Recipe and the Winner of the Pie Crust Showdown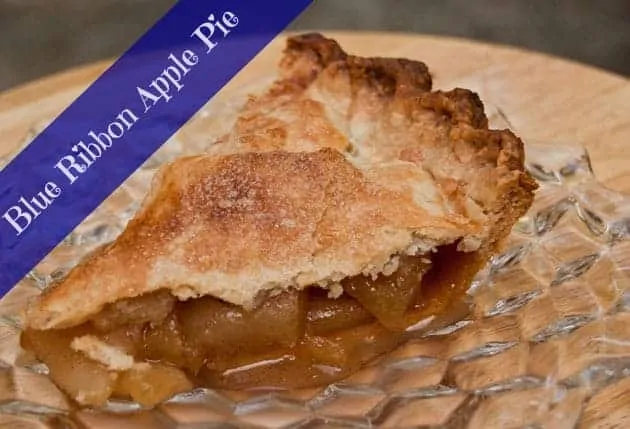 A simple apple pie that is everything an apple pie should be. Perfection in simplicity.
Total Time
2 hours
50 minutes
Ingredients
FOR PIE FILLING:
6 c. peeled, sliced Granny Smith apples
1 T. lemon juice
1/2 c. sugar
1/2 c. brown sugar
2 T. flour
1/2 t. cinnamon
1/4 t. freshly ground nutmeg
2 T. butter
FOR PIE CRUST PASTRY:
2 1/2 c. all purpose flour
1 t. salt
2/3 c. plus 2 T. shortening (I use those sticks from Crisco - no mess measuring!)
4 to 5 T. cold water (I use ICE water - and sometimes I only need 3 T. water, especially if it's humid.)
TO ADD A SHEEN TO THE TOP OF THE PIE:
1T. half and half
1 T. sugar
Instructions
To make the Pie Crust Pastry: Combine flour and salt; cut in shortening with pastry blender (use two forks if you don't have a pastry blender) until mixture resembles coarse meal. (Alternatively, you can pulse this in a food processor, but don't overwork it!)
Sprinkle cold water (1 T. at a time) evenly over surface; stir with a fork until dry ingredients are moistened.
Shape into two discs and wrap each in plastic wrap. Chill for at least 1 hour.
Roll out one of the discs into an 11" circle, between two sheets of lightly floured parchment paper. Place in a 9" pie plate; set aside.
To make the Pie Filling: Place the apples in a large mixing bowl, and sprinkle with lemon juice.
In a medium sized mixing bowl, combine the sugars, flour and the spices, mixing well. Spoon over apple mixture, tossing gently.
Spoon filling evenly into pastry shell, and dot with butter.
To Finish the Pie: Roll remaining pastry into another 11" circle, and transfer to top of pie.
Trim off excess pastry along edges.
Fold edges under and flute.
Brush top of pastry with a bit of cream or half and half, and then sprinkle lightly with 1 T. sugar. Cut slits in top crust for steam to escape.
Bake at 450º for 15 minutes. Reduce heat to 350º, and bake an additional 35 minutes.
Notes
I've tried many varieties of apples , and combinations of apples together, but for my money, the Granny Smith produces the most delicious pie. It's that combination of the Granny Smith's outspoken tangingess against the sweetness of the brown sugar that makes your mouth explode with flavor.
Recommended Products
As an Amazon Associate and member of other affiliate programs, I earn from qualifying purchases.
Nutrition Information:
Yield:
8
Serving Size:
1
Amount Per Serving:
Calories:

486
Total Fat:

14g
Saturated Fat:

6g
Trans Fat:

0g
Unsaturated Fat:

7g
Cholesterol:

10mg
Sodium:

443mg
Carbohydrates:

84g
Fiber:

4g
Sugar:

36g
Protein:

6g
So, if not pie, what dessert are you looking forward to making soon?
Me, Oh My: I Love Pie
For all the pies I've loved before....