This post contains links that, if you click on them and make a purchase, will earn me money. Regardless, I only recommend products or services that I believe will be good for my readers. Thanks for helping me continue to produce great content!
My easy recipe for how to make Peach Pie won me the Blue Ribbon TWO TIMES at my friend Billy's birthday parties. One of those parties featured an Andy Griffith themed/Aint Bea's Pie Contest. All Billy's guests enjoyed that pie contest so much, that he ran ANOTHER pie contest, the following year. My peach pie won again.
The next year, I entered it at the Tennessee State Fair, where it won 2nd place. The judge told me it almost won first, but when I tasted what was left in my pie dish, after the judges had finished with it, I knew why it hadn't won. The bottom crust was soggy! ~cue dramatic music~ dunh, dunh, dunh DUUUUNH! "But, WHY WAS THE BOTTOM CRUST SOGGY FOR THE TENNESSEE STATE FAIR???", you might well ask? It was due to the fact that I became fearful that once I'd turned my pie in, I might lose my glass pie dish. Instead of leaving my precious Pyrex pie dish there, at the state fair, with my pie in it, I decided to use a smaller sized tin foil disposable pan!
Does it Matter What Kind of Pie Dish I Use?
If you read the previous paragraph, now you know. Not all pie dishes will brown your crust equally well!!! I think glass Pyrex pie dishes do better than any other kind I've tried: better than ceramic, and even better than cast iron.
How Do I Pick the Best Peaches?
The most important thing to do when picking out your peaches is to smell them. They should be quite fragrant. In other words, they should smell very peachy. And in regard to how they feel, there should be a very gentle give to your thumb. They should NOT be hard as a rock, nor squishy. If they appear to be a day or two underripe, you can put them in a brown paper bag, but KEEP AN EYE ON THEM. They can go to moldy squishiness faster than you can say avocado, if you follow my drift. (Two fruits one must always keep an eye on, in regard to ripening speed: the peach, and the avocado.)
Why Do You Call Peach Pie, "Peach Pelican"?
We call this Fabulous, Fresh Peach Pie "Pelican", or "Peach Pelican", at our house. The origin of that term is lost in the mystery of our family lore. Translation: no one remembers how in the WORLD that name evolved. But, my husband sings a little song about it, to the tune of La Cucaracha: "A Peach-a Pel-i-can, A Peach-a Pelican, la la la la la la la, A Peach-a Pelican, A Peach-a Pelican, la la la la la la la". This is our celebratory pie song, or the song sung to prompt Mommy to get busy and make the pelican. And now, if you're truly odd, it can be yours.
Where Did You Get this Recipe for Fabulous Fresh Peach Pie?
I got the easy recipe from
the Southern Living Cookbook
, my old standby for certain recipes, which apparently, has really gone up in value, after checking the Amazon link! It's been a faithful friend throughout my marriage, and I really, really recommend it. (But you might want to look up the recipe under Pie. Rather than Pelican. I'm not really sure our moniker has caught on nationwide, yet.)
The Changes I Made to the Original Recipe:
I did change two ingredients from the original recipe. I have found that already ground nutmeg in cans or jars at the store can taste similar to cigarette ashes, so I insist on grating my own, fresh, and you should, too. You can buy whole nutmeg at most grocery stores now, and definitely at health food stores. I use my Microplane grater/zester to grate mine, (there's a link to one in my recommended products, just below the recipe card) and I love, love, love my Microplane grater.
I also reduced the amount of sugar called for from 1 1/3c. to about 2/3 c. sugar. Their version was almost overpoweringly sweet. But you should always taste your peaches, and vary your amount according to how sweet they are. If your peaches are less ripe, you may want to add more sugar.
The Recipe for How to Make Fabulous Fresh Peach Pie
Yield: 8 servings
How to Make Fabulous Fresh Peach Pie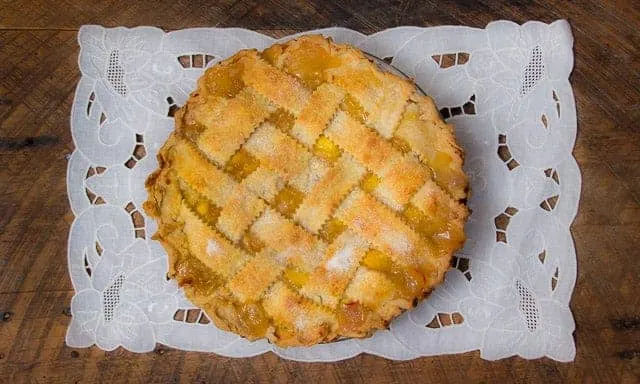 Fabulous Fresh Peach Pie. The pie that won the Pie Contest. Three times.
Ingredients
For the Double Crust pastry:
2 c. all purpose flour
1 t. salt
2/3 c. plus 2 T. shortening (I use those sticks from Crisco - no mess measuring!)
4 to 5 T. cold water
(I use ICE water - and sometimes I only need 3 T. water, especially if it's humid.)
For the Pie:
6 cups peeled, sliced fresh peaches
2/3 cup sugar (adjust to sweetness of your peaches) 
1/4 cup flour
1/2 t. freshly grated nutmeg
3/4 t. vanilla extract
3 T. butter

Instructions
For the Double Crust Pastry:
Combine flour and salt; cut in shortening with pastry blender (use two forks if you don't have a pastry blender) until mixture resembles coarse meal. Sprinkle cold water (1 T. at a time) evenly over surface; stir with a fork until dry ingredients are moistened. Shape into two discs and wrap each in plastic wrap. Chill for at least 1 hour.
For the Pie Filling:
Combine peaches, sugar, flour, and nutmeg in a saucepan; set aside until syrup forms. Bring mixture to a boil; reduce heat to low, and cook 10 minutes or until peaches are tender, stirring often. Remove from heat; add vanilla, and butter, blending well.
To Assemble the Pie:
Roll out pastry to 1/8" thickness on a lightly floured surface. Place pastry in a 9" pie plate; trim off excess pastry along edges Spoon peach filling into pastry shell. Roll remaining pastry to 1/8" thickness. Transfer to top of pie. Trim off excess pastry along edges. Fold edges under and flute. Cut slits in top of crust for steam to escape. Brush top of pastry with about 1t. of half and half, and sprinkle with about 1t. of sugar. Bate at 425º for 10 minutes. Reduce heat to 350º, and bake an additional 30 minutes, or until crust is browned.
Adapted from The Southern Living Cookbook
Recommended Products
As an Amazon Associate and member of other affiliate programs, I earn from qualifying purchases.
If you loved this post, pin it on Pinterest! Could I interest you in another type of pie? How about my
Fluffiest Pumpkin Pie?
Or perhaps a slice of
Old Fashioned Pecan Pie
? Or maybe some
Springtime Fresh Strawberry Pie?
Me, Oh My: I Love Pie
For all the pies I've loved before....