This post contains links that, if you click on them and make a purchase, will earn me money. Regardless, I only recommend products or services that I believe will be good for my readers. Thanks for helping me continue to produce great content!
In the lazy days of summer, you need an easy, refreshing recipe to accompany whatever you're planning on grilling, and Watermelon Mojito Wedges are the PERFECT thing. Once you've had one taste, it's really, really hard to stop! And, since it's low in calories, so there's no need to stop!
But is it a dessert? An appetizer? A side dish – like a fruit salad? Or is it all of the above?
Who cares?
Whatever it is, it's delicious, refreshing, and addictive!
The alcohol in the simple syrup cooks out, but the flavor remains. So, if you like mojitos, you're going to love this! The lime, the mint, and the rum: what a yummy combo they make! And don't omit the salt. That's what takes the dish from being just sweet, to super.
You're going to want to try this with the next ripe, juicy watermelon you can lay your sticky fingers on. So just go ahead and pin this recipe on Pinterest!
The Recipe for Watermelon Mojito Wedges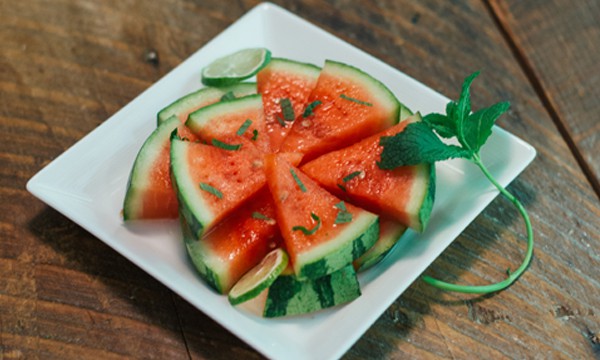 Watermelon Mojito Wedges
2017-07-25 14:55:08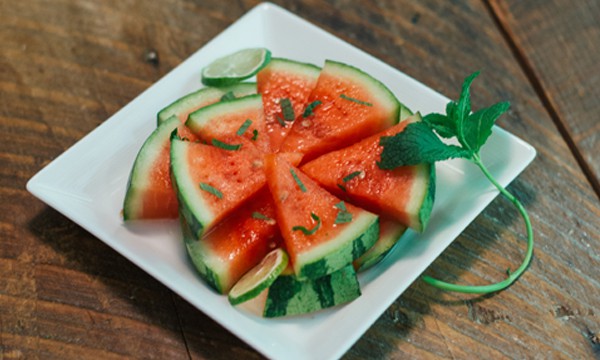 What is it? Is it a dessert? An appetizer? A side dish, like a fruit salad? Call it whatever you like: it's delicious!
Ingredients
1/2 c. rum
1 c. sugar
1/4 c. water
juice of 2 limes
A "personal" size seedless watermelon, cut into wedges
Garnish
thin slices of lime
chopped mint leaves
kosher salt
To make the syrup
Bring rum, sugar and water to a boil in a small sauce pan, over high heat. Reduce heat to simmer, and simmer until the liquid has reduced to about a cup. This should take about 5-7 minutes. Remove from heat, let cool to room temperature, and stir in lime juice.
To marinate the watermelon
Arrange the watermelon wedges on a platter, and pierce each wedge several times with a fork. Drizzle the wedges with the syrup, and allow the syrup to soak in for a minimum of 1 hr. in the fridge, or overnight, if desired.
To serve the dish
Just before serving, sprinkle with mint, and kosher salt, and garnish the platter with lime slices. You can serve more kosher salt in a bowl on the side, for those who like it a little saltier.
Notes
Nearly all the alcohol cooks out of this recipe, so the worst you can get from it is a flavor buzz!
That Susan Williams https://www.thatsusanwilliams.com/
Why not share this on Facebook or tweet it on Twitter? Better yet, pin it on Pinterest!